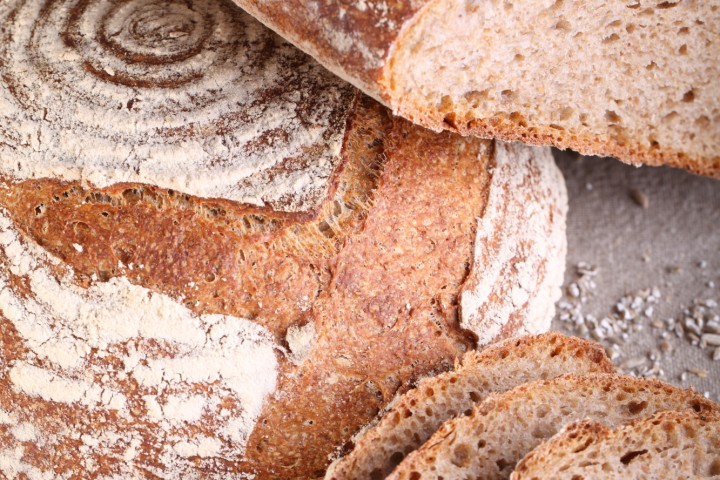 After all those years, who would have thought, but I ♥ you whole wheat!
Klik hier voor Nederlandse versie
Do you need a bit of encouragement to start making a super healthy whole wheat loaf? Awful childhood memories like me of stale and even rancid bread? Get out and buy the best fresh! organic whole wheat you can find and give this loaf a chance! It is nothing like your memories, it is about 1000 times better, or frankly incomparable, with an intense flavor that is the opposite of bland. Close your eyes and you can see the wheat fields gently swaying in the wind.
This recipe is not highly original of course, there are many whole wheat levain recipes and they are all more or less the same. But it is a great loaf to have in your bread repertoire. This is our version of it and the recipe contains the exact details on how we create our loaf. People have told us (and we believe them) that they really work for them so here it is.
We started out by making a 55% whole wheat loaf. Gradually we started making more of this 65% loaf, the one described in this recipe, and people just love it. You can compare the two versions by looking at the first (65%) and second (55%) gallery of pictures below. The thing we love most about the recipe is you end up with a bread still very much crusty and creamy crumb, with a complex, sweet taste, while having this high percentage of whole wheat goodness in it.
For this recipe we are going to make a starter named a poolish. A poolish is a type of wet sponge usually made with an equal weight of water and flour and a small amount of sourdough starter culture or yeast and NO salt. Making a poolish helps bring more taste and strength to your bread.
We use a sourdough culture which is made with 100% whole grain rye flour. A sourdough culture based on rye flour is easier to maintain, does not go into a slurry when you forget about it, is easier to stir because it has almost no gluten and smells very nice, a bit like fruit. It is also very forgiving in the amount you feed it, everything seems to be alright. Normally we only feed it once a week, after our weekend baking we give it a few table spoons of water and rye flour, stir, ready!
Making the poolish
In a bowl stir together the 65 g whole wheat flour, 65 grams of water at room temperature with 15 grams of sourdough culture. Mix it well until you have a homogeneous slurry that looks like very thick batter. Cover the bowl with clingfilm and let the prefermenting begin. After 12 hours at room temperature it should be bubbly, light and ready for use. So if you want to begin your bread making in the morning, you should make your poolish at 9 in the evening.
Ingredients for the poolish
65
g
whole wheat (bread) flour
65
g
water (room temperature)
15
g
sourdough culture
Ingredients for the whole wheat loaf
makes 1 loaf
the poolish from step 1
225
g
whole wheat (bread) flour
160
g
wheat (bread) flour
250
g
water
7
g
(sea) salt
Making the loaf
Put the poolish starter, flour and salt in the mixing bowl of your standing mixer and add 2/3 of the water. Now start mixing and gradually add the rest of the water and let the dough come together. We use European flour which absorbs a few % less water than American type flour. People using American type of flour should add 5-15 ml water to the final dough. Knead for 6 minutes, leave it in your mixing bowl, cover with clingfilm and rest for 50 minutes. The dough should feel a bit wet and even a little bit sloppy or tacky, there should be moderate gluten development.
Ideally the temperature of your dough after mixing should be around 24-25 ºC / 75ºF. You should adjust the temperature of the water you add, so the total dough reaches this temperature. For us this means in summer adding cold water to this recipe and in winter (when our little bakery gets much colder then the rest of our house) adding water up to 50ºC /122 F. You can measure the temperature of water and dough with a food thermometer. These measurements are important because they correspond with the proving times in the recipe.
After the first rest take the dough out of the bowl and onto a floured work surface and do one stretch and fold (a full letter fold, left over right, right over left, bottom over top, top over bottom; watch our bread movie to observe this technique if you are not familiar with it). Transfer to the bowl, cover and again leave to rest for 50 minutes. Repeat the stretch and fold (full letter fold) one more time (so 2 times in total) and again leave to rest for 50 minutes. During each stretch and fold the dough should feel firmer and less wet.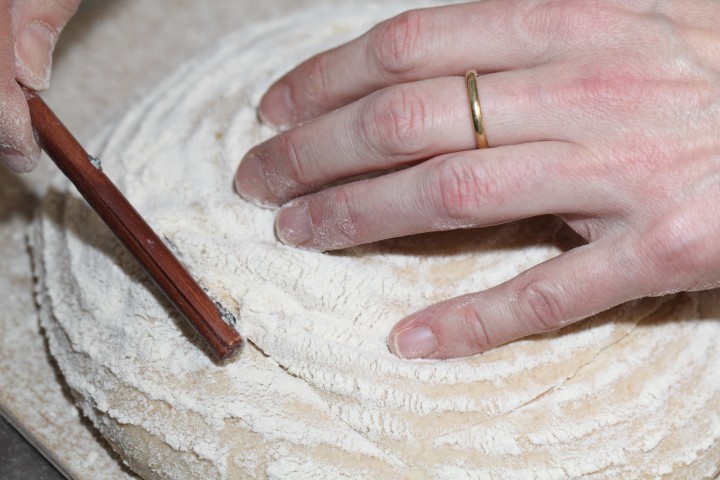 Now it's time to shape. Shaping is a tricky subject. It's something for which everybody develops his or her own technique over time. You can make a batard or loaf shape or a boule (ball). If necessary you can learn more on shaping from a good bread book, like the ones by Hamelman or Reinhart, or the Tartine Bread book. You can also check out our video on how to shape a boule.
Preheat your oven to 230 ºC / 445 ºF (at what stage you preheat your oven depends on how long it takes for your oven to heat through, some take 30 minutes, some, like ours, with stone floors take a lot longer, up to two hours.
Transfer the shaped dough in a proofing basket or baking pan, cover and leave to proof for 2 hours and 15 minutes (provided your dough has a temperature of around 24-25 ºC / 75ºF). When you think it has risen enough, use your finger to carefully make a very small dent in the dough. If the dent remains, the bread is ready to bake, if the indentation totally disappears, the dough needs a little bit more time.
Now your loaf is ready for the oven. Slash the top of the loaf with a lame or bread scoring knife. To get a nice crust, try to create some steam in your oven by putting a small metal baking tray on your oven floor when you preheat the oven, and pour in half a cup of hot water immediately after putting the bread in the oven. Release some steam by setting your oven door ajar (perhaps with the help of a wooden spoon or oven mitt) 5 minutes before the bread is ready. If you are going to create steam with a baking tray, you maybe also want to turn your oven temperature a bit higher, because you are going to lose some heat in the process.
After 48 minutes of baking your loaf should be ready. Transfer onto a rack and leave to cool. This loaf also keeps very well in the freezer. But please make sure to eat at least some of it while fresh!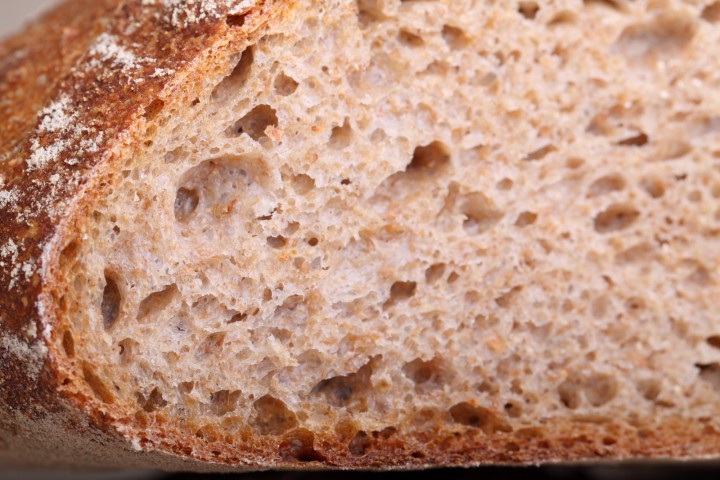 Whole wheat levain time table
day 1 21.00 h Make poolish and let ferment for 12 hours at room temperature
day 2 0.900 h Make final dough
Starter + all other ingredients 6 minute mixing
50 minutes rest
Stretch and fold nr. 1
50 minutes rest
Stretch and fold nr. 2
50 minutes rest
Shape
final proofing 2 hours and 15 minutes
bake for 48 minutes at 230ºC / 445ºF
PS: A lot of people still believe the a whole wheat loaf should be very dark in color. The darker the bread, the healthier. This is a big misconception. These factory breads are filled with burned malt to give them that 'healthy' dark appearance. Don't let them fool you…Just buy the best fresh flour you can find, take your time to make a good loaf and you'll never look back!
PPS:Like with all the recipes you find on our website, this one was tried and tested by us at least 8 to 10 times before we published it.