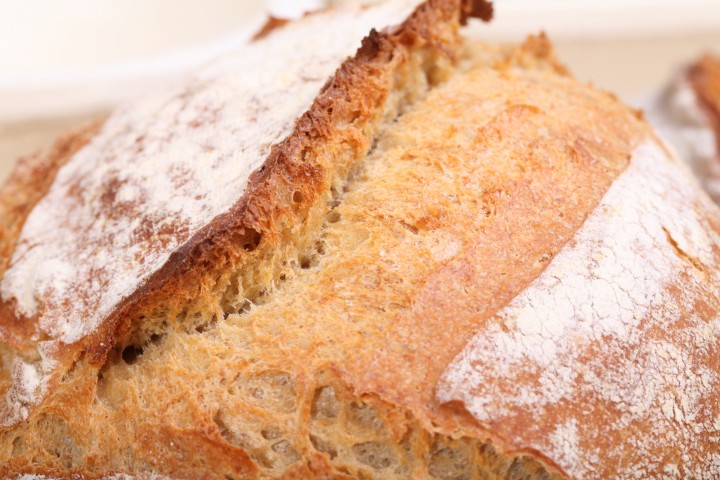 You will not be going anywhere for a while! Tell your family you will be stretching and folding for the next 3.5 hours…
The last few months we have been making quite a lot of these loaves. We made them with tiny variations and alterations, experimenting with flour, water, times and temperature and above all quantities. We even developed a hybrid version for the baker in a bit of a hurry. We are now pleased enough with the results to share them with you.
To most bakers the name Tartine does not need further introduction. A lot of home bakers will know the book, the bakery in San Francisco or even the bread. When you look at the pictures in the book, you just want to make that bread too! It's attractive and impressive. Just one tiny remark about the recipes. We found that some of the essential information was pretty well hidden in a lot of text and it needs careful reading to avoid mistakes and there seems to be some errors in the bakers percentages. We tried to be clear and unambiguous with our version of this recipe and for that we made a few changes. The result to us is an outstanding bread with a very pleasant crumb structure and 'bite' and complex taste.
We make these loaves in both cane and wood-fibre proofing baskets and shape as boules or batard. Whatever your personal preference, the wonderful taste stays the same!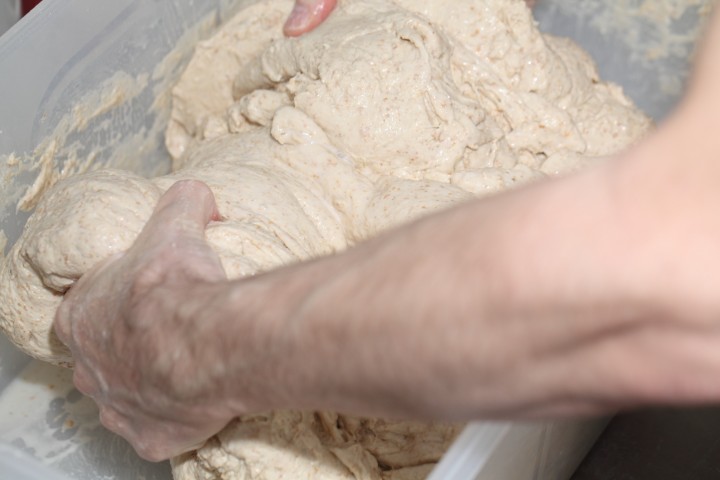 What's different from the original?
The most important change we made is one that all home bakers should be pleased with. We scaled the amount of sourdough culture back to manageable proportions, avoiding unnecessary waste of flour. Instead of maintaining a 400 grams culture all the time, we changed it by building a poolish the night before with a small amount of sourdough culture.
We recalculated the ingredients to a smaller loaf of about 770 grams. In the recipe below you will also find the percentage of whole wheat flour a bit higher than the original.
Also we recalculated and adjusted the hydration level to be 70% as our European flour absorbs less water than American and the original Tartine recipe does some strange bakers percentage calculations.
No need to knead, but….
There is some serious stretching and folding to be done. It is also the beauty of this recipe that all the dough is developed without the aid of a mixer. So even if you want to make 12 loaves, no worries about mixer capacity with this recipe. Everything is done by hand. You feel the dough changing under your hands. We use a big rectangle food grade plastic container to make batches of 12 breads.
Use our Dough Calculator
Below the ingredients lists you will see a 'dough calculator' button. Click on the button to open. Now it is very easy to change the total amount of loaves and amounts of flour to make smaller or larger breads. You can also change the bakers percentages to adjust the ratio between the ingredients like water or salt. And last but not at all least you can calculate the exact temperature of the dough!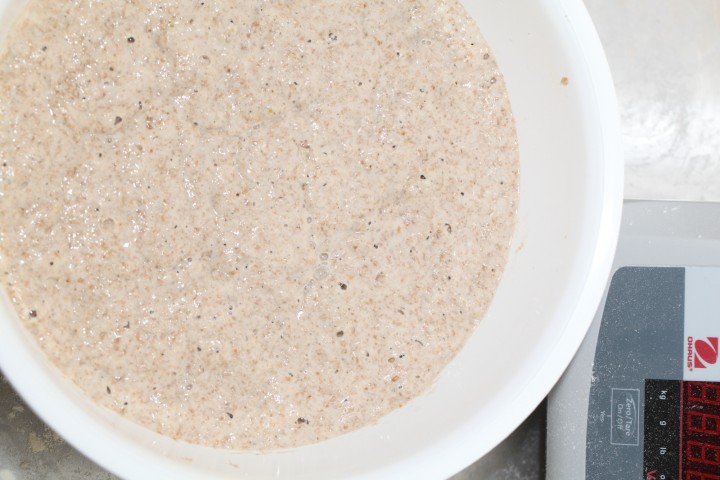 Before you start
For this recipe we are going to make a starter named a poolish. A poolish is a type of wet sponge usually made with an equal weight of water and flour and a small amount of sourdough starter culture or yeast and NO salt. Making a poolish helps bring more taste and strength to your bread.
We use a sourdough culture which is made with 100% whole grain rye flour. A sourdough culture based on rye flour is easier to maintain, does not go into a slurry when you forget about it, is easier to stir because it has almost no gluten and smells very nice, a bit like fruit. It is also very forgiving in the amount you feed it, everything seems to be alright. Normally we only feed it once a week, after our weekend baking we give it a few table spoons of water and rye flour, stir, ready!
Ideally the temperature of your dough after mixing should be around 24-25 ºC / 75 ºF. You should adjust the temperature of the water you add, so the total dough reaches this temperature. For us this means in summer adding cold water to this recipe and in winter (when our little bakery gets much colder then the rest of our house) adding warmer water. You can measure the temperature of water and dough with a food thermometer. These measurements are important because they correspond with the proving times in the recipe.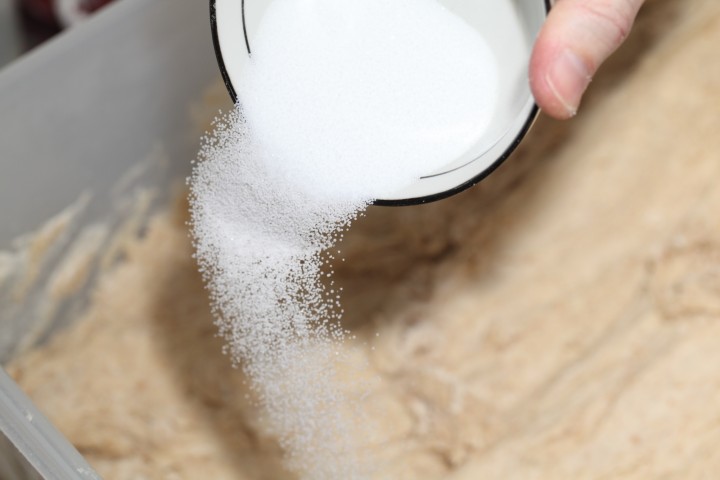 Ingredients for the Poolish
25
g
wheat (bread) flour
25
g
whole wheat flour
10
g
sourdough culture
45
g
water (room temperature)
Ingredients for the Tartine Style Bread
makes 1 loaf
the poolish from step 1
350
g
wheat (bread) flour
40
g
whole wheat flour
240
g
water part 1
20
g
water part 2
6.5
g
(sea) salt
2
g
instant yeast (optional hybrid version, see text at bottom recipe!)
Making the Poolish
When we make this recipe we make 12 loaves at a time and that is why we do not make the poolish in the big box we use for the final dough (it would spread too thin). But if you make less loaves it totally makes sense to make the poolish and your dough in the same bowl. A good method for making this bread and keeping your worktop clean!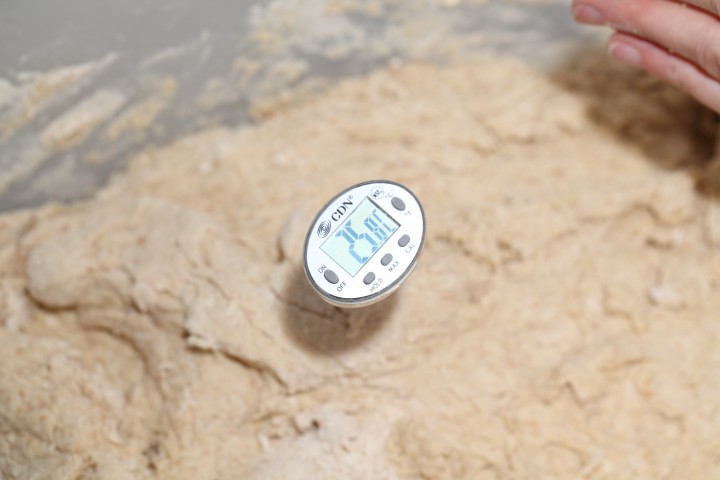 Now in your bowl stir together the bread flour, whole wheat flour and the water at room temperature with the sourdough culture. Mix it well until you have a homogeneous slurry that looks like very thick batter. Cover the bowl with clingfilm and let the prefermenting begin. After 12 hours at room temperature it should be bubbly, light and ready for use. So if you want to begin your bread making in the morning, you should make your poolish at 9 in the evening.
Making the Tartine Style Bread
Take your bowl with the poolish and add water part one (around 32ºC) plus all of the flour but NO SALT. Combine with your hands or a dough whisk until all the water is incorporated.
Leave the dough in your mixing bowl, cover and let rest for 20 minutes (this technique is also referred to as autolyse).
Now add the salt on top of the dough and then add water part two, making sure the salt gets wet. Squeeze the dough with your hands to combine water and dough until smooth and all water has been absorbed. This should take only 1 or 2 minutes.
Again leave the dough in your bowl, cover and let rest for 30 minutes.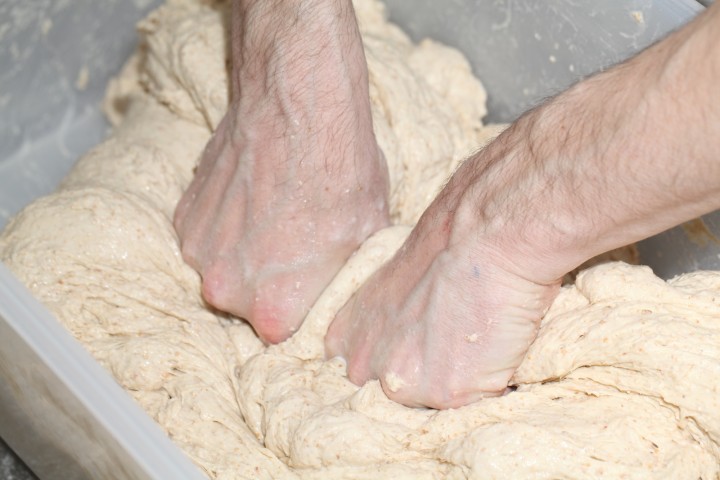 Stretching and Folding Stage
Wet your hands a bit before you start to stretch and fold, this will make it easier to handle the dough. Now do your first stretch and fold while leaving your dough in the bowl. Do a full letter fold, left over right, right over left, bottom over top, top over bottom. Watch our bread movie or our stretch and fold method video to observe this technique if you are not familiar with it.
Cover and again leave to rest for 30 minutes. Repeat the stretch and fold (full letter fold) five more time (so six times in total) each time leaving the dough to rest for 30 minutes. The whole process takes 3,5 hours.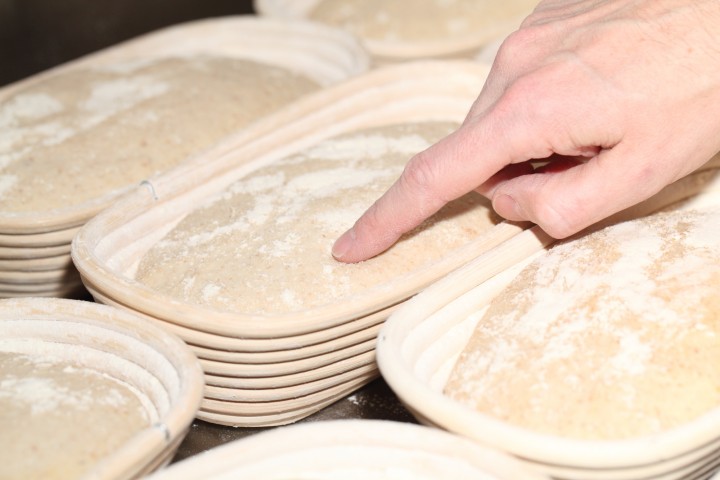 Shaping and Proofing Time
After the last 30 minutes rest it is time to shape your dough. You can make oblong (batard) or round (boule) loaves of bread, whichever you prefer. For instructions on how to shape a boule, take a look at our boule shaping video.
Because this is a true sourdough bread, the final proof will take quite a long time. Please take that time and make sure your dough is really ready for the oven.
Transfer the shaped dough to a proofing basket / banneton, cover and leave to proof for 2 hours and 30 minutes. When you think it has risen enough, use your finger to carefully make a very small dent in the dough. If the dent remains, the bread is ready, if the indentation totally disappears, the dough needs a little bit more time.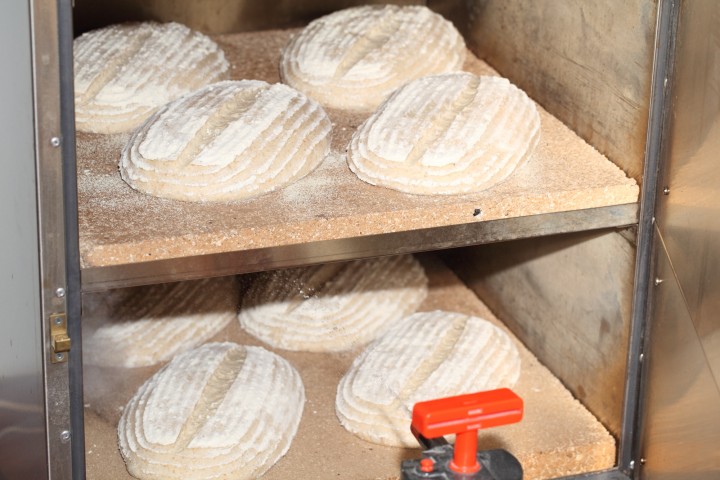 Baking
Preheat your oven to 230 ºC / 445 ºF (at what stage you preheat your oven depends on how long it takes for your oven to heat through, some take 30 minutes, some, like ours, with stone floors take a lot longer, up to two hours.
Now your loaf is ready for the oven. Slash the top of the loaf with a lame or bread scoring knife.
To get a nice crust, try to create some steam in your oven by putting a small metal baking tray on your oven floor when you preheat the oven, and pour in half a cup of hot water immediately after putting the bread in the oven. Release some steam by setting your oven door ajar (perhaps with the help of a wooden spoon or oven mitt) 5 minutes before the bread is ready. If you are going to create steam with a baking tray, you may also want to turn your oven temperature a bit higher, because you are going to lose some heat in the process.
After 45 minutes of baking your loaf should be ready. Transfer onto a rack and leave to cool. This loaf also keeps very well in the freezer.
If you are using an oven with spiral heating elements and you think your loaf has the right color or is browning too quickly, you can turn the thermostat down a notch so the spirals are no longer radiating heat which will stop / slowdown the browning of the crust.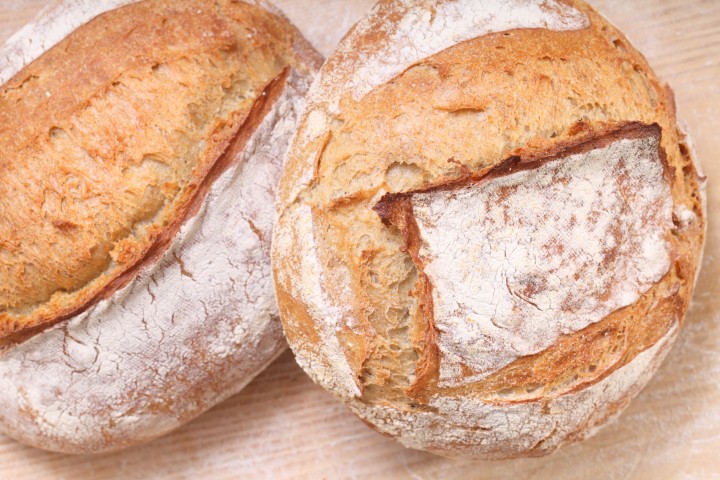 Tartine Style Bread Time Table
Day 1 – 21.00 h Make poolish let ferment for 12 hours at room temperature
Day 2 – 0.900 h Make final dough
09:00 – Add flour and water part 1 to starter, combine
20 minutes rest (autolyse)
09:20 – Add water part 2 and salt, combine
Rest for 30 minutes
09:50 – Stretch and fold 1
Rest for 30 minutes
10:20 – Stretch and fold 2
Rest for 30 minutes

10:50 – Stretch and fold 3
Rest for 30 minutes
11:20 – Stretch and fold 4
Rest for 30 minutes
11:50 – Stretch and fold 5
Rest for 30 minutes
12:20 – Stretch and fold 6
Rest for 30 minutes
12:50 – Shape
12:55 – Final proofing 150 minutes
15.35 – Bake for 45 minutes at 230ºC / 445ºF
16:20 – Your bread is ready!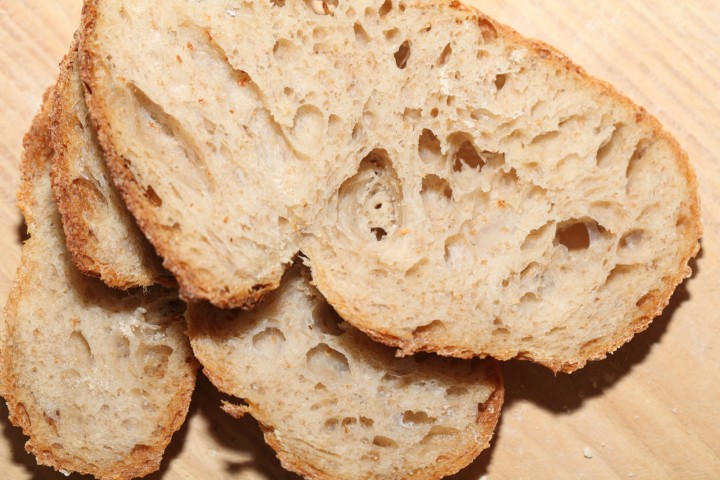 Making the Quicker Hybrid Version
If you want to make a quicker version of this recipe you can opt for the hybrid version. With hybrid we mean a bread that uses both sourdough culture plus a small amount of yeast to speed up the proofing of the final dough.
For this version you must use 2 grams of instant yeast per loaf in the final dough. You add the yeast together with the salt on top of the dough after the autolyse fase.
You can limit the stretching and folding to 2 hours but do two sets of complete stretch and folds every 30 minutes, 3 x 2 sets in total. The final proofing will be around 1 hour.