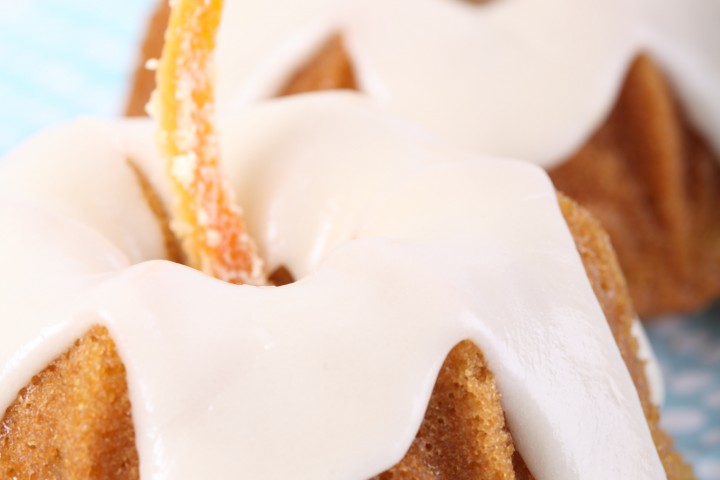 I am rather fond of my Nordic Ware baking pans. Especially the mini bundt pan, with which you can make 6 baby bundts in one go. I developed a recipe with just the right amount of batter to perfectly fill these 6 molds and producing cakes that don't protest when you turn them out. It works for me with this recipe, hope it works for you too.
This cake is perfect for the Holidays but it's also quite OK to produce it on other cold winter days. I use shredded orange peel because I love to make it anyway and try to come up with reasons to use it. Put it really adds the best orange taste. The challenge is to get the right balance between the almond and the orange so you taste both and one doesn't overpower the other. With the quantities in the recipe below you should be able to achieve this.
The mandarin icing is optional of course, because the cake also tastes great with a bit of icing sugar dusted over it. But the mandarin juice gives the icing a nice touch of peachy color and of course an added subtle citrus flavor.

Ingredients for the Baby Bundt Cakes
Makes 6 Baby Bundt Cakes
200 g flour
170 g full fat yogurt
170 g sugar
100 g melted butter
3 eggs
5.5 g / 3/4 tsp baking soda
good pinch of salt
Almond extract to taste (we use 3/4 teaspoon)
approx 12 pieces of finely chopped or shredded candied orange peel (or use zest of 1 orange)
Ingredients for the icing
200 g icing sugar
juice of one mandarin
Making the Baby Bundt Cakes
Preheat the oven to 170ºC / 340ºF. Grease the bundt pans and dust them with flour or use a coating spray that contains flour. Sift flour, baking soda and salt in a large bowl. Add the sugar and shredded candied orange peel (or zest) . In another bowl mix the wet ingredients: Eggs, melted butter, yogurt and almond extract. Add the wet ingredients to the dry and fold with a rubber spatula until well combined. Equally divide the batter between the 6 baby bundt pans. Bake for 25 minutes in the preheated oven. Take them out and leave to cool for 10 minutes before you invert them on a cooling rack. Leave to cool completely. Make the icing by combining the icing sugar with the mandarin juice until the right very thick consistency. Poor the icing over the top of your cakes, letting it slide down the sides. I always aim to make it the consistency that will slide a bit, but will stop running just before it hits the bottom of the plate. Leave the bundt cakes with the icing to firm up a bit. Keep in an airtight container. Just as good the next day and the day after that…