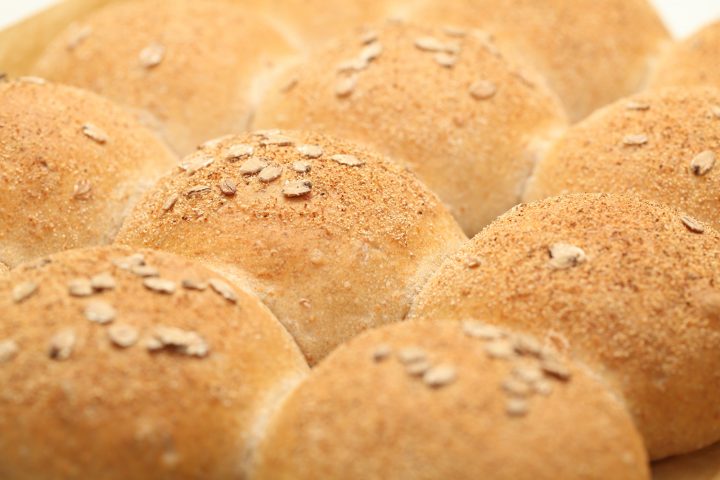 My dad says he likes these better than a piece of pie!
These buns are the perfect balance between light and airy and full of fiber. The crumb has such a nice bite and the taste is interesting on its own, slightly nutty with a hint of natural sweetness. The recipe is straightforward and can be made in one day or with an overnight poolish. All the spelt and oats go into the poolish / preferment and it makes this wonderful thick porridge like batter, partly caused by the soaking of the oats. The strong bread flour in the final dough is responsible for the lighter texture and a good rise.
This recipe is a great variation on the bun theme, showing you again a slightly different method, yielding a satisfying result. The shorter one day preferment method is great if you want to fit in some afternoon or evening baking with other activities, or you forgot to make a poolish the day before.
Hope you like them too. Stay happy and healthy and enjoy your baking!
Ed & Marieke
WKB
---
Carefully weigh all ingredients for the best baking result!
Step 1: Making the poolish
For this recipe we are going to make a preferment named a poolish. A poolish is a type of wet sponge usually made with an equal weight of water and flour and an extremely small amount of yeast and NO salt. Making a poolish helps bring more taste and strength to your bread while using less yeast. You can do the suggested shorter version with a 4-6 hour poolish or do an overnight preferment of 12 hours in the fridge. Just see what fits your schedule best. Read instructions below.
Ingredients for the poolish
200
g
whole spelt flour
50
g
oats (or oatmeal)
250
g
water (room temperature)
1
g
instant yeast
In a bowl bring together all ingredients for the poolish and stir with a spoon or dough kneader for about 30 seconds until you have a homogeneous thick batter consistency.
Cover the bowl and let the prefermenting begin. After 4 to 6 hours* it is ready for use. Look for activity / bubbles but make sure the poolish is not over-ripe and even collapsed / retreated in the bowl, because the gluten will be damaged and the buns will not rise well. It is always better to use an under-ripe poolish in your final dough, so check the progress.
*Alternatively, you can use an overnight poolish with a 12 hour preferment in the fridge. The amount of instant yeast for this period is 1.5 grams, provided you put the poolish in the fridge for the 12 hour period.
Vitamin C in bread baking*
Next to being a well know food supplement, vitamin C, also known as 'ascorbic acid' can also used in baking as a bread enhancer. So, What does it do?
Due to the properties of vitamin C, it can be used as a dough (gluten) strengthener during fermentation, helping to improve the structure of the dough.
Use a third of a 1000mg vitamin C tablet for this recipe.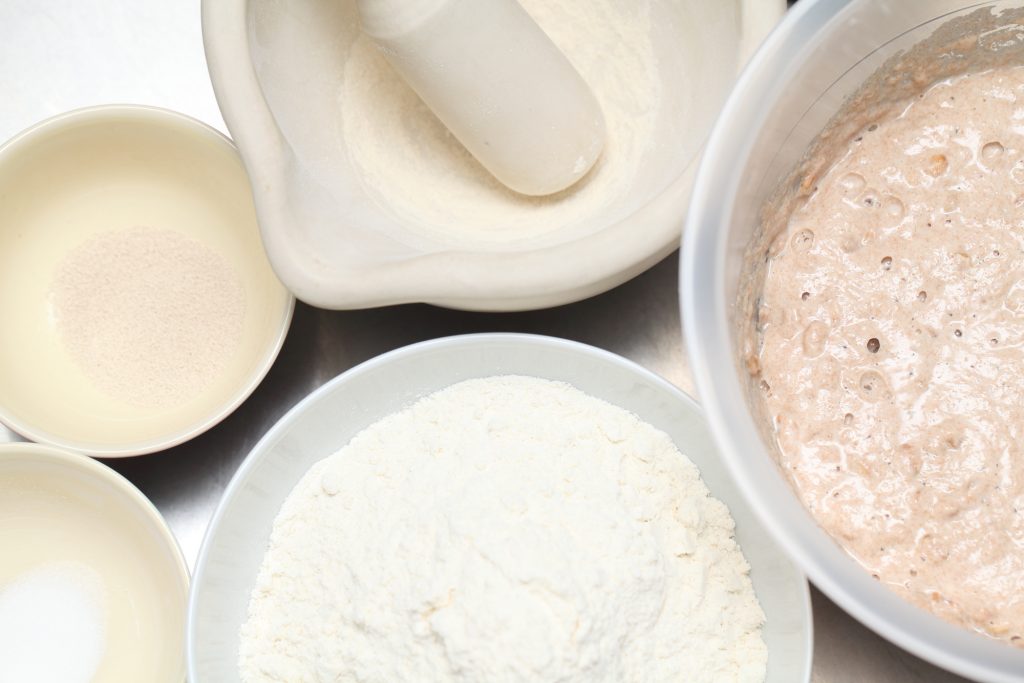 Step 2: Making the dough for the buns
Ingredients for the bun dough
makes 12 buns
the poolish from step 1
300
g
strong bread (wheat) flour
120
g
water
8
g
(sea) salt
5
g
instant yeast
20
g
olive oil
0.3
g
ground vitamine C* (optional)
In the bowl of your standing mixer, combine the poolish from step 1 with the bread flour, instant yeast, olive oil and salt (and optional vitamin C). Now add most of the water (slightly warm around 30ºC, also depending on the temperature of your poolish), but hold back around 30 grams. Start mixing at low speed and when the dough comes together, slowly add the rest of the water. This way the flour at the bottom will be picked up. Knead for 8 to 10 minutes on a low speed. If you knead by hand it takes about 15 to 20 minutes, depending on your technique. It should be silky and smooth and still stick to your fingers, where you can stretch the dough almost to a window pane stage before it tears a bit. Cover and leave to rest for 15 minutes.
Further developing the dough
Now turn out the dough onto your work surface and give it a stretch and fold. Do
one full letter fold set
(one set = right over left, left over right, bottom over top, top over bottom). If you are not familiar with it,
check out how this technique works in this video first
.
Stretching and folding helps you get a feel for the dough and it is great for its development. If your dough is still very cooperative, give it a few more stretches until it truly starts to resist. After the stretching and folding shape the dough into a ball, cover and leave to rest for another 15 minutes.
Shaping
Divide the dough into
12 equal parts and preshape into balls
.
Leave to rest for 10 minutes
. Gently press the balls with your hand until slightly flat and round again into smooth balls. You can lightly dust your work surface with flour if needed but do not use too much or it will be very hard to shape them well. We do not use any flour when shaping these buns.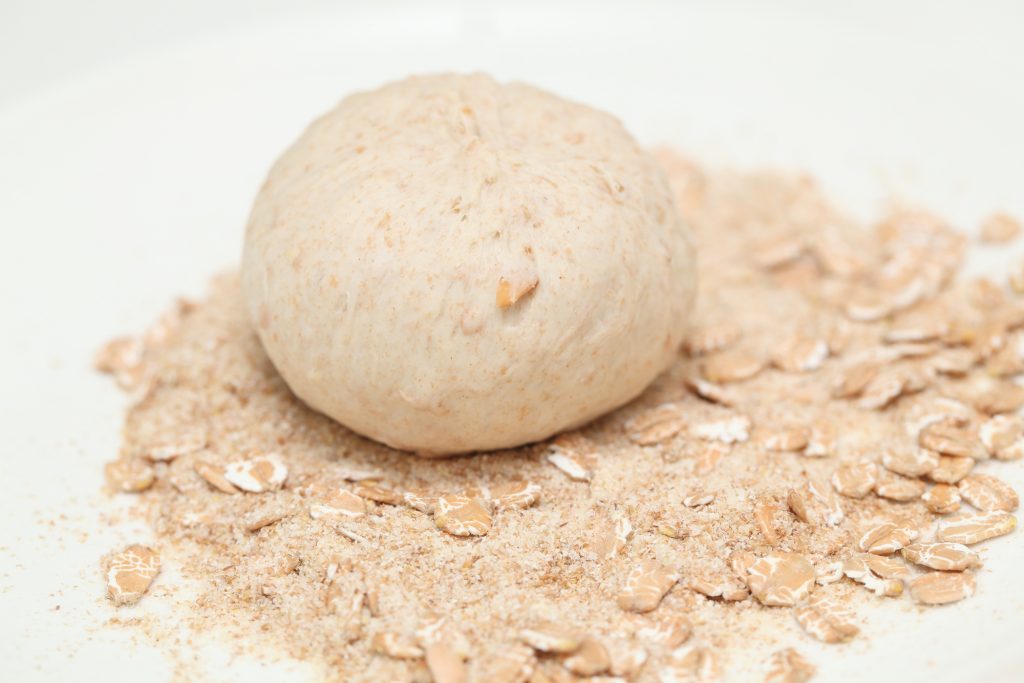 After shaping you can press the buns in some semolina or rice flour and oat flakes to give the crust a nice look and texture.
Place the buns on a baking tray lined with a baking mat or baking paper and make sure to leave some space (3-5 cm / 1-2 inches) between the buns so they can expand freely. It is no problem if they touch each other after proofing.
Proofing
Loosely cover them with floured clingfilm or a proofing cloth. To proof the buns to perfection they need quite some time, depending on the temperature of the dough. It will be between 2 and 3 hours. Just be patient and check regularly. When you think the dough has risen enough, use your finger to carefully make a small dent in the bun. If the dent partly remains (pops sort of half way back out) proofing is just right, the buns are ready to bake, if the indentation disappears, the dough needs more time. Give it another 15 minutes, then check again.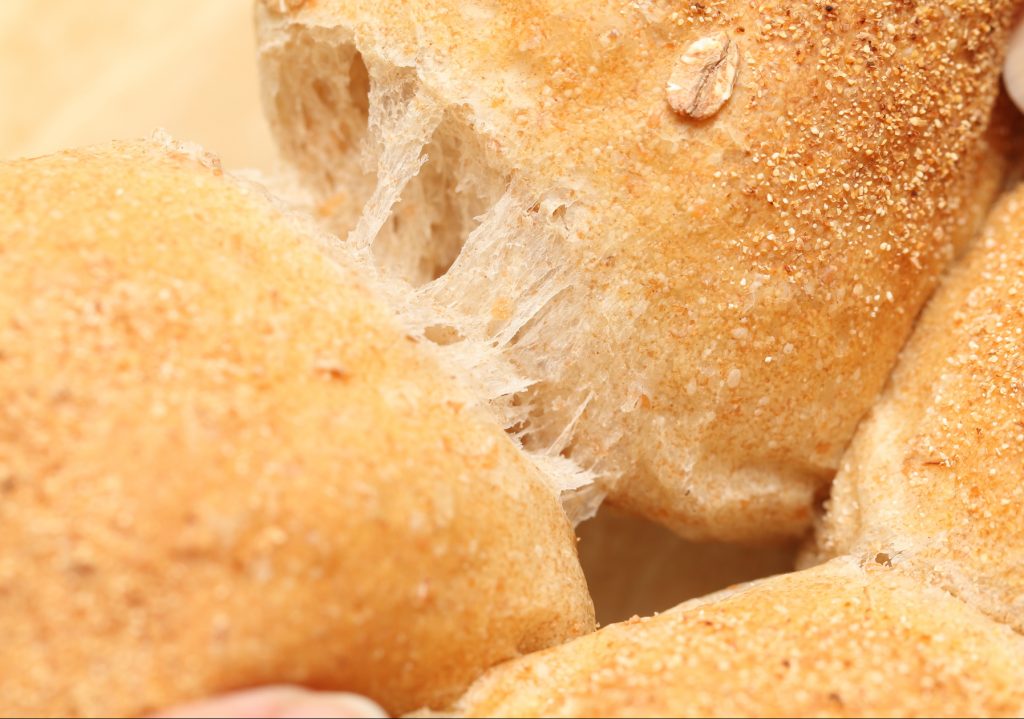 Baking
Somewhere during the final proof, preheat your oven to 220º C /430º F conventional setting. At what stage you preheat your oven depends on how long it takes for your oven to heat through, some take 30 minutes, some, like ours, with stone floors take a lot longer, up to two hours.
Take the buns to the oven. The total baking time will be around 16 to 18 minutes depending on your oven. Check regularly to see how fast the buns are browning. If you think the the buns have the desired color, you can temper your oven to 160ºC / 320ºF for the remainder of the baking time.
You can put the buns in a bag while slightly warm, this way they will keep soft. They also keep very well in your freezer for up to one month.
Bun time table
This table gives you an indication of the total duration for this recipe.
The poolish will take 4 to 6 hours or 12 hours overnight in the fridge
00:00 Make the bun dough with the prepared poolish
+ 10 minutes kneading
00:10 – Make bun dough
+ 15 minutes rest
00:25 – Stretch & fold
+ 15 minutes rest
00:45 – Preshape the buns
+ 10 minutes rest
00:45 – Shape the buns
+ 2 hours final proof (minimal)
02:45 – into the oven
Baking time 16 -18 minutes
03:03 – take out and leave to cool