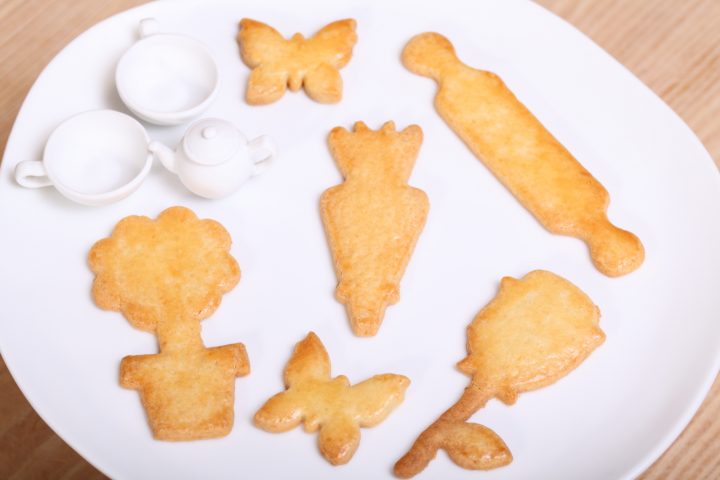 These French shortbread cookies hold their shape very well during baking
Klik hier voor de Nederlandse versie
Maybe you know them from a holiday in Brittany or Normandy, tasty French sablé cookies with a gentle crunch and delicious buttery taste. 'Sable' actually means sand in French, and the cookies are described as having a 'sandy' texture. These homemade sablés actually taste even better than the store bought ones, provided you use good ingredients and fresh butter of course. The good thing about this dough is that it dos not spread while baking, so they are an ideal for cutting out beautiful and fun shapes with your favorite cutters.
These cookies taste great as is and do not need any form of decoration, but you can of course always express your creativity in that department. You can also decide for yourself whether you want to add the freshness of lemon, sweetness of vanilla or perhaps a drop of almond extract for a more intense flavor. Lemon matches the summer, almond taste very nice on colder days, plain is also an option of course.
The method of rolling the dough between two sheets of baking paper, cooling it and then cutting the shapes works very well, so stick to this step for best results!
---
Ingredients for the sablés
250 g pastry flour or all purpose or plain flour
135 g butter, softened (make sure it is fresh)
100 g sugar
2 g baking powder
1.5 g salt
1 small egg (50 g)
Zest from one small organic lemon or a tsp vanilla extract
1 beaten egg for brushing the cookies (add one teaspoon of water for easy brushing)
How to make the sablé biscuits
In a bowl, combine flour, salt and baking powder and set aside. Combine butter and sugar in a bowl and beat 1 to 2 minutes with a hand mixer or dough whisk until creamy. Add the egg and lemon zest (or vanilla) and whisk until it is absorbed. Now add the flour mixture to the butter mixture and beat / stir until completely incorporated. Quickly complete the work by hand to bring it together to a nice smooth dough.
Put your dough between two sheets of grease-proof baking paper and with a rolling pin, roll the dough to a uniform thickness of about 3 mm. Ensure that the paper is smooth and there are no visible creases. Place the dough, still between the sheets of baking paper, on a baking tray and put it in the refrigerator for a period of 1 hour. If you are in a hurry, you can use the freezer (approximately 20 minutes). If the amount of dough is too large for your tray or fridge to fit, you can also divide it into two batches before you roll it out.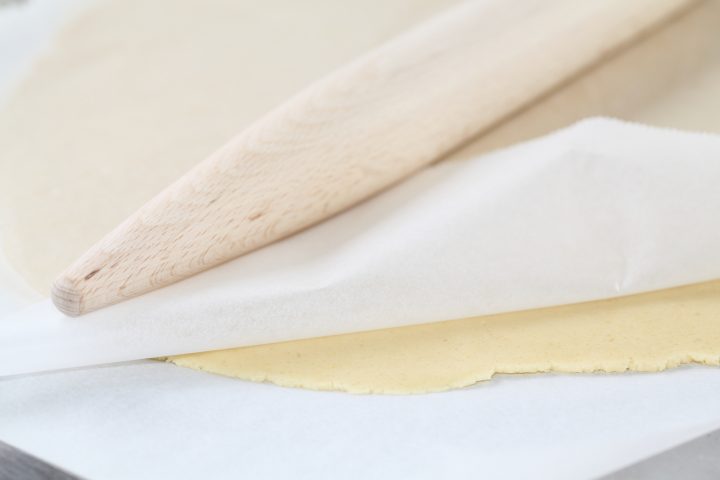 Preheat your oven to 160 °C / 320 °F, conventional setting.
Take the dough out of the refrigerator or freezer, place it on your work surface and remove the top layer of baking paper. Put this paper on the baking tray which is going into the oven.
Now use your favorite cookie cutters to cut out the shapes you like and place the cookies on the baking paper on the baking tray. Brush the cookies with the beaten egg to which you have added a teaspoon of water for easy brushing.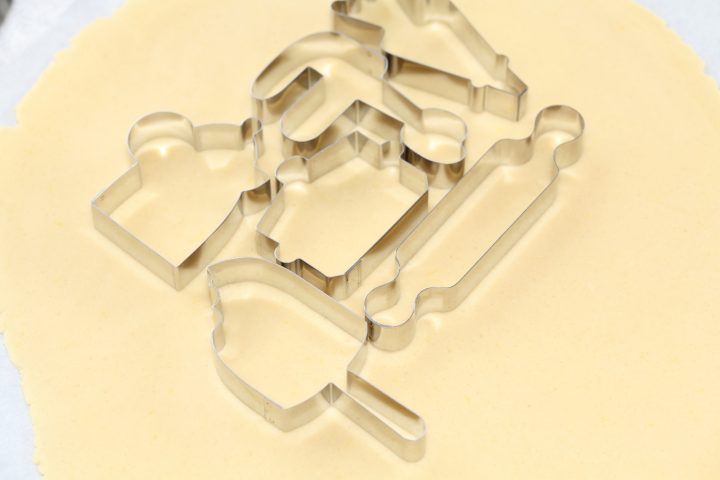 Place the baking tray in the preheated oven (we use the top tier for the most even bake with our own oven, so see what works best for you) and bake 12 to 14 minutes, depending on your oven and the size of the cookies. Keep an eye on your cookies and take them out when they display a warm golden color. Remove the baking tray from the oven and place the cookies on a rack to cool.
If you want to make them in advance, that works fine too. Store the fresh cookies in the freezer and take them out half an hour before you plan to serve them. You can also store them in a sealed container. We advice to eat them within two days, to take full advantage of the fresh butter taste!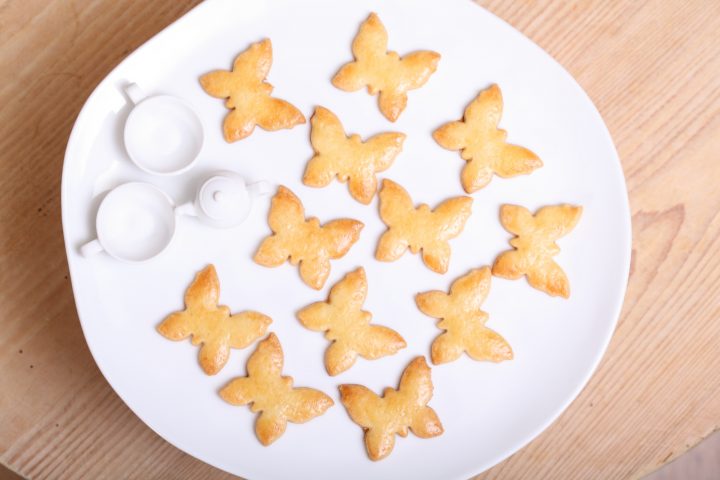 Visit our sweet baking shop to discover our ever expanding cookie cutter collection!