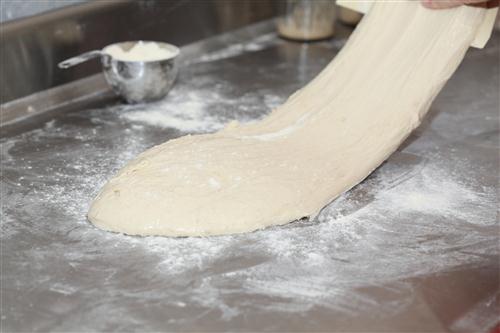 Stretching and folding is done to strengthen the dough during bulk fermentation
This little clip shows you how the technique of stretching and folding is executed. In the clip Ed uses the technique with a wholewheat sourdough 68% hydration dough. It is stretched and folded two times during bulk fermentation at 50 minute intervals. We use a flexible yet strong plastic scraper to help with the lifting and guiding of the dough.
You can find the complete recipe of our favorite wholewheat levain bread here.
The stretch and fold method helps to gently develop the gluten in your dough. It works very well with these higher hydration doughs. We like the technique very much because although you get to use your hands and feel the dough, it is not as tiring as actual kneading. It is great to see that by this gentle handling and a good amount of rest, you get amazing development in the dough and wonderful bread.