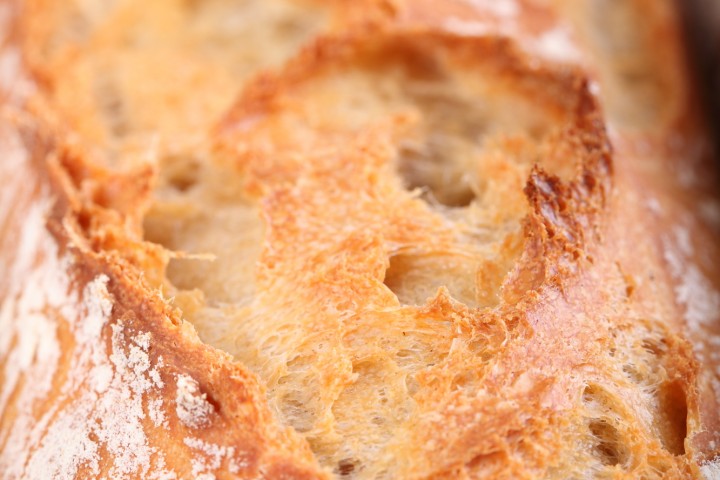 Is it French, is it Japanese, is it both? It sure is sticky dough at 80%!
Keeping track of my baguette baking trials and errors with the goal of eventually becoming a true proficient.
I looked at many recipes and the only one that really intrigued me was the 80% hydration one posted by Akiko on The Fresh Loaf. I immediately liked everything about it, the crust and crumb of the baguettes, the process of the recipe, the Japanese angle and the very extensive research Akiko put in. You can find my version of the recipe here, (with the blessing of Akiko).
I made a video of my baguette stretching, folding and shaping. Watch it here…
Also check our tips for scoring bread with confidence and handling wet dough.
And take a look at this great little clip. It shows exactly how to score and especially NOT score a baguette!
And if you have some more time you must see this great video of Julia Child and Raymond Calvel making baguettes. Brilliant!
*******

MY BAGUETTE MAKING LOG
June 2012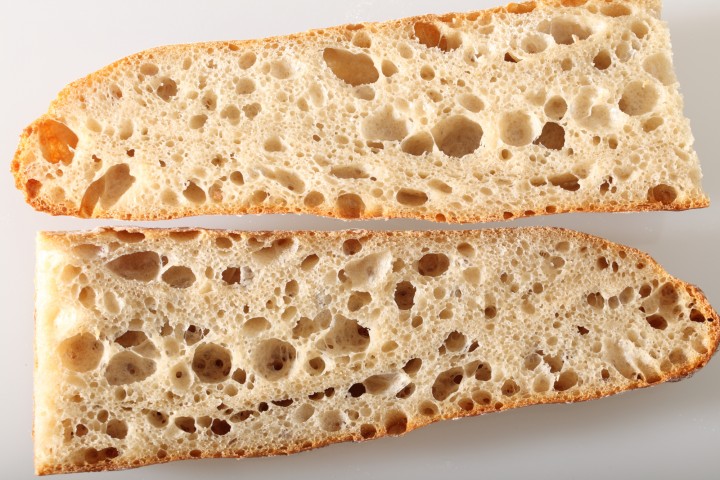 We perfected our 'easy French baguette recipe'. The method is simpler, the recipe has less steps, the dough is less wet than our 80% hydration baguette recipe, and yet this one also yields wonderful baguettes. If you were to compare the two recipes you could say this easy version has a little less depth of flavor and the holes in the crumb are less impressive, but it is also less laborious and less sticky to handle. It will saves you 2 hours on baking day. The flavors are actually very much comparable and eaten in combination with other foods like cheese, it will be hard to notice much difference in taste.
You can find our 'easy' recipe for French baguettes here
May 2012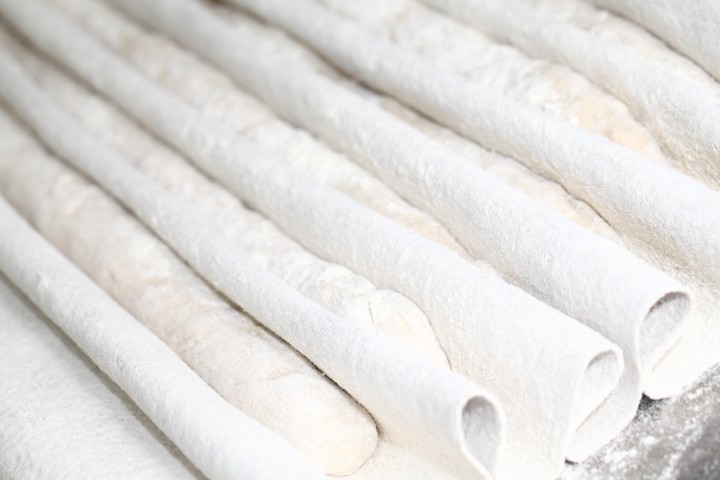 Currently we are working on a recipe to simplify the baguette making procedure that will still give the same amazing result (taste and texture!) as the 80% hydration recipe we have been using for quite a while now. The first test results are very encouraging. We will give it a few more turns and then share the new recipe with you. The idea is to reduce the number of steps and time to make the baguettes, however in contrast to the current recipe, you will need a standing mixer for this one.
Take 10, 11, 12…
December 2010
Still baking and still improving on the baguette making. Shaping is going better and I managed to get an even more baguette-like shape with pointed ends. Challenges remain because the Rofco oven only allows me to make 45cm long baguettes. I did manage to make 3 on one stone, so I can now make 9 baguettes in one go.
Scoring has also improved. I now carefully hold the baguette with one hand at the part where I want to score, and gently but decidedly slash it with the lame in my other hand. It's a bit hard to explain sometimes, what it is that you do exactly. It's like a counter movement, to hold the dough in it's place, while you quickly do the scoring. Confidence is key with slashing, because if you hesitate, you will get the lingering tears you are trying to avoid.
I also remember thinking how sticky the dough was, the first time I made this 80% hydration baguette. The more I handled the wetter doughs, the less sticky I seemed to find it. It wasn't any less sticky of course, I just got better at handling it or should I say handling it less. As your handling techniques get better, you tend to do less of unnecessary fumbling with your dough. I am sure you will recognize this too.
Hope I can keep improving and also hope, in the near future, to get my hands on an oven that lets me make 60cm baguettes!
Keep you posted.
*******
Take 9
September 18
Back to 80% hydration, although 76% also works very well, but 80% is a bit more fun to work with, more of a challenge. I have changed a few little things; first of all after mixing the poolish with the ingredients I now have used a little 'autolyse' of 15 minutes to hydrate the newly added flour. After 15 minutes the 2 minutes of stretch and folds were easier because of the autolyse. I also did not do the last stretch and fold at 03:00 just before the bench rest, I went directly into dividing and preshaping. While preshaping I was a bit more 'aggresive' on getting the rectangle right to aim for a more evenly shaped baguette. I used the same technique on the preshape as on the shape, a little bit of flour, press the dough down and out with your palms and tuck and roll into a cylinder. This way I got a nicer baguette shape and the shaping was more predictable and I needed less rolling to get to the right length. Actually it was a bit to easy, because all my baguettes were a bit to long. It did not seem to have a negative effect on the crumb and hole structure. I almost forgot, I made 6 baguettes at once this time instead of 4 so I did load 3 baguettes on one go instead of 2. A bit more fun stress! I made 3 of them in the dragon tail pattern.
*******
Take 8
September 15
I tried the dough with 76% hydration today. The plus side is that it is a lot less sticky! The minus side is that the holes in the crumb are a little less uniform. I also tried the dragon tail cut because Marieke waved scissors in front of my face and jumped up and down, asking me to make her one. Very, very nice pattern, fun to do and it also gives the baguettes a lot of room to expand and because of this the crumb had a nice uniform hole structure.

September 14
We use European flour which absorbs a few % less water than American type flour. Which means that when I make this 80% hydration dough, my dough is wetter than the American version. So if I try to make a version with my European flour at 76-77% hydration it will probably be about the same as the 80% American flour ones. Or if people want to try my version with American flour they should go to 82-83% hydration. Think I will just give the little less hydration version a try next, to see what comes out, although I am perfectly happy with the European 80% hydration ones.
*******
Take 7
September 12
I have baked the baguettes again yesterday and they came out great as well. The only thing was I did not divide the dough evenly so two were bigger and less nicely shaped than the other two. But the crumb, taste and holes were the same as my other pictures.
The fun thing of this accident was that the smaller two of the baguettes had a nicer oven spring with nicer opening of the cuts. I think they weigh about 310-325 grams instead of the 350 grams. Normally a baguette in France needs to be 60cm instead of the 40cm I can make. I think they call the smaller slightly thicker bread 'a pain' instead of baguette.
*******
Take 6
September 8
Baked again today, 0.8% yeast for 1 hour at room temperature and from 21:00 until 16:30 in the fridge. I used 0.4% yeast in the final dough. My new shaping technique is working perfectly and I have filmed everything.
The baguettes are superb! The best I have had up till now. Crispy, light (22% baking ratio) and full of flavor. This way they have the perfect balance between crumb and holes.
Also my scoring is getting more even and more aligned, so I am very very happy with the ears on my baguettes! I have practiced with a pen on a piece of paper. I drew a vertical line on the paper and then tried to 'score' the line. I practiced this about 20 to 30 times. I am using 'bread pan oil spray' to spray on my homemade lame. It is a dual-edge razor blade mounted on a wooden stick. With the oil and a swift stroke the scoring is ok. You only have to break the 'skin' on the baguette, not really cutting very deep. My cuts were only about 2-3mm deep. The oven spring made the scoring break open.
*******
Take 5
September 5
– Today I made some baguettes again to practice and it went great. I used 0.8% yeast in my poolish and I used 0.4% yeast in the final dough. I only kept the poolish about 1 hour on room temperature and I stored it for about 8 hours in the fridge. I wanted to see if I got a crumb which was in between 0.4 and 0.8 and if I could shorten the time in the room and in the fridge. I have watched some videos on youtube about shaping baguettes but all of videos use a dough with a lot less hydration and are not usable on your 80% dough but I got some ideas from it. I have made up my own shaping technique and it worked perfectly. All 4 baguettes are looking like baguettes and have a nice shape. One of baguettes hit the back of the oven and has a little bent but that is easy to do better next time. I also tried to score as good as I could and you almost have to score in a straight line, very funny. These are the nicest looking baguettes I have ever baked but….. I forgot to put in the salt…
0.8% yeast in poolish and 0.4% yeast in final dough;

September 6 – The baguettes without the salt did crackle a lot. They did not feel very light, they felt like normal baguettes. The baking ratio was 21.2%. I have the Hamelman book, as I have a lot of bread books including the Calvel book.
Note: The percentages and times for poolish by Hamelman are for room temperature and for fresh yeast instead of active dry yeast (21 degrees Celsius). So you have to divide the percentages by 3!
Here is a link to a PDF of one chapter of the Hamelman book, it is located on the website of the publisher; it is the chapter about poolish dough;
*******
Take 4
September 3 – The poolish for the baguettes is now ready and in the refrigerator. I will give it a go tomorrow.
I gave a baguette to my work colleague and he loved it too. He is a bit of a bread snob and he goes on holiday to France also a lot, so he can be a good judge to my progress.
I did stretch and folds for 1 minute and 45 seconds the last time it tried during the first stage.
September 4 – I have tried the great recipe by Akiko again and I am getting better at it. The shaping went much better this time. Two out of four do now look like a kind of proper baguette and the other two are OK instead of a disaster.
With putting the first two baguettes in the oven I got so excited because they looked so good that I forgot to score the baguettes. I found out when I put the other two into the oven on the second stone. So I decided to score the first two while they where in the oven for 60 seconds and already had some oven spring. They have never looked better 😉
We just ate a baguette with some cream cheese and it was lovely. Marieke is also in love with the taste of the baguette. I have thanked Akiko, for her great recipe and hard work and great article on the fresh loaf.
*******
Take 3
august 31 – I tried again tonight and it worked out OK. My shaping skill is still not very good, especially with the 80% hydration dough, but it is getting better. The crumb is now very good, I used 0,4% yeast and I did about 2 minutes of slow folding at the first stage. At every further stage I did 4 folds, and I divided my dough after the bench rest.
September 1 – I measured the weight of my baguettes before and after baking it to establish the ratio of how much water the baguette lost.
A ( The baguette's weight before baking ) – B( The baguette's weight after baking) ÷ A x100 = Ratio
1380 gram before baking (calculated by adding up the ingredients)
1100 gram after baking
so the ratio is 20,28%
September 2 – I think the taste of the baguette is already amazing, the best baguette I have ever tasted, and I have been on holiday to France a lot! Most baguettes from bakers in France nowadays are very bad and taste, look and smell like cotton. They use intensive mixing and low hydration dough and very little preferment. However some bakers are going back to the 'old' traditional recipes and they are much better.
*******
Take 2
august 29 –
I just started a poolish for 4 baguettes (it is 21:54 evening) with only 0,4% yeast (=1,5 gram) because it has to stay for 17 hours in the refrigerator during my daytime job until 17:00 tomorrow.
august 31 – I tried to make baguettes yesterday but I made a big error during the process and the dough was not strong enough during shaping. So I will try again tonight!
*******
Take 1
august 28 – I have tried the recipe of Akiko (Teketeke on the fresh loaf) (the first version without the helpful fold and shape pictures) and I had a lovely baguette. I use my Rofco hearth oven and linen couches to proof the baguettes. This is my third try with three different recipes and yours is the best of the three. The Hamelman recipe I tried before did not give me the right crumb.I will give it soon another try to perfect the handling and shaping of the 80% hydration dough. The dough looked like a sloppy disaster at first but after some time and a lot of stretch and folds it came together.
august 29 – I want to thank Akiko very much for all the updates to her recipe. I will give it a try this week as I want to perfect my baguettes like hers. While scoring I did not use any shortening or fat in the cuts, I just cut it at an angle and put it in the oven.