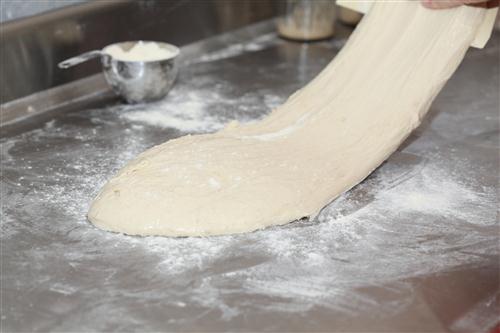 Wet dough, it's all in the mind… and a little bit is sticking to your fingers…
Working with high hydration doughs can be difficult. When working with very soft and wet dough, for instance baguettes, ciabatta or breads like our Baguette Boules it will take a while for you to come to terms with the stickiness of it. You will ask yourself: "Should it be this sticky?" and maybe end up with more dough on your hands than your work surface! Do not panic, it's all part of the wonderful journey that eventually leads to the land of creamy crumb and crusty loaves!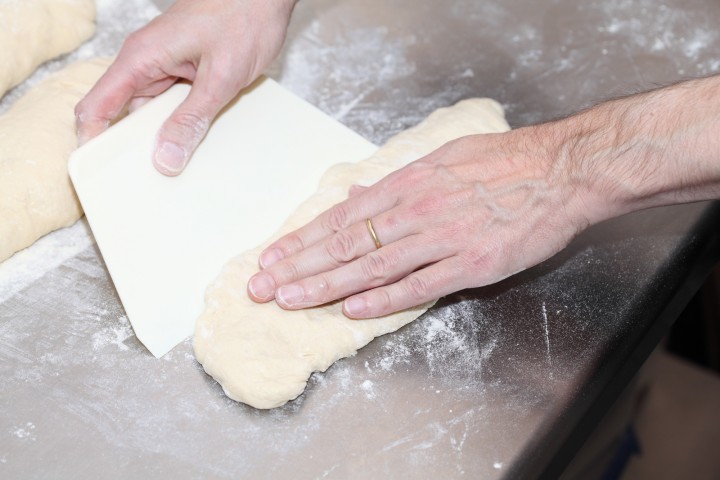 Our sticky dough tips:
Make swift decisive, yet gentle confident moves and do not fumble about too much with the dough.
Use a dough scraper to assist you when lifting, dividing and transferring the dough.
How sticky is sticky? How sticky is right for this particular recipe? Find out first, from the recipe, or from people who have made it, so you won't spoil it by adding tons of flour until you think you can handle the dough. It can range from tacky, to sticky to very sticky. From post-it sticky to 'it's OK to have pieces of dough sticking to your fingers. So find out what level of stickiness goes with your recipe so you can judge for yourself if your dough has the right consistency.
Do not start out with the stickiest of dough recipes. Get comfortable with a slightly sticky dough first and take it from there.
You can spray your scoring knife/lame with cooking spray just before scoring your sticky loaf or baguette. I tried this myself with spray oil on my own lame and I recommend you give it a try, it cuts just that little bit easier through the dough.
Using the stretching and folding technique will strengthen your dough and with each stretch and fold and the passing of time it will become easier to handle.
Don't freak out if your hands get a bit doughy, especially during the first few stretch and fold stages of very wet dough like 80% hydration baguette there will be sticky dough bits clinging to your hands. Just keep breathing and scrape them of with your plastic scraper.
Wash your doughy hands with cold water, because this will best dissolve the dough from your hands, warm/hot water will sort of cook the dough and make it more sticky.
Some people oil their work surface and lightly oil their hands during kneading or folding. Some people lightly wet their hands. I prefer to use my hands dry, with maybe a bit of flour. Test different methods and see what works for you.
We keep saying this but remember that different types of flour have different levels of moisture absorption. Make sure you have the right type of flour for the recipe or adjust your moisture levels accordingly.
You will find you need less and less flour as you get more experienced in handling wet dough.
A guideline to check if your high hydration loaf is done, is to measure the core temperature with a digital probe thermometer. For wet dough, like ciabatta, the core bread baking temperature should be around 96C/ 205F (The ideal average bread core temperature should read 93.3C / 200F). The reason being getting rid of the excess moisture still present in the dough. The excess moisture in the core would otherwise soften the crust while cooling, and with a too low core temperature, the crumb will not get the chance to fully stabilize.
Practice, practice, practice!
Consolation: even if you are still a bit rubbish at shaping wet dough, you'll probably still end up with a very edible loaf!
Take a look at my 80% hydration baguette making movie and see how I attempt to handle this very sticky dough.
If you have a good tip on handling wet dough that's not on the list but that's really working for you, please let us know, leave a comment so we can all benefit from it!