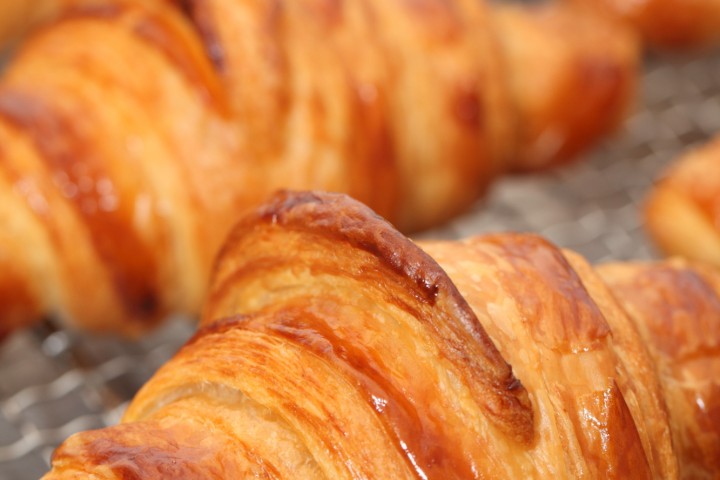 Conclusion: Making your own croissants, totally worth the effort!
Some years ago we bravely started our quest for the perfect croissant. But after two attempts we cowardly sneaked away again.
The first attempt was just a disaster. I believe we used a recipe by Michel Roux, so we probably cannot blame the recipe. But how foolish can you be to go and try to make your first croissant dough ever on a very hot and humid summers day?! Maybe if you are an expert and know what you are doing, but at that time we sure didn't. So, big disappointment with butter dripping out from all sides.
Luckily for us, no pictures were taken (better not to touch the camera with butter fingers) so we just put this aside as a 'now we know what NOT to do' learning moment and moved on.
The second attempt happened months later, cooler in the bakery, check! But better conditions alone do not make a good croissant. In fact, you can bake something that vaguely looks like a croissant but in truth is just a buttery roll. So again, we where a bit discouraged to say the least…It took as over a year to get our courage up and give it another try. The cold weather also helped a lot.
And then things quickly got better…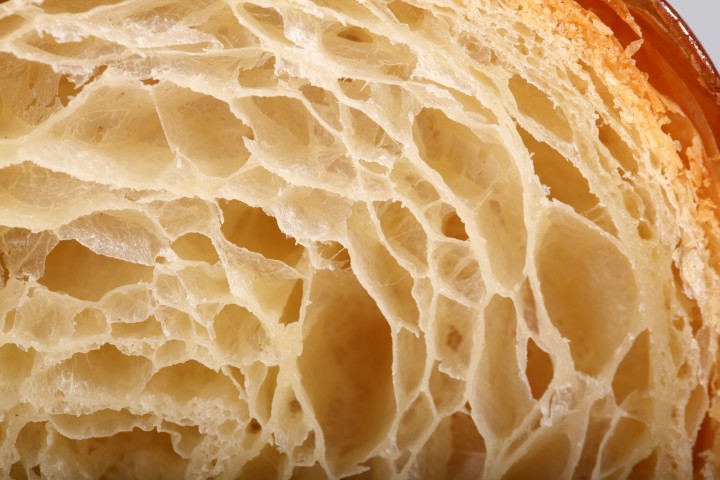 So our most important advise would be to practice your first croissant making when the weather is nice and cool, or make sure your surroundings are around 20ºC = 68ºF, or even better, a bit lower. This way the butter will not get too soft or even melt and get absorbed by the dough, a thing that also happened with our second batch (look mummy no layers!). We also knew we needed a better recipe as a starting point.
But then we remembered our quest for the best baguette and how much time and effort went into that. So then it was on and we would not rest until we had truly mastered the wonderful art of croissant making!
Hope you will get stuck in there with us and please do not give up after one attempt…practice does make perfect!
OUR CROISSANT MAKING LOG
CHECK OUT OUR MAKING & BAKING CLASSIC FRENCH CROISSANTS VIDEO
CHECK OUT OUR MAKING & BAKING CLASSIC FRENCH CROISSANT RECIPE
Recipes used / Inspiration
Classic Croissants by Jeffrey Hamelman
Mr. Hamelman is a favorite for croissants and an inspiration for many other bread recipes!
TXfarmer on The Fresh Loaf
The book 'Pastry, savory and sweet by Michel Roux (croissant recipe does not work, only 50% hydration resulting in very stiff, unmanageable dough, 'hope' it is a typo? more likely it was us!).
We use French type 55 flour for our croissant making.
November 2018
We were experimenting with our Roccbox making pizza. As pizza needs a dough which is easy stretchable and croissants also need a stretchable dough we thought perhaps this flour will also work great with croissants. So we made some croissants with Caputo Pizzeria Long fermentation 25kg and added about 300mg of vitamine C as a dough enhancer. It worked great, very nice layering and easy to work with. The croissants on the photo are a bit under proofed, so next time we will give them an extra 30 minutes to proof.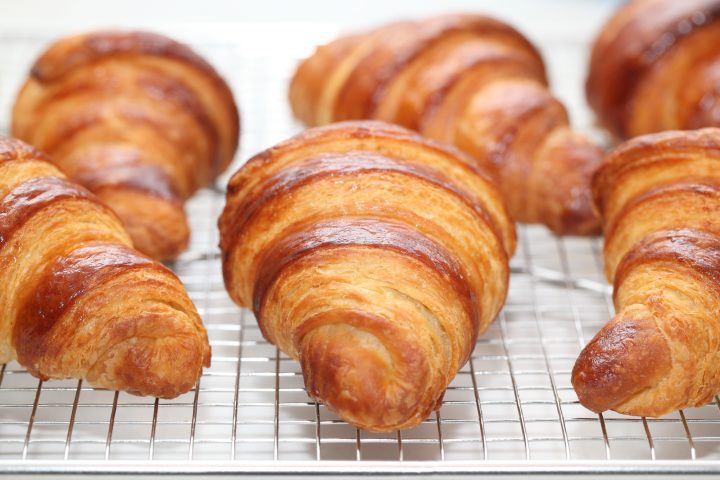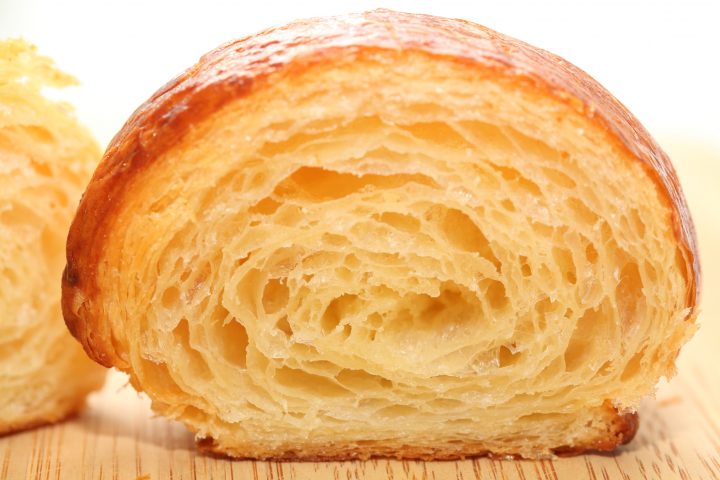 September / October 2014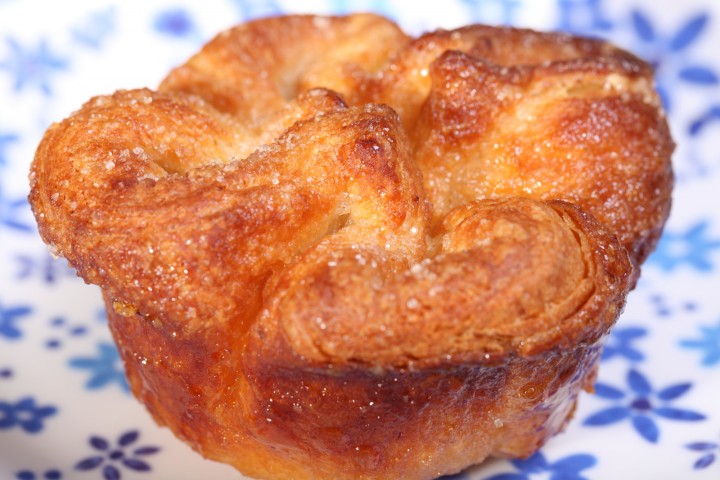 Very much inspired by the pastry episode of the Great British Bake Off we could not help but have a go at the Kouign-amann. This interestingly named concoction is a regional specialty of the Bretagne region in France. It is a round 'crusty cake', made with bread dough containing layers of butter and sugar folded in resulting in puffed up layers with lovely caramel inside and out. The name derives from the Breton words for cake ("kouign") and butter ("amann").
We thought our croissant dough would be very well suited to make the version as shown in the BBC program, using a muffin tin to create the shape you see in the picture. The results of the first baking sessions are so delightfully good that it is quickly becoming a favorite with us and a wide circle of people around us.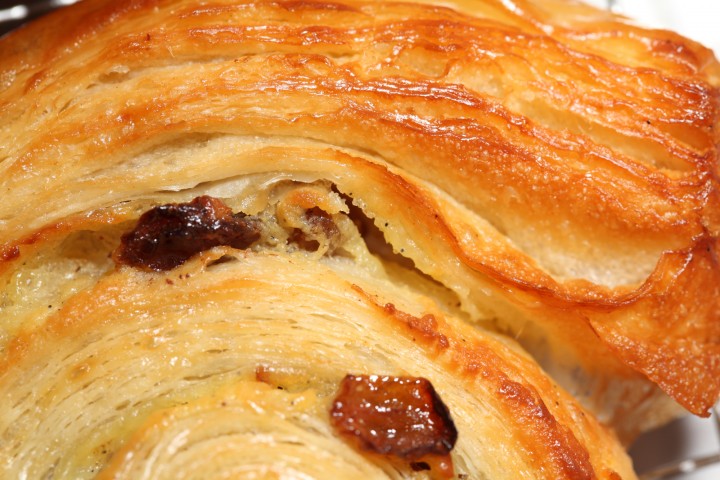 February 2014
Next to croissant baking in the past months we also perfected our pinwheels and pain au raisins. You can find the instructions here. These pastries are all made with the same laminated dough as used for croissants and pain au chocolat. The fun is in the shaping and in ending up with a totally different pastry but equally delicious and worthwhile to make and bake. Another thing we love is making crème pâtissière / pastry cream, the stuff that plays an important role in the end results of both pinwheels and pain aux raisins. You can find our favorite pastry cream recipe here. It can be used for lots of other things too of course, like the famous vanilla slice or Dutch tompouce for example. Next to the pinwheels with cherries and apricot on top, we also made one with an apple, cinnamon and raisin compote, also very delicious. In the next months we hope to do some more experimenting with 'pâtisserie viennoise'.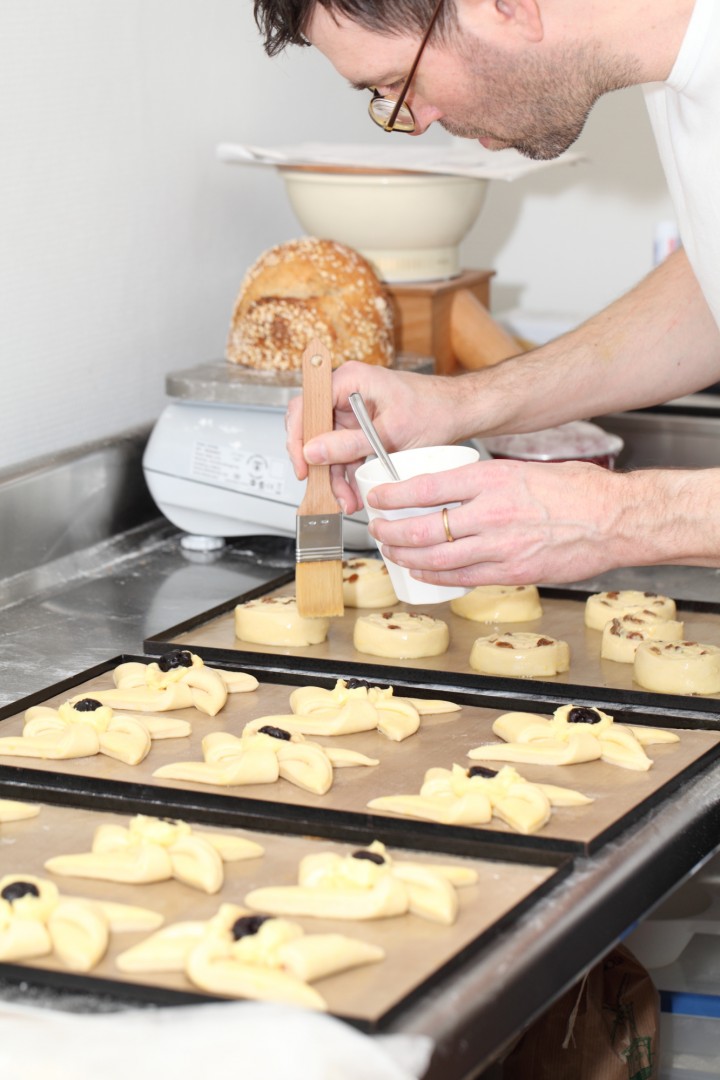 September 2013
We are experimenting with different flours at the moment. We tried the organic German type 550 but it proved too heavy and we ended up with a slightly flattened croissant with less then impressive honeycomb structure. The next step is to try some organic Manitoba flour which is very high in gluten and is traditionally used for Italian enriched breads. It originally come from the Canadian region of Manitoba. We already noticed it is a joy to roll out compared to the French Type 55 we normally use. But we need more experimenting to draw conclusions.
At the same time we are playing with the tightness with which to roll up the dough triangles. To get a good honeycomb structure that starts at the core of the croissant you have to roll the dough pretty tight at the beginning. We are establishing what the best techniques are to get this right.
Keep you posted!
December 2012
Moving on to other Viennoiserie / Danish Pastry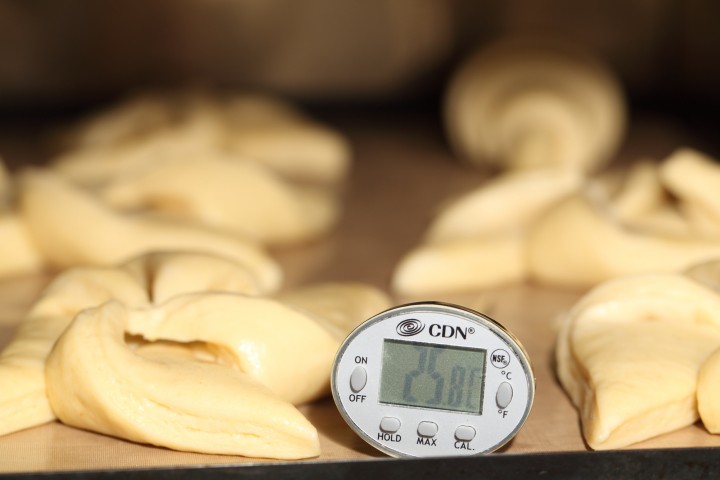 Inspired by our baking friend Luc Martin from Tilburg Sourdough and our new book 'Advanced bread baking and pastry' by Michel Suas, we are now enthusiastically experimenting with the laminated dough, trying out different kinds of Danish pastry. The shapes you see in the last three pictures are called pin wheels. They are filled with crème patissière made according to the recipe from the book of Mr. Suas. We will keep you posted on our Danish pastry results.
We also decided it is time to post the compleet version of the croissant recipe. We found a firm base in Jeffrey Hamelman's recipe but over the months we made many small changes and we think it justified and more clear for other bakers to explain in a new recipe exactly how we make and bake our croissants at the moment. So we will post our version of the recipe in the near future.
March 2012
BATCH 6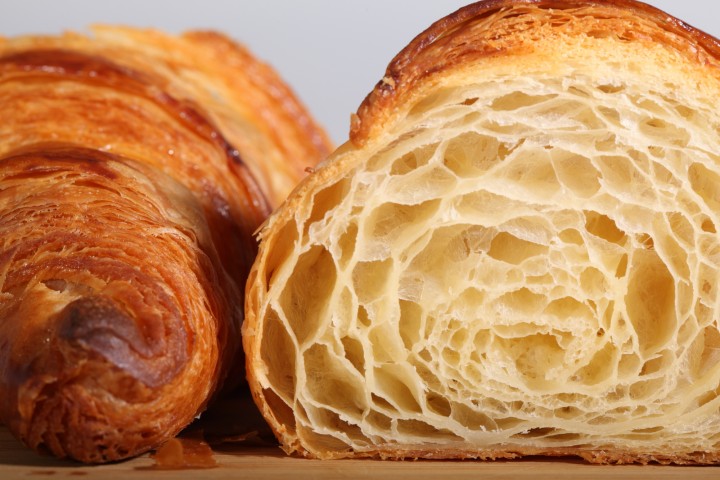 Just baked another batch of croissants and also some 'petit pain au chocolat'. Practiced with and altered a few things, like shaping, with good result.
Made some pics to go with it. Comparing this batch with the previous, we again made some progress, especially with the honeycomb structure and thinner inner layers (lighter mouth feel).
When elongating the triangles use a rolling pin and roll from the middle of the triangle to both sides to get an even thickness from start to point.

According to Raymond Calvel croissants laminated with margarine *ugh* are formed into the crescent shape, while croissants laminated with butter are left in the straight form.
Next to the three fold method or letter fold there is also the 'book' method. Calvel also mentions that an experienced individual, using a dough sheeter, which we home bakers do not have but which makes life (by which we mean rolling the dough) so much easier, can accomplish two book folds with no rest period between, thus saving precious time.
Tips and lessons learned from batch 6
Do not over-knead / develop the dough too much, too much gluten will not help during the lamination process. The lamination process itself is a kind of stretch and fold anyway and will strengthen the dough.
Gently shape the dough into a flat ball by pressing it down before storing it in the fridge, this makes rolling during the first fase more easy. Making a tight ball will strengthen the gluten and you need an elastic dough.
After you cut a notch in the middle of the short end of the triangle, try and roll the two wings by moving your hands outwards from the center, creating the nice shape with a thinner, longer point.
We also made some 'petit pain au chocolat' and this time tried to make them a bit more authentic by using rectangles of the dough instead of leftover odd pieces and also shaping them better. We used our favorite Valrhona Caraïbe chocolate, it's simply delicious, much better than the rather strange sticks you often see being used that sometimes taste a bit musty and sometimes even burned.

Februari 2012
BATCH 5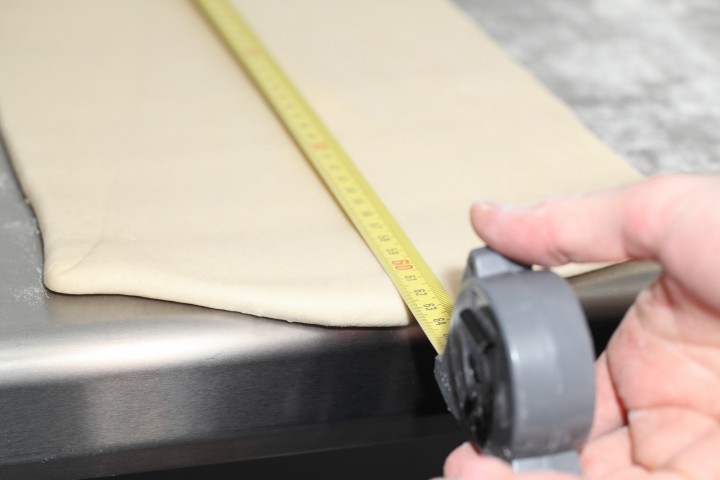 Our best batch of croissants to date! Very pleased with the result.
We got the honeycomb structure we wanted and this also resulted in the croissants going towards the structure and bite we are aiming for.
What are we aiming for you ask?
Well, there is this place in Normandy in France where we tasted the best croissants ever and it is our ultimate goal to match those. We like these croissants because they are buttery and flaky but still they have this center that has a light melt in the mouth sort of 'custardy' feeling. In our opinion a croissant would not be right if all you got were flakes in your mouth and on your plate.
Tips and lessons learned from batch 5
Work precise and try to get all measurements right. Make sure your dough is shaped with straight lines and squarish corners.
Do not pull the dough to stretch the individual triangles. Because of the squeezing and pulling with your warm hands you will damage the layers. Use a rolling pin to gently elongate the triangle.
With this batch we have been really careful with the rolling out part of the dough triangles. We have not elongated/stretched the dough by hand like it says in the Hamelman recipe, just very gently worked with a rolling pin. Next time we want to try and elongate them just a little bit further, trying to create thinner dough layers, and see how it turns out.
Januari 2012
BATCH 4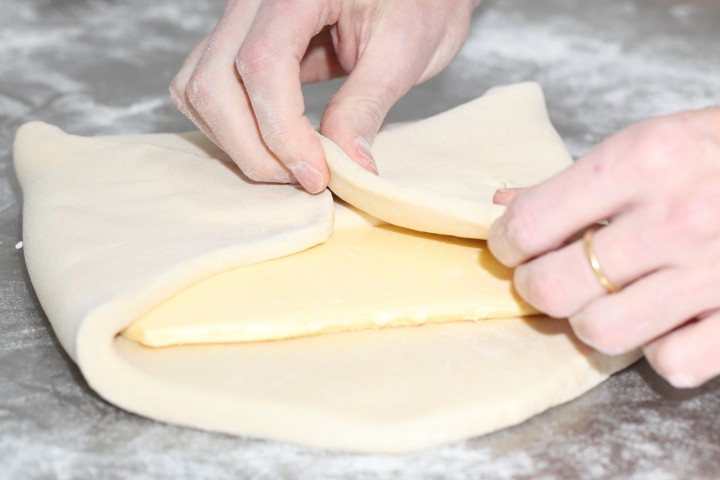 After the encouraging results of batch 3, there was no way we were going to wait long before trying the next. So batch 4 was made the following weekend.
We did not improve much on the previous batch, but we were still happy we were able to duplicate our previous success. Batch 3 was not just a lucky shot! But probably because of too much pinching and stretching of the croissant dough triangles, we damaged the layers a bit, resulting in a, still tasty but, slightly heavier croissant.
We also fine tuned the oven temperatures and baking time, a few degrees lower, a minute or two less. We use a semi-professional convection oven for the croissant baking so we have to take that into account.

Tips and lessons learned from batch 4
Too much fumbling, and squeezing the dough triangles does not make a light and beautifully layered croissant. Most important thing to improve on with the next batch.
On the third day, when you have to lengthen the dough to a formidable 112 cm / 44 inches, the dough at some point may resist and /or shrink back when rolling it out. Hamelman suggests folding it into thirds and giving it extra relax time in the fridge for about 10 minutes. We did this with this batch and it worked great.
We used the excess dough we trimmed from the edges to make a bit odd shaped but still very delicious 'pain au chocolat' using our favorite Valrhona Caraïbe dark chocolate. The trimmed dough parts are still worth using, it would be a shame to throw them away.
We tried freezing the croissants and putting them for 8 to 10 minutes in the preheated oven (180ºC / 355ºF) straight from the freezer. Nothing wrong with that, croissants eaten nice and warm, almost as good as fresh ones…almost
Januari 2012
BATCH 3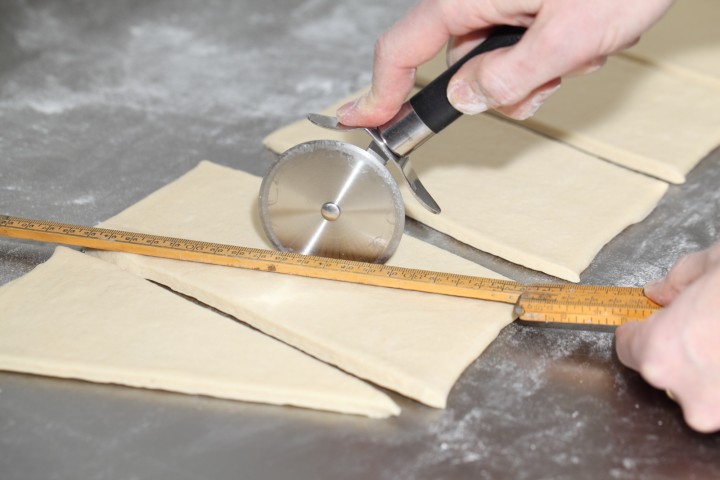 The first time we used the Hamelman recipe. Pleased with our 'looks like a real croissant' result. The taste is fantastic but the croissant is not as light and crisp as we'd want them to be. A little bit heavy when biting into it.
The center is hollow, but we want that honeycomb structure also in the middle of the croissant. Still work to be done!

Tips and lessons learned from batch 3
After you have made the initial croissant dough, shape it like a disc, not a boule, before you refrigerate it, so it will be easier to roll it into a square shape the following day.
After each rolling and folding I already gave the dough a quarter turn and gently rolled it out just a little bit (think a few cm) so the dough could relax in the shape I was to continue with. This seems to work well.
If you have a pizza slicer, use it, it works a charm to cut the croissant dough.
Next time pay extra attention to the begin part of the rolling of the triangle when shaping the croissants.
We use our Rofco stone oven as a croissant proofing cabinet by preheating it for a few minutes to 25ºC / 77ºF. It retains this temperature for a long time because of the oven stones and isolation. We can do this because of the luxury of having more than one oven. But you can also try this with a smaller household oven and use a baking stone. You can check the oven temperature with a digital thermometer. If possible you can also put a baking tray on top of your oven to speed up the proofing process if necessary.
Croissant baking somewhere in 2010
BATCH 1 & 2
No pictures of our first attempt at croissant making, but as you can see looking at the pictures below, our second attempt left much to be desired. The recipe we used was a quick 1 day recipe we found on the Fresh Loaf site. We decided to use it mainly to practice the laminating part and with this one day version we could go straight to work.
Sorry excuse for croissants…need therapy first to get over it and dare to try again
So, what went wrong with this second batch?
The room temperature was around 22ºC / 71.6ºF so still a bit too high.
When you are inexperienced the process of laminating and rolling just takes too long.
Because it was a one day dough it lacked in stretchability, so the dough was fighting back like crazy. You probably need a dough that has rested in the fridge for 24 hours to get the right gluten development to get a more stretchable dough.
Check out our version of the perfect croissant recipe here