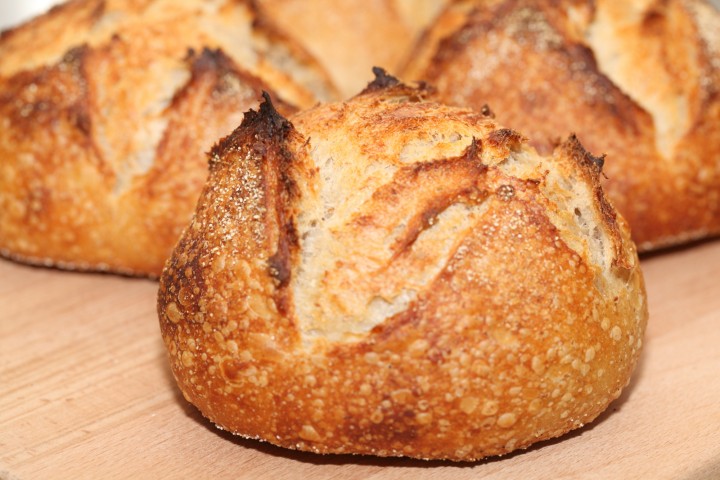 This recipe yields 6 mini boules. We usually triple it and end up with 18 boules…
Klik hier voor de Nederlandse versie
I find these mini boules are the perfect little breads for two or to accompany a nice family meal or dinner with friends. You can share one with some soup or dip it in a gooey Camembert out of the oven. They also make an original little present. Another advantage mentioned by one of our bread friends: there's more crust to enjoy!
See what fun you can have sharing these boules and read how versatile they are (cheese fondue anyone?)!
Ingredients for the starter
100 g bread flour
80 g wholewheat flour
106 g water
36 g sourdough culture
Making the starter
These mini boules (little round breads) are made with a stiff sourdough starter dough and no added yeast. You make the starter the evening before you make the boules provided you want to bake the next morning (it takes 12 hours to ferment). Make the starter by dissolving 36 grams of your active sourdough culture in 106 grams of water and add 100 grams of bread flour and 80 grams wholewheat flour. Stir until it comes together and finish by kneading the dough by hand until you have a ball (about one minute tops). Put the dough ball in a bowl and cover with clingfilm and let it ferment for 12 hours at room temperature.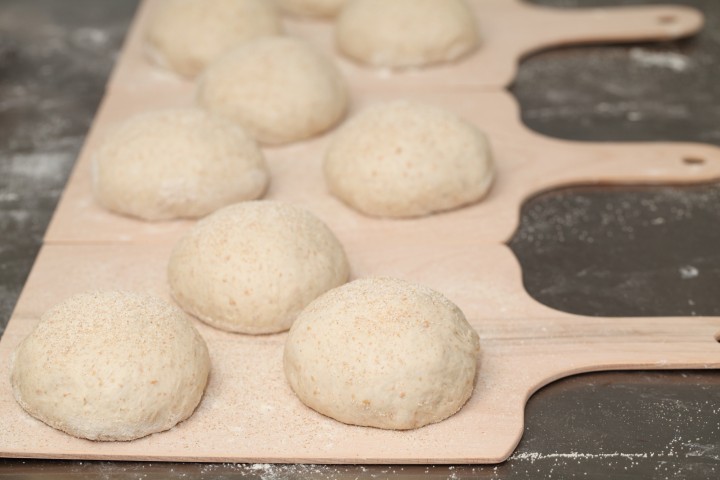 Ingredients for the mini boules
makes 6 boules of around 250 g each
Sourdough starter from day 1 – 322 g in total
720 g bread flour
470 g water
15 g salt
Making the mini boules
Preheat your oven to 235 ºC / 455 ºF (at what stage you preheat your oven depends on how long it takes your oven to heat through, some take 30 minutes, some with stone floors take a lot longer, up to two hours. The preparation time from this point until the bread actually goes into the oven is about 4.5 hours! So you might want to preheat your oven at the later stages of this recipe but make sure it's well heated).
Dissolve the sourdough starter a little bit in some of the water you are going to use. This makes it easier for the ingredients to combine. Put the sourdough starter and flour in your mixing bowl and add 2/3 of the water. Now start mixing and gradually add the rest of the water and let the dough come together (see if you need all of the water or even a bit more, depending on the flour you use). Mix for only 1 minute until you have a shaggy mass (as Hamelman calls it). Leave it in your mixing bowl, cover and leave for 30 minutes. This process is called 'autolyse'.
After the autolyse phase distribute the salt evenly on top of the dough and knead the mass for another 5 minutes and watch it turning into something much more resembling bread dough.
Transfer to a greased bowl and leave to rest for 50 minutes.
Ideally the temperature of your dough after mixing should be around 24-25 ºC / 75 ºF. You should adjust the temperature of the water you add, so the total dough reaches this temperature. For us this means in summer adding cold water to this recipe and in winter (when our little bakery gets much colder then the rest of our house) adding water up to 50 ºC /122 ºF. You can measure the temperature of water and dough with a food thermometer. These measurements are important because they correspond with the proving times in the recipe.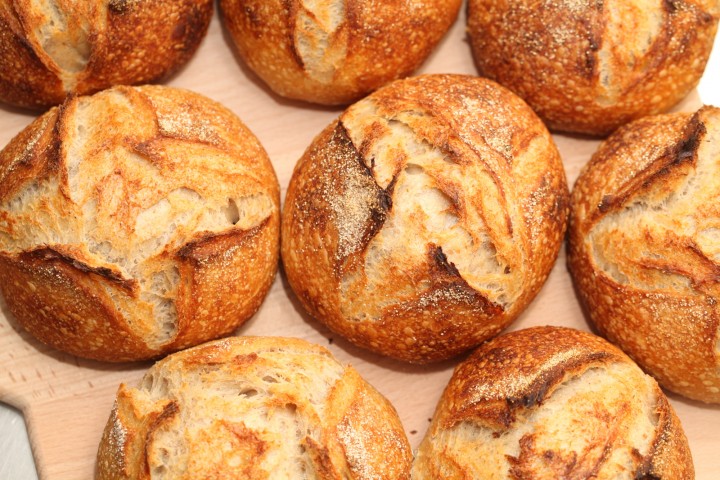 Now take the dough out of the mixing bowl and onto a floured work surface and do one stretch and fold (see our video to observe this technique if you are not familiar with it). Transfer to the bowl, cover and leave to rest for 50 minutes. After the 50 minutes again transfer it to the floured work surface and do another stretch and fold. Transfer to the bowl, cover and again leave for 50 minutes. This is your second stretch and fold.
Now it's time to shape. Shaping is something for which everybody develops his or her own technique over time. If necessary you can learn more on shaping from a good bread book, like the ones by Hamelman or Reinhart. You can also check out our short video on shaping boules.
Divide the dough into 6 equal parts and make boule shapes. They do not need proofing baskets. Lay them on a floured (semolina or rice flour works well) tray or peel that you are going to use for transferring them into the oven, or place them directly on a baking sheet /tray covered with parchment paper. Now cover and leave to proof for 50 minutes. When you think the boules have risen enough, use your finger to carefully make a very small dent in the dough. If the dent remains, the bread is ready to bake, if the indentation disappears, the dough needs a little bit more time.
Now your boules are ready for the oven (Preheated to 235 ºC / 455 ºF). Slash the top of the boules with a lame or bread scoring knife. To get a nice crust, try to create some steam in your oven by putting a small metal baking tray on your oven floor when you preheat the oven and pouring in half a cup of hot water immediately after putting the bread in the oven. Release some steam by setting your oven door ajar (perhaps with the help of a wooden spoon) 5 minutes before the bread is ready. If you are going to create steam with a baking tray, you maybe also want to turn your oven temperature a bit higher, because you are going to lose some heat in the process.
After 25 minutes of baking your little sourdough boules should be ready. Transfer onto a rack and leave to cool. These boules also keep well in the freezer and are quickly thawed in the microwave if needed.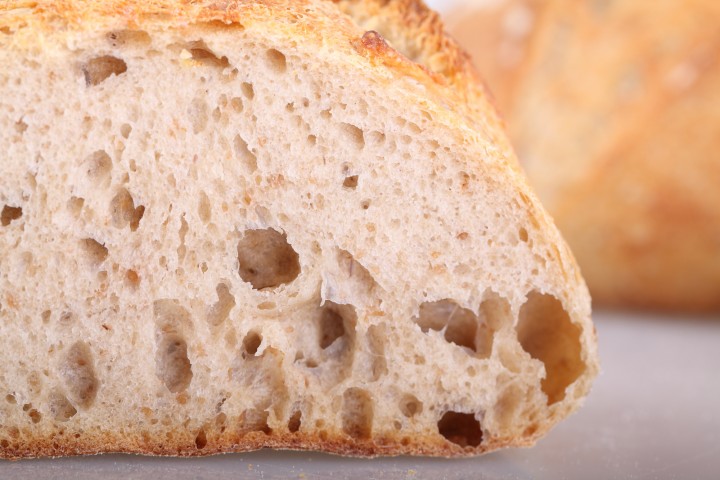 Sourdough mini boules time table
day 1 22.00 h Make starter let ferment for 12 hours at room temperature
day 2 10.00 h Make the final dough
10.00 h Dissolve starter in some of the water
Add flour and water and knead 1 minute
autolyse for 30 minutes
10.30 h Add salt and knead for 5 minutes
Leave to rest for 50 minutes
11.25 h 1 st Stretch and Fold
Leave to rest for 50 minutes
12.15 h 2nd Stretch and fold
Leave to rest for 50 minutes
13.05 h Shape
approx 50 minutes final proofing at room temperature
13.55 h Into the oven, (235 ºC / 455 ºF) for 25 minutes
14.20 h Out of the oven and leave to cool