Short in this case means crumbly, caused by the high butter content in these cookies…
I love shortbread and I love tea. So why not combine the two? I found the combination of this buttery biscuit with the scent of roses irresistible. My favorite rose tea does not consist of roses alone. Next to rose it also has the perfume of bergamot, lavender and vanilla. It is called Eden rose and is sold by Betjeman & Barton tea merchants. They can be found in Paris since 1919, but luckily for me also in The Hague here in Holland. It's always a festive occasion to visit their store and put my nose in the big tea caddies and choose from the many black, green, white and perfumed teas*. Of course this shortbread has to be eaten with a freshly brewed cup of loose leaf (rose) tea!
Shortbread can be made in many ways and I have seen many different recipes. Usually the ratio flour, butter, sugar is 3-2-1. I use just a little extra butter, it works very well in this recipe. Make sure the butter is fresh!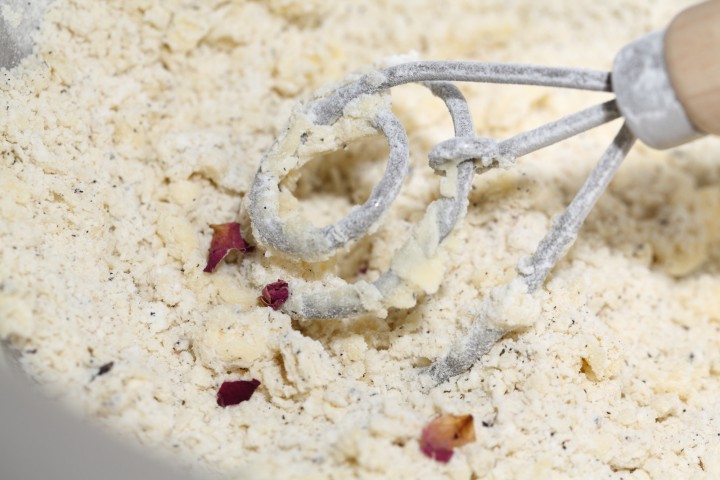 Combining the cookie dough ingredients with our Danish dough whisk.
Ingredients for the Rose Tea Shortbread
100 g fine sugar
210 g butter in small cubes
300 g pastry flour / French type 45 flour
pinch of salt
2 teaspoons rose tea, finely ground
vanilla sugar for dusting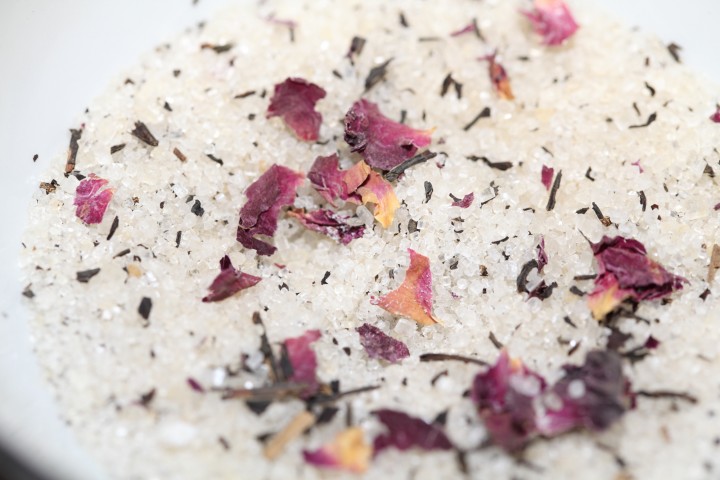 The ground tea gets added to the sugar…mmm love that smell!
Making the shortbread
Sift flour and salt in a bowl. Add the cubes of butter and rub it in. Grind the tea leaves with the aid of a pestle and mortar. Add the ground tea to the sugar and stir to mix them well. Add the sugar/tea mixture to the flour and butter. Bring everything together quickly and make sure not to overwork your dough so the texture of the shortbread will be nice and crumbly (an old meaning of the word short!). You can now wrap your dough in clingfilm and leave it in the fridge to rest for at least 30 minutes to give the ingredients the chance 'to get to know each other' before you introduce them to the hot furnace. You can also roll it out and make your favorite cookie shapes first and then leave it to cool in the fridge for 30 minutes. This way the cookies will hold their shape better. You can also do both, see what works for you.
Preheat your oven to 160ºC / 320ºF (conventional oven, no hot air). Shape the shortbread any way you want to, but make sure they are at least 3-4 mm thick for the right texture.
A good method is pressing the dough in a round tin, pricking holes in the dough with a fork and lightly scoring it with a knife to indicate wedges that are easily separated later. After baking you cut the shortbread wedges along the indicated lines and leave them to cool in the tin.
Bake on the middle shelf of your oven for about 20 minutes (depending on the way your oven works of course) until they are pale golden. Keep a close eye on them. The whole point of this shortbread is to bake it just right, over baking will give them a less delicate, even slightly bitter taste. Cool on a wire rack. Dust the shortbread with (home made) vanilla sugar.
*PS: My absolute favorite tea at the moment is Noce de thé, consisting of Chinese white tea with water lily, yuzu and….roses. And then there is Dragon Noir, White Monkey, Margaret's Hope Darjeeling. Paring the right tea with home baked goods is an absolute delight!