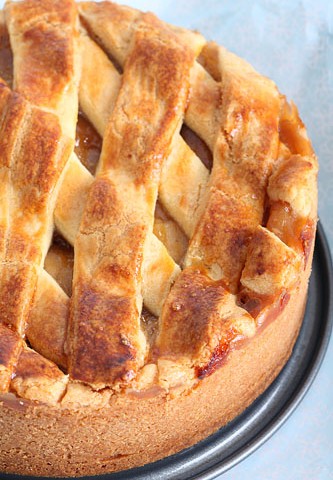 We always feel very lucky when we can share in the yield harvested by friends who own trees that bare fruit and nuts. Apples, peers and walnuts, we know what to do with them! Somehow they always taste better than the ones you buy in the store. Maybe it's because they are simply left alone and not picked until perfectly ripe and ready, or have fallen out of the tree of their own free will.
The apples I used for this pie came from family friends who are lucky enough to own a big piece of land with impressive old trees. With this recipe you make a small pie, nice to share with your loved one, have a piece today and leave some for tomorrow. That's how we try to do it. I say try, because I start by serving a slice neatly on a plate. But somehow the pie that's left on the kitchen table gets smaller and smaller. So funny! Maybe it's mice, or apple trolls. I know it's not me!
Recipe for the Orchard Apple Pie
serves 4-6
165 g flour (all purpose flour)
6 g baking powder
110 g cold butter in little cubes
75 g soft light brown muscovado sugar
1/2 egg for the dough (25 g)
1/2 beaten egg for brushing
a pinch of salt
a little bit of lemon zest (optional)
3 big, tart apples
35 g butter and 50 grams of sugar for baking the apples
2 teaspoons / 6 g ground cinnamon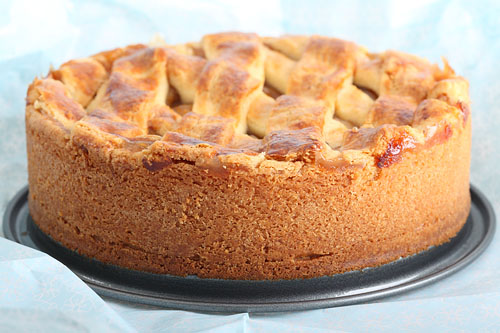 Making the apple pie
Peel and core the apples and cut them into cubes. Add the cinnamon to the apples and stir. Bake the apple cubes in the butter and sugar until slightly soft. Drain the apples and keep the juices! Mix flour, salt, baking powder, soft light brown sugar and butter in cubes (add a bit of lemon zest if you like). Rub with fingertips until you have a mixture resembling bread crumbs. Add the 1/2 egg and bring together to form a dough ball. Wrap with clingfilm, press into a disc shape and leave to rest in the fridge for 30 minutes.
Preheat the oven to 180ºC / 355ºF. Line a small round buttered 'springform' baking pan (approx 18 cm / 7 inches) with 2/3 of the dough. Add the prepared apples. Heat the juices you kept behind and cook them to a light syrup consistency. Pour this over the apples. Make a grid/lattice with the rest of the dough to cover the pie. Brush the top lightly with the beaten egg (add a bit of water to the egg to make it easier to brush). Bake the pie for about 40-45 minutes, depending on your oven. Leave to cool. You can eat it warm, which is very nice, but I like it even better when cooled completely. You get more taste!