A ficelle is an elegant and slender version of a baguette. Ficelle means string in French.
Klik hier voor de Nederlandse versie
This slimmer version of the French baguette came about after some experimenting with different types of preferment and flour. The result is a very tasty, crunchy, somewhat chewy and you could even say cute bread with a very interesting taste and texture. It is a great place to start if you have not made baguettes before. It will give you good practice, with shaping and scoring, which we kept slightly easier for this recipe.
In this recipe we use a combination of bread flour and semolina / durum flour which adds to the chew and crust and different flavor profile. You can make these using only bread flour of course, but if you can get semolina, just give it a try.
This hybrid version, with yeast in the final dough, and a sourdough preferment with a same day fermenting period, gives a complexity of taste without adding too much sourness, leaving room for the sweetness we like in these types of bread. It is a great recipe for you to experiment with and make your own.
Because of the limitations of our stone oven, we can only make these ficelles 48 cm long. If you have more room, you can of course make them even longer and thinner.
---
Before you start
For this recipe we are going to make a preferment named a poolish. A poolish is a type of preferment made with an equal weight of water and flour and a small amount of sourdough starter culture or yeast and NO salt. Making a poolish helps bring more taste and strength to your bread.
* We use a sourdough culture made with 100% organic whole rye flour. A sourdough culture based on rye flour is easier to maintain, does not go into a slurry when you forget about it, is easier to stir because it has almost no gluten and smells very nice, a bit like fruit. It is also very forgiving in the amount you feed it. Normally we only feed it once a week, after our weekend baking we give it a few table spoons of water and rye flour, stir, ready!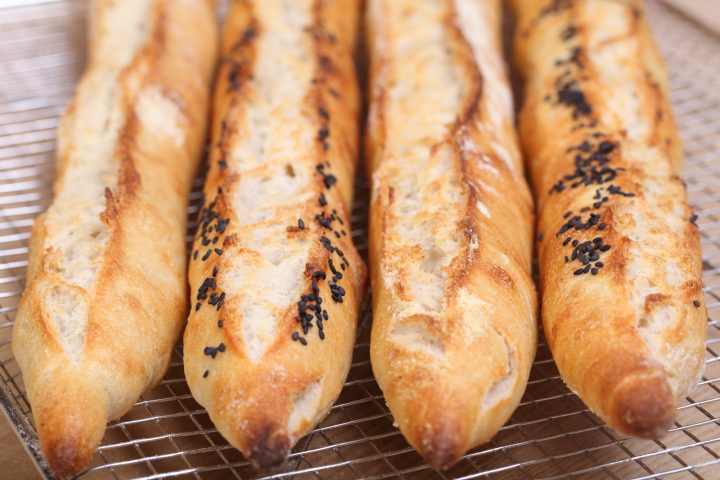 Step 1
Making the sourdough poolish

Tip: If you want to make a version without the sourdough, make a poolish with yeast. For this recipe you can add 0.7 grams / a quarter teaspoon of instant yeast to the poolish.
In a bowl stir together the flour and water at room temperature with the sourdough culture. Do not use cold water as this will slow down the sourdough development. Mix it well until you have a homogeneous slurry that looks like very thick batter. Cover the bowl with clingfilm and let the prefermenting begin. After 6 hours at room temperature it should be bubbly, light and ready for use. For a one day recipe we make the poolish in the morning and begin our bread making in the afternoon.
Ingredients for the sourdough poolish
200
g
bread flour
200
g
water (room temperature)
30
g
active sourdough culture*
Ingredients for the final dough
Makes 4 ficelles
the poolish from step 1
200
g
bread flour
100
g
semola / durum wheat flour
110
g
water
8
g
(sea) salt
5
g
instant yeast
Step 2
Making the ficelle dough
In the bowl of your standing mixer, combine the poolish with the other ingredients and knead for 7 minutes on a low speed. If you knead by hand it takes about 15 minutes, depending on your technique. Cover and leave to rest for 30 minutes.
Now turn out the dough onto your work surface and stretch and fold, doing
one full set
letter fold (one set = right over left, left over right, bottom over top, top over bottom). You can also do this stretching and folding in your bowl. If you are not familiar with it,
check out how this technique works in this video first
.
After this stretching and folding to help develop the dough, again leave the dough to rest for 30 minutes.
Preheat your oven to 240ºC / 465ºF (at what stage you preheat your oven depends on how long it takes for your oven to heat through, some take 30 minutes, some, like ours, with stone floors take a lot longer, up to two hours.)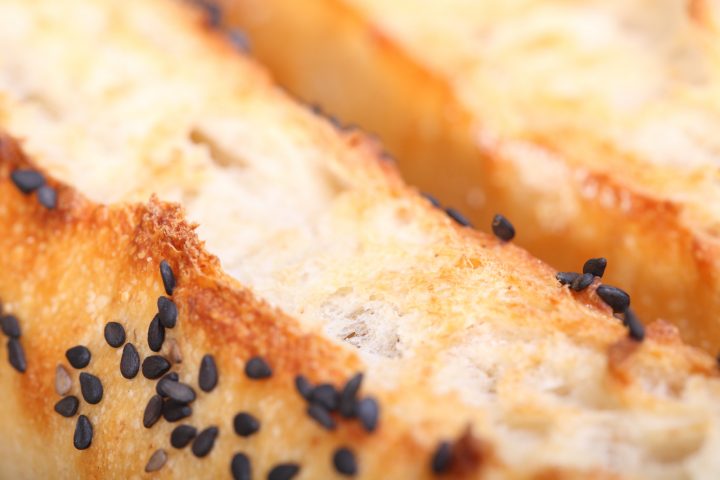 Shaping the ficelles
For these slim baguettes we use a simple but effective shaping technique.
Turn the dough out onto your work surface and divide it into four equal parts. Shape each part into a rectangle (around 20 x 14 cm / 7.8 x 5.5 inches), cover with floured clingfilm and leave to rest for 10 minutes, so the gluten can relax.

Now shape each rectangle as shown in the pictures above. Fold both sides to the middle, fold again and carefully close the seem of the dough with the heel of your hand.
Make a rolling motion with your hands starting from the center and moving to the sides, with a soft and even touch. This way you elongate the ficelle. Finish the ficelle with some nice pointy ends on both sides.
Cover with clingfilm and leave to rest for 20 minutes in a couche or on your bench, making sure you use enough flour or semolina so they will not stick to the surface. If you are not baking them on a stone you can also do this final proofing on the baking sheet you will use in your oven of course.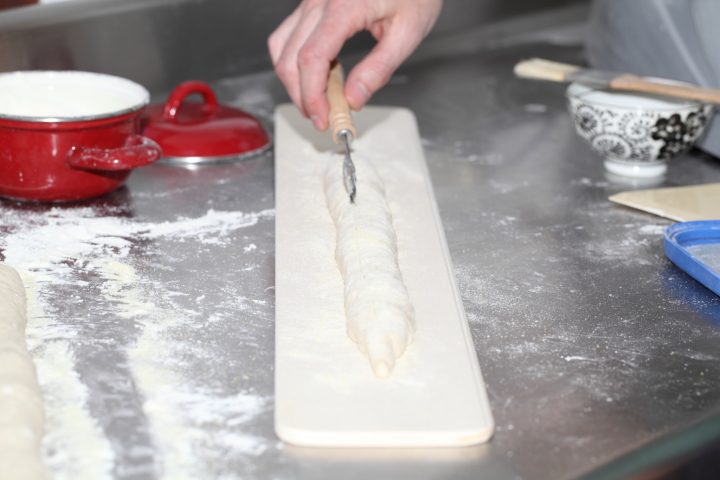 Transfer the ficelles to a breadboard or peel. Score the ficelles with a lame / scoring knife. In the pictures you can see that we did one big scoring motion along the length of the ficelle, which works very well for this small surface and gives a nice end result. As a variation you can sprinkle some ficelles with (black) sesame or nigella seeds.
Slide the ficelles in the (to 240ºC / 465ºF) preheated oven and bake for 20 minutes. Leave to cool on a wire rack.
To get a nice crust, try to create some steam in your oven by putting a small metal baking tray on your oven floor when you preheat the oven and pouring in half a cup of hot water immediately after putting the bread in the oven. If you are going to create steam with a baking tray, you maybe also want to turn your oven temperature a bit higher, because you are going to lose some heat in the process.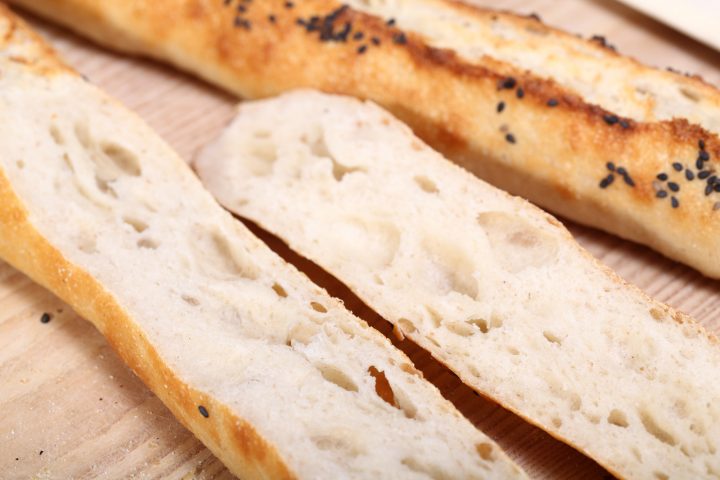 Best eaten while fresh of course. You can also store the ficelles in the freezer and give them a quick pick me up in the oven or a big toaster.
Ficelle time table
This table gives you an indication of the total duration for this recipe.
Step 1
00:00 Make poolish
+6 hours prefermenting
Step 2
06:00 Knead ingredients 7 minutes
+30 minute rest
06:37 – Stretch & fold
+30 minute rest
07:07 – Divide and preshape (3 minutes)
+10 minute rest
07:20 – Shape the ficelles (5 minutes)
+20 minutes final proofing
07:45 – into the oven
Baking time 20 minutes
08:05 – take out and leave to cool
If you like to move on to the bigger baguettes check out our French baguette and 80% hydration baguette recipes!