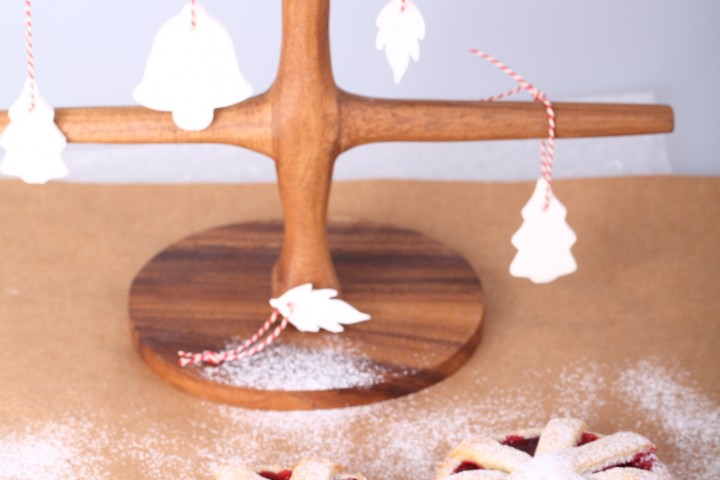 When I first heard the name 'pasta frolla' I just knew I had to make it for the simple reason that it sounds absolutely wonderful and delicious. And it is! In fact, it is one of my favorite pastry doughs.
This Italian take on the short crust pastry is not the easiest of doughs to make or handle, but it is very rewarding when it turns out as it should. It should be buttery and crumbly and hold its shape perfectly. The added lemon zest gives it an extra taste dimension.
I love to make 'crostata' with it (just another beautiful Italian word for pie or tart) and fill it with my favorite jam. Usually this comes down to choosing either raspberry or apricot or sometimes homemade marmalade. But this festive holiday version of course has fresh cranberries in it. So just make these little jam gems, have a bite and be jolly!
Happy Baking Holidays!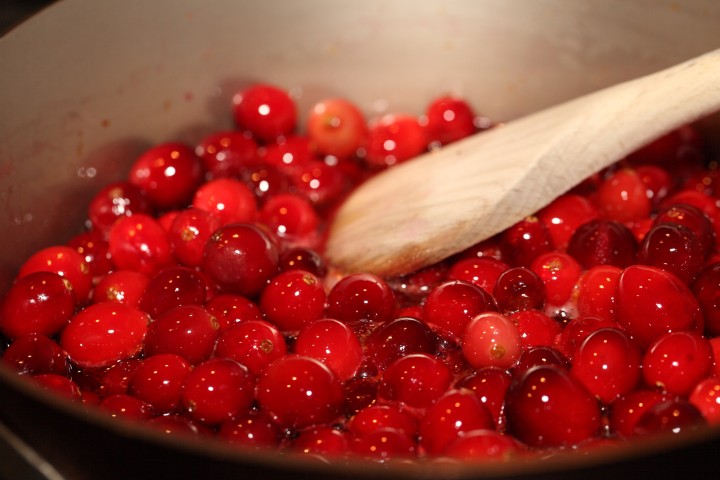 Ingredients for the Cranberry Compote
300 g fresh cranberries
200 g suiker
200 ml water
the juice and zest of an organic orange
1/4 – 1/2 tsp ground cloves
25 ml brown rum
Making the Cranberry Compote
In a saucepan add 300 g of fresh cranberries to 200 g sugar and 200 ml water and the juice and zest of an orange. Slowly bring to a boil and let it bubble away for about 10 minutes (the cranberries should all have 'popped' by this stage.
At the last minute add the hint of ground cloves and the splash of rum at the end of the cooking process. Turn off the heat and let stand for 5 minutes. Put in warm sterilized jam jars, seal and leave to cool.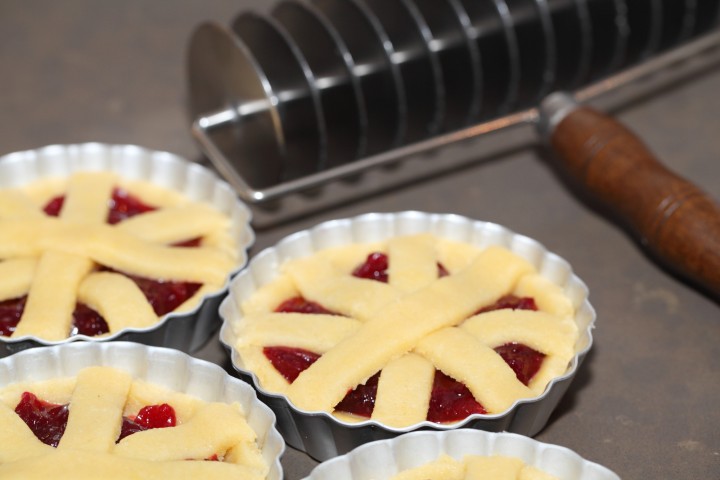 Ingredients for the Pasta Frolla
makes 6 tarts
250 g pastry flour / French type 45
pinch of salt
110 g sugar
grated zest of 1/2 a lemon
125 g cold butter in cubes
1 egg and 1 egg yolk (60 to 70 g in total)
Sugar for sprinkling on the dough
Making the Pasta Frolla
Combine flour and salt. Add the cold butter cubes and combine until you have wet sand consistency. Add the sugar, lemon zest, egg and egg yolk and quickly bring together to form a dough, without overworking it (you want minimal gluten development for the pastry has to be crumbly and short). Wrap with clingfilm and leave to rest in the fridge for 30 minutes.
Making the Cranberry Jam Tarts
Preheat your oven at 200 ºC / 390 ºF.
If you want to make the small jam tarts like you see in the picture, you need pastry molds of about 10 cm / 4 inches Ø. Make sure to butter the cases well. I spray them with vegetable pan coating, which works quick and gives you a nice even coating. Roll out the pastry and cut out 6 circles to fit the molds. Fill the bcases with the cranberry compote. Cover the tarts with a lattice work of your own design. Sprinkle some sugar on the dough. Bake the tarts for about 25 minutes, take out of the oven and leave in their molds for a few minutes, then release them and leave to cool on a rack. Like with almost every bake, these tarts are best when devoured fresh, but it will still taste great after one or two days. You can also make the pasta frolla in advance and keep it in the freezer for future baking.