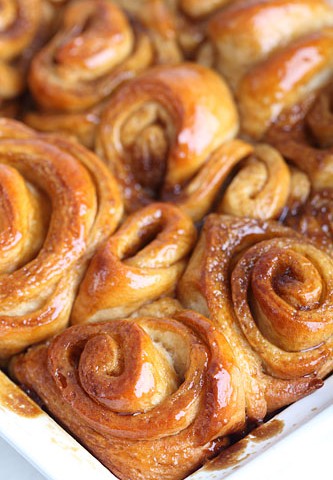 Sticky, gooey, warm and fresh…what's not to like!
Klik hier voor de Nederlandse versie
They are sticky and delicious and they are best when warm and fresh. In Holland we have something called 'Zeeuwse Bolussen' made in the province of Zeeland. They are very similar to these cinnamon buns.
You can also keep them in the freezer after they've cooled. You can stick them in the microwave for a minute to defrost and get them back to their natural warm and gooey state.
Ingredients for the Cinnamon Buns
makes about 20 buns
520 g fine wheat flour / all purpose
25 g fresh yeast / 8 g instant yeast
150 g lukewarm water
150 g milk
60 g butter
60 g sugar
1 tsp. salt / 6 g
1 egg, beaten
Ingredients for the Topping
225 g soft dark brown sugar (muscovado or 'bruine basterdsuiker' in Dutch)
125 g butter
1 tsp cinnamon / 2 g (maybe more, just taste)
100 g raisins, pre-soaked (optional)
Making the Cinnamon Buns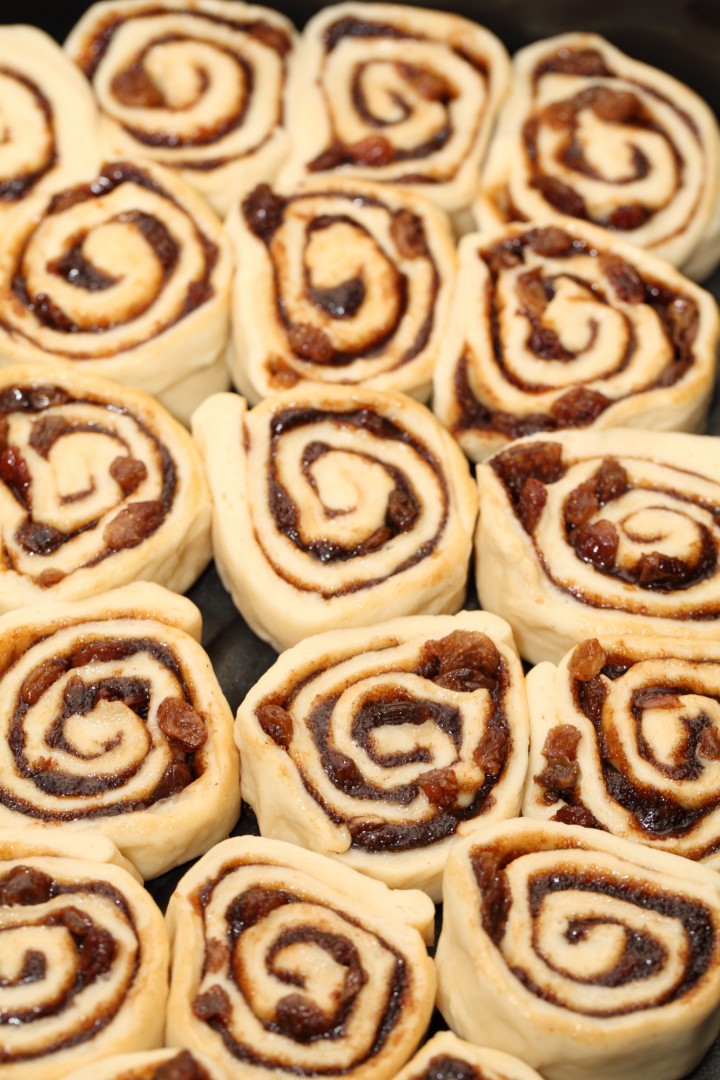 Dissolve the fresh yeast in the lukewarm water and let stand for 5 minutes (instant yeast can be added directly to the flour). Make sure the rest of your ingredients are at room temperature. Combine the butter, sugar, milk and salt. Blend in the beaten egg. Now add the dissolved yeast. Add flour until your batter is smooth and soft, but not sticky. Knead well for 15 minutes by hand or for 8 minutes with a KitchenAid type mixer. Cover the dough and let rest in a warm place for 60 minutes.
Roll out into a rectangle of 50 x 30 cm. Slightly Warm the topping ingredients in a pan until the butter is dissolved and you have a spreadable mass. Spread the rectangle evenly with the topping. You can do this with a pallet knife or, if preferred, with a brush. At this point you can also add the raisins.
You can also reserve some topping to brush over the buns after you cut them and place them in the baking pan. This way they will be extra sticky.
Now roll op the rectangle. Cut the roll into 2,5 cm / one inch thick slices. Place them in a pan (approx 20 x 30 cm). Let proof for 45 to 60 minutes until well risen.
Best baked at 190 ºC/ 375 ºF convection oven (slightly higher if using conventional setting) for 20 to 25 minutes (depending on your oven). Enjoy!