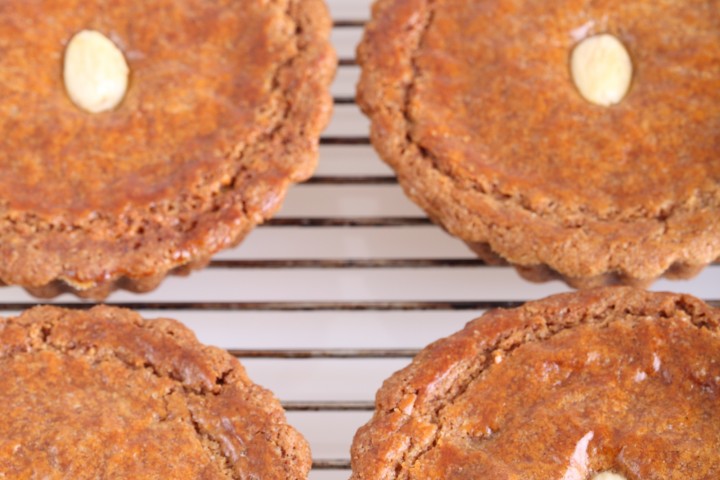 Gevulde speculaas met amandelspijs as we call it, has to be part of our 'heerlijk avondje' (delightful Sinterklaas evening)!
Klik hier voor de Nederlandse versie
I think I love the filled speculaas even better than the speculaas cookies. It is a bit of extra work, but with these pies you get the crispy cookie-like edges and the soft almond filling plus the cranberry surprise in the middle!
For us, filled speculaas (gevulde speculaas) is very much a part of the Sinterklaas fest, but this does not stop me from making them after December the 5th. In fact, they will always be appreciated whenever the wind blows through the trees or it's cold and dark outside.
Especially good with hot cocoa with almond liqueur or a glass of home made 'bisschopswijn' (glühwein or mulled wine) or a nice cup of tea of course.
Enjoy the Holidays!
Recipe for the Speculaas Pies
makes 10 speculaas pies
400 g pastry flour / all purpose flour
12 g baking powder (2,5 tsps)
few pinches of salt
5 tsps speculaas spices (10-12 g) (see recipe)
250 g dairy butter at room temperature
250 g soft (dark) brown (muscovado) sugar
1 tbsps/ 15 to 20 g buttermilk (or milk with yoghurt)
150 g almond paste (see recipe) with 1/4 to 1/2 beaten egg
100 g cranberry compote or jam
Beaten egg with a bit of water for brushing the tops
Almonds for decoration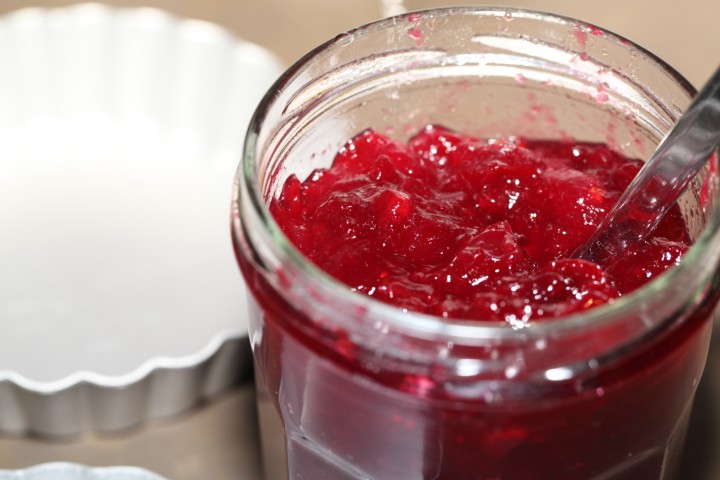 Before you start
You can make the speculaas spice mixture in advance. You can find the recipe here. If you do not have the right ingredients or for some reason do not want to make your own you can of course buy them or replace them by something that comes close like mixed spices, gingerbread or pumpkin spices.
You also have to make sure your almond paste is ready for use. You can make the actual paste weeks in advance (it will only get better provided you keep it well wrapped) but just before you are going to use it you have to make it smoother with some beaten egg. You can check out the recipe for almond paste here. Of course, at least in Holland, you can also buy ready made almond paste. But you also want to add some beaten egg to the bought paste too, to get the smooth consistency.
If you are looking for a recipe to make your own cranberry compote you can find one here.
Making the Speculaas Pies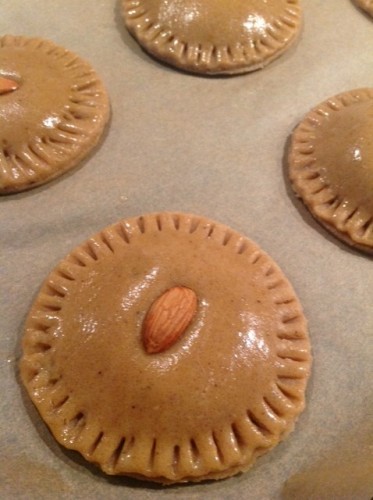 Sift the flour with the baking powder, salt and spices. Add the butter to the sugar and combine. Add the buttermilk and beat till smooth. Add the flour mixture to the butter and sugar mixture and quickly knead into a ball. Press the ball into a disc shape, cover with clingfilm and rest in the fridge for 1 hour.
You can make the pies with or without baking tins. In the picture you see an example of pies made in pie tins, but you can also very easily make them without tins. The tins I used measure about 10 cm / 4 inches.
Preheat the oven at 170ºC / 340ºF.
Take the dough out of the fridge. Roll out into a 3 mm thick rectangle. If you do not use any tins you cut out 20 circles of about 9.5 cm / 3.75 inches. If you use the tins you make 10 slightly bigger circles and 10 smaller lids to use as cover.
On each of the 10 base circles you put 15 grams of almond paste and press it down a bit, but make sure to leave a rim of about 1.5 cm / 0.5 inches. On top of that you place 10 g of cranberry compote. Cover the 10 circles with the other 10 circles and press the edges together with the teeth of a fork. Place them on a baking tray. Brush them with the beaten egg. Put half an almond in the middle of each pie and press down a bit. You can first put the pies in the fridge for 10 to 20 minutes to firm up a bit, but it is not absolutely necessary. Bake in the oven at 170ºC / 340ºF for about 22-24 minutes, depending on your oven. All ovens are different so you may have to vary your baking times and oven temperature to get the best result.
If you have made them in tins, wait 5 minutes before releasing them, so they can firm up a bit. If you have made the pies without tins, just leave them on the baking tray for 5 minutes too and then transfer them to a cooling rack.