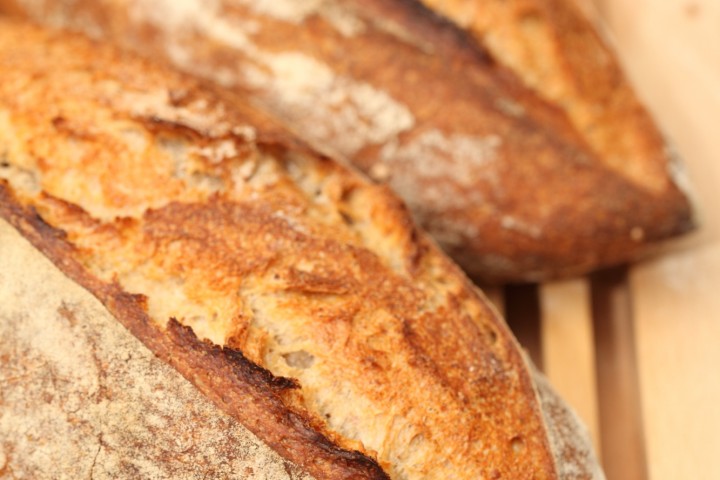 Giving you our top tips to enhance your bread baking…
Here's a list of our favorite bread baking tips, based on our experience, to help you on your own baking journey:
Use scales

Baking is an exact science and measuring with cups and spoons can lead you to diverge by as much as 10 to 20%. So, how can you not invest in a kitchen scale! You can get them for the same price as a 10 kg bag of flour (come on, you do have kitchen appliances that are way pricier that you never use) and with great artisan bakers all over the world leading by example, you just need to jump on board if you want to get consistently great baking results.

Follow the recipe and repeat

Take one recipe you like and stick with it for a while. First make the recipe as described, practice, adjust and fine tune it until it is completely to your liking and you can dream it. This way you will learn much more and more quickly than by constantly jumping from one recipe to the next.

Make notes

Buy a dedicated bread notebook (the old version, made of paper) and write down the exact amounts, dates, times and temperatures (room, oven, water and dough) each time you bake. Do write your notes down while you go, do not bet on the fact you think you will remember them the next time you bake, because you probably will not. If possible use a digital thermometer to measure the temperature of your water and dough. Make notes on results and next time improvements. Keep score of what works and what doesn't.

Use great quality products

Yes it matters! Quality and freshness of products and especially the quality of flour will have a big impact on your baking result. It will give you better taste, texture, appearance and nutritional value. Check out our experiments on the subject of quality bread flour.

Practice different techniques

Let time and techniques like autolyse and stretching and folding help you with the development of your dough.

Check your temperatures

The right temperature is the single most critical variable in baking. If possible use a digital thermometer to measure water and dough. A few degrees difference in dough temperature can change the duration of the bulk fermentation or the final proofing a lot. As a rule, we aim for a dough temperature around 24ºC / 75ºF and our recipes proofing times are based on this. More info and tips on this subject here.

Know your oven and use steam

How accurate does your oven indicate the temperature? It is very important to adjust the temperatures given in any recipe to the working and dimensions of your oven. Good baking results depend on it. The same can be said for the introduction of steam, it will allow the dough to expand during the first stages of the baking process. Read more on how to make the most of your oven.

Practice your scoring

Scoring dough can be tricky and you need to practice it a lot to get the hang of it, but it's also part of the fun, especially as you find yourself getting better at it. Make sure your blade or knife is very sharp and make swift and confident slashes, but at the same time be gentle (iron hand in velvet glove). More tips on scoring.

Learn a bit about the science behind bread baking

Get to know more about the how and why of your dough, working of yeast and properties of ingredients to understand the effects of time, temperature, liquid and types of flour used. Buy a good baking book that teaches you some basic bread science.

Get used to the sticky!

Working with high hydration doughs can be difficult. But please don't spoil it by adding tons of flour until you think you can handle the dough. Do not start out with the stickiest of dough recipes. Get comfortable with a slightly sticky dough first and take it from there. And check out our tips on the subject.

Know that time is your friend in many ways

Time and timing are everything to a baker. Giving the dough enough time means better taste and texture for your loaves. Getting the timing right and proofing your loaf to perfection, so it will get that nice oven spring, is also something that needs practice and constant attention. So make sure to give your bread undivided time and attention, making sure there are no distractions and errands to run while baking. The baking experience will be much more relaxed and the results better!

Do not get discouraged after the first bake

Do not be discouraged if your first bake is not perfect, especially with sourdough bread. This is all perfectly normal. Like with all baking you need to learn to understand your dough and its quirks in combination with your surroundings, your material and ingredients. There are lots of factors that need to come together. In the meantime, your not so perfect looking loaf will very probably still be very edible and even better than anything store bought. And there's no substitute for practice!
+1 Pass on your baking skills!
Learning how to bake your own bread is a skill for life. Next to sharing home baked bread, it is also much fun and very rewarding to pass on your own baking skills to others. Get family members, friends, the next generation or people who need or want to be (more) self sufficient enthusiastic about making their own real bread. Because there are so many reasons why home baking is best!
What's a baker's dozen?
There are a few theories for why a baker's dozen is 13 instead of 12.

The most common one is that it is widely believed that this phrase originated from the practice of medieval English bakers giving an extra loaf when selling a dozen in order to avoid being penalized for selling short weight.

Any baker caught selling less than an even dozen was strictly and harshly punished. As a result bakers began adding one extra loaf to be certain their count would be correct or even over the amount decreed by law.