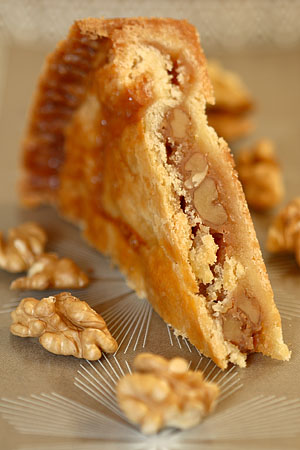 This pie has already been called 'dirty good'!
Klik hier voor de Nederlandse versie
I got this excellent recipe from my dear neighbor. It's a favorite family recipe from New Zealand and has been for many years. We made this pie on several occasions and each time it was a big hit. Over the years this recipe has been handed to many other friends, neigbours and relatives and we regularly get great feed back about it. I especially like the first bite of this pie when it is still warm and a bit chewy. Yesterday we made it again with the left over walnuts from our Christmas day roast pumpkin soup with walnut relish. When eating this pie, remember that walnuts are good for you!
Ingredients for the walnut pie dough
125 g soft butter
125 g soft light brown sugar (muscovado sugar / witte of gele basterdsuiker)
225 g pastry flour
1 egg (half in the dough, half for egg wash)
1.5 g sea salt
This is what you need for the caramel filling
125 g fine sugar
125 ml heavy cream or whipping cream (we use around 35% fat content)
125 g chopped walnuts
1 tbsp water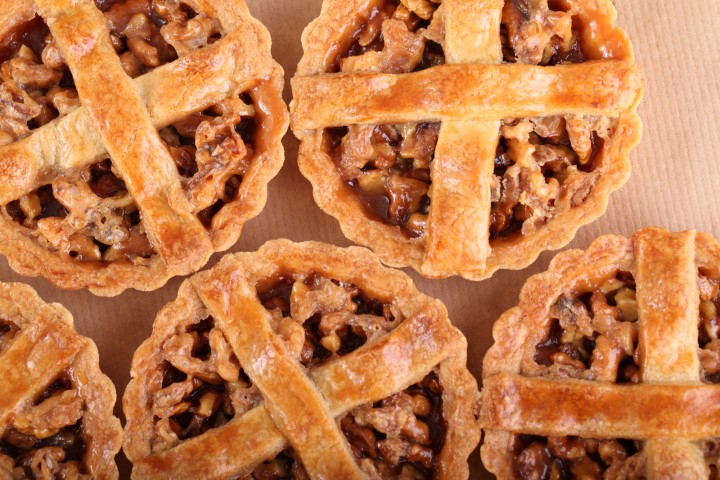 For the filling, melt the sugar in a heavy based saucepan on low heat until light brown. Add the tablespoon of water and swirl the pan around to blend it in. Add the cream little by little in the same way, swirling the pan around, rather than stirring (otherwise you might end up with a big lump of sugar that's hard to dissolve again). Mix the chopped walnuts with the caramel, pour the mixture in a greased dish and leave to cool.
Preheat the oven at 180°C / 355°F. With the flour, butter, sugar, salt and half of the egg make a firm dough. Fill the greased bottom of a shallow pie dish (approx 22 cm or 9 inches) with a bit more than half of the dough and make a rim of about 2 cm. Spread the walnut-caramel evenly in the dish. Role out the rest of the dough and cover the filling. Brush the pie with some of the remaining egg and bake for about 30 to 35 minutes until beautiful brown. Leave to cool for a while because caramel can be very hot but try some while still warm!
Tip: Why not make 6 mini ones (I use 10 cm tartelette molds) and give everybody their own individual pie. Advantage: a little more crust compared to the big pie.
Note: Walnuts are also an excellent source of omega-3 fatty acids and have been shown as helpful in lowering cholesterol. I don't know about the combination with butter and sugar though…;).