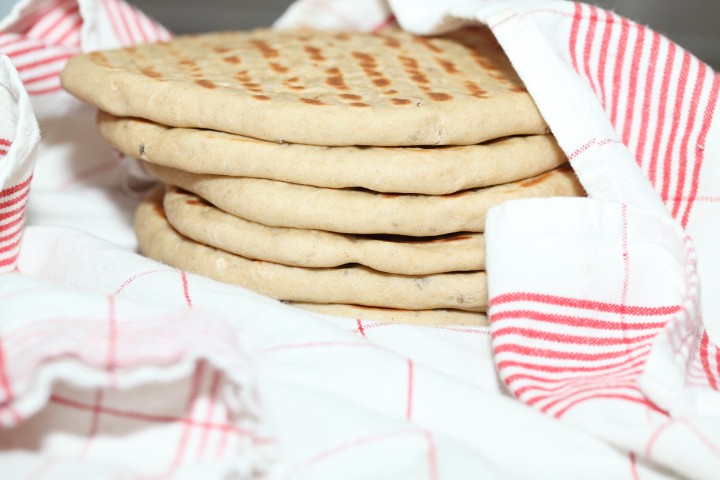 Usually we are of the school of crusty, but soft, warm and fluffy 'Polarbröd' is no punishment either!
A few years ago I had braces, and for over a year crusty baguettes weren't compatible with me. I was more comfortable with soft foods and things I could drink with a straw. That year we visited Norway and I found this wonderful soft bread in a Coop supermarket, which at the time was like Valhalla. It was called polarbröd and it turned out to be from Sweden (it's actually a brand name, also called mjukt tunnbröd or soft tin bread). Back home I did some research to see if anybody sold this Swedish polar bread in Holland. At that time Ikea didn't sell any, now they do, they call it something like arctic tunnbröd (please feel free to correct me people of the Nordic Countries). I also searched the web for recipes. I didn't find much at the time, but managed to convert the information into a recipe of my own. The only thing that bothered me about the original polarbröd was that it contained some stuff I do not want to eat too often and also stuff you don't need at all. So I wanted to make a healthy everyday version. This is the recipe I came up with.
I love flatbreads and I also love the idea of baking bread in a grill pan or skillet for a change. No two hour oven preheating and only one hour rest before you get to the baking. Great to have in your bread repertoire. Hope you like it too!

Ingredients for the Polar Bread
makes 8 disks of Polar Bread
325 g wheat flour / bread flour
125 g light rye flour
200 to 220 g lukewarm water
60 g creme fraîche or full fat yogurt
20 g honey
7 g salt
7 g instant yeast
a combination of fennel seeds and aniseed, 2 tsps in total (or to taste)
Making the Polar Bread
In the bowl of your mixer, combine the flour with the salt and fennel and aniseed. Add most of the water but keep a little aside, add the honey and the yeast. Now mix until the dough starts to come together, add the creme fraîche or yogurt. Carefully add some more water, see how much you need to make a dough that is slightly tacky (dough sticking at bottom of bowl but not too much). Knead for 7 minutes. Of course you can do the whole process by hand in which case you probably have to knead a little longer. Put the dough in a bowl greased with some oil, cover and leave to rest for about 1 hour in a warm place. Alternatively you can make the dough as described, using 5 grams of yeast instead of the 7 mentioned, and immediately put it in the fridge, leave it there overnight and use it the following day. Just take the dough out of the fridge and start with the next stage of the recipe.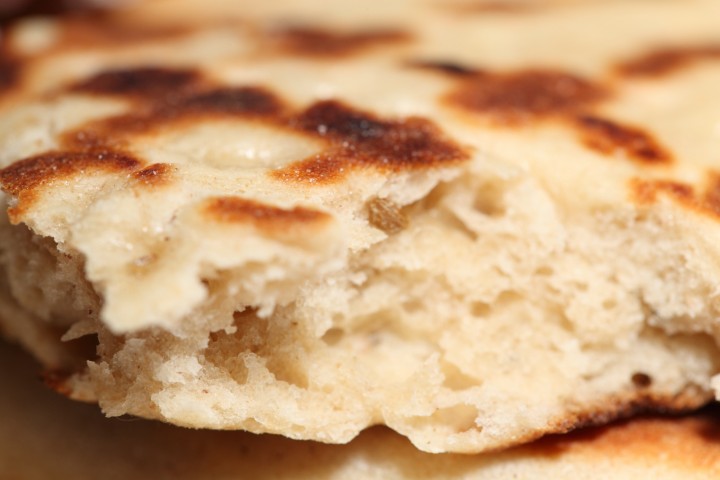 Divide the dough into 8 equal pieces, shape into balls and cover. Put a skillet or grill pan over medium heat. Preheat it so it is hot before the first polar bread goes in. Shape the first ball into a flat disk. I do this shaping by hand, with my fingers mostly, so I can feel how thick it is (anything between 3 and 5 mm will do, see what you like best). With a fork, make a pattern of little holes in the bread (see pictures). Now carefully place the bread in the preheated but dry pan (so no oil or butter or anything), bake for 2 minutes then turn the bread and bake for another 2 minutes. On our induction cooking plate we preheat at setting 7 and bake at setting 5 (out of 9) and this gets the perfect medium heat for this bread. Keep a close eye on it and check the heat, so they will not burn, adjust the heat if necessary. Use a stopwatch if you are easily distracted ;). Take the bread out of the pan and wrap it in a clean tea towel, where it will stay soft and warm for quite some time. Repeat the same process with the rest of the dough balls.
Your pan can get a little hotter during the process of baking so keep an eye on the bread so you won't burn it. The bread will puff up slightly while baking, feeling soft but not doughy when ready. Eat some while still warm, it's the best. We like it with cheese, or jam or both, maybe tuna salad, or…
Polar bread can be stored in the freezer after it's cooled. It keeps amazingly well. Just put a piece in the micro wave and blast it for a minute at about 600 watt and you'll have your lovely warm and soft bread ready to be dressed with whatever you like.
Variation: You can replace half of the aniseed or fennel seed by cumin seeds for a more distinctive savory taste that goes great with curry's and other Indian or (Middle) Eastern food. But if you want to go down that road, you could also try our recipe for Indian Naan!
And I am sure there are lots of other variations with types of flour, herbs, spices and other ingredients you could think of.
Enjoy your very own version of Polarbröd!