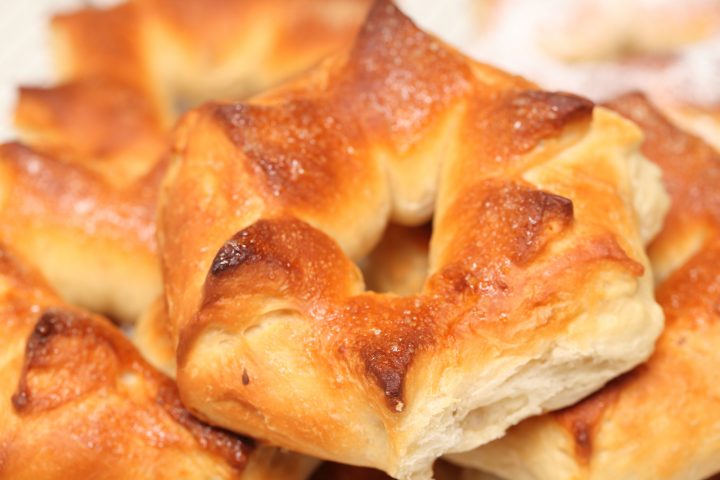 With aniseed, quince and vanilla, it's your chance to be a Star Baker!
This fall we made quite a lot of quince jelly. After sharing jars with family and friends, we decided to also try and use some in this recipe, that we normally make with honey. We cannot really explain it, but it gives our dough an extra smooth quality, though the taste is very subtle. The aniseed taste and smell is more prominent, no surprise there, but it is such a great taste for winter baking.
Making the star shapes is fun and really simple. Just a matter of a few cuts and turning the dough inside out. And children love to help you with the baking and eating. We press the starry dough in our homemade vanilla sugar, but you can of course choose to use cinnamon sugar or slivered almonds for example. You can also add things like raisins or cranberries to the dough. We like them 'plain' as other Christmas bakes already contain lots of fruits and nuts. A good dusting of powdered sugar, makes all bakes festive this season of course.
Enjoy your Holiday baking!
---
Ingredients for the Christmas star bread
makes 10 stars
450
g
bread (wheat) flour*
110
g
water
110
g
milk
8
g
(sea) salt
8
g
instant yeast
50
g
softened butter
20
g
egg yolk (one yolk)
60
g
quince jelly (or honey)
2
g
whole anise seed (one tsp)*
* We use (white) bread flour with around 12% protein content. You can also use all purpose flour if you do not have other options.
* We leave the seeds whole for delicious bursts of flavour in the dough. You can also grind them of course.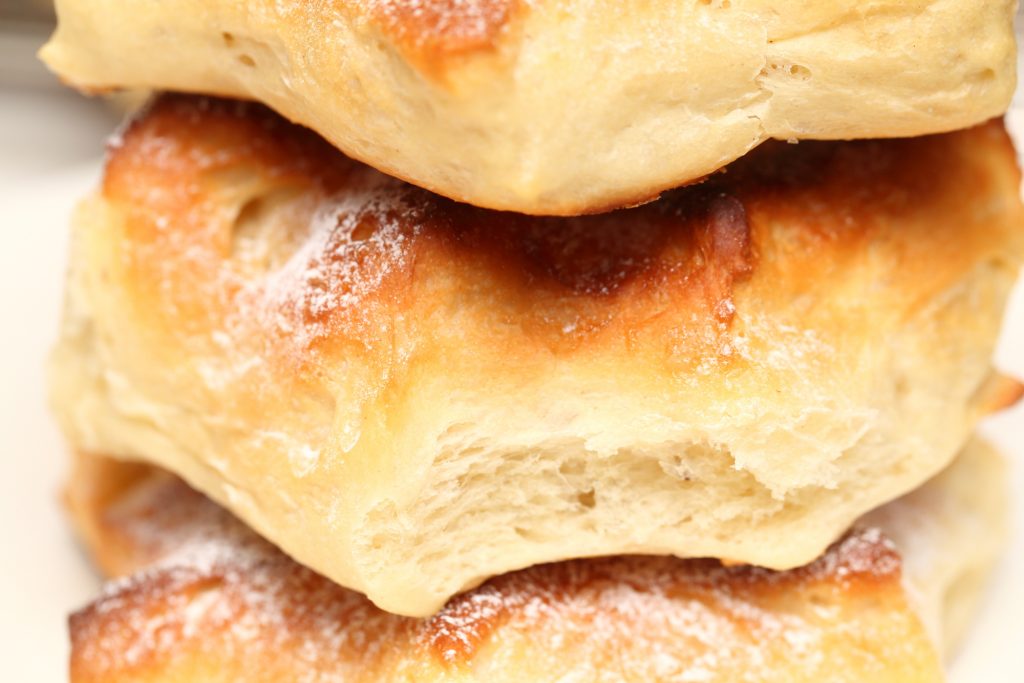 Making the star dough
First make sure the ingredients are at warm room temperature, including the egg yolk. The added water can be lukewarm (35°C / 95°F). Put flour and salt in the mixing bowl of your standing mixer, add the egg yolk, quince jelly and anise seed, then add the instant yeast. Now add 3/4 of the liquid, start mixing and see how the dough comes together. Judge how wet the dough is and if it needs all of the liquid or maybe even a bit more. Keep in mind you will also be adding the butter at the second stage of kneading. Knead the dough for 3 minutes. Now add the softened butter in 3 stages and knead for 5 more minutes, so 8 minutes in total. You should aim for a slightly sticky and silky smooth dough. When you touch it with your finger it should stick to the dough for just a second, like it would to a post-it note. Kneading the dough by hand should take around 15 minutes.
Shape the dough into a ball, cover and let rest for 30 minutes
Now turn out the dough onto your work surface and give it a stretch and fold. Do one full letter fold set (one set = right over left, left over right, bottom over top, top over bottom). Stretching and folding helps you get a feel for the dough and together with some rest it is great for its development. If you dough is still very cooperative, give it a few more stretches until it truly starts to resist.

If you are not familiar with the Strech & Fold technique, check out how this technique works in this video first.

After the stretching and folding shape the dough into a ball, cover and leave to rest for another 30 minutes.
Shaping the stars
Now divide the dough into 10 equal pieces and shape these into balls. Make sure to get some tension on the dough as you round them.
Cover and let the balls rest for 10 minutes to relax the dough.
Take a ball of dough and press it in the vanilla sugar.
Flatten the ball to a disc
With a small sharp cutter (small side of a credit card works well, around 5 cm / 2 inches) make three cuts in the center of the disc, just like in the pictures above.
Turn the disc inside out to form a star shape. Repeat this with the other dough discs
Place the stars on a baking tray (maybe you will need two trays with a smaller oven), lined with baking paper or a baking mat. Cover them and let them proof for approximately 2 hours. After proofing you can give them an extra dusting of vanilla sugar if you want.
These stars love it when you give them a nice draft free and cozy warm environment to proof. So, for this recipe it works really well to use your oven as a proofing cabinet by preheating it for a minute to 30 to 35 ºC / 85 to 95 ºF and then turning it off when you put the stars in to proof. Take them out when they approach their optimal proofing point and you also reach the point where you need to heat up your oven before baking.
When you think the dough has risen enough, use your finger to carefully make a small dent in the dough. If the dent pops half way back out: proofing is just right, the stars are ready to bake, if the indentation disappears, the dough needs more time. Give it another 15 minutes, then check again.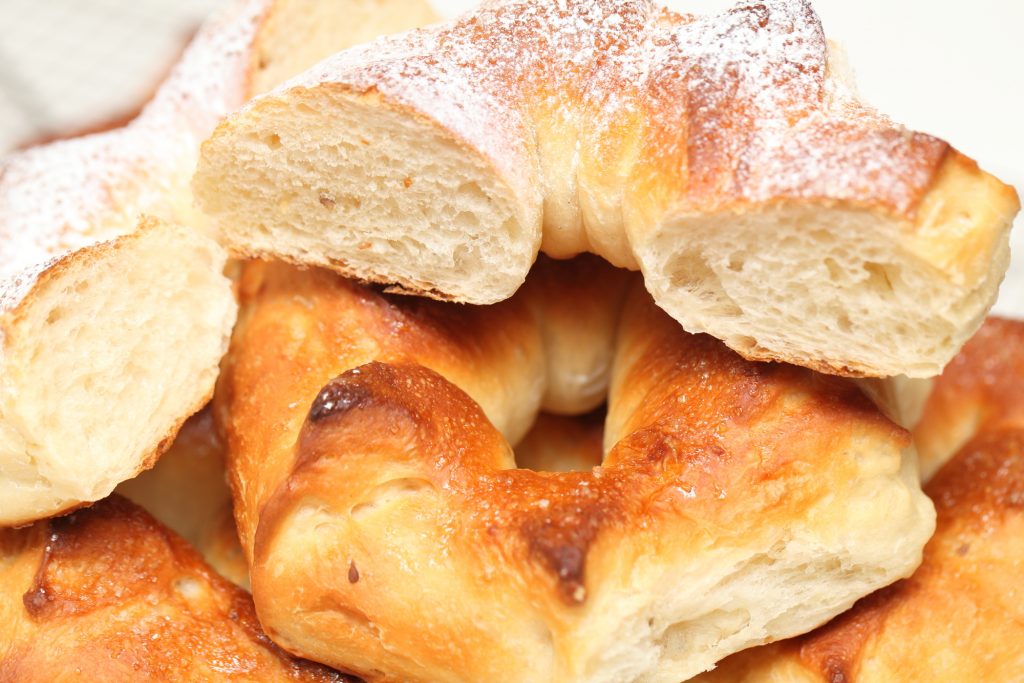 Baking the stars
Preheat your oven to 190ºC / 375ºF at the final stages of the proofing. Make sure it is well heated and stable before you put in your bread stars.

You can check out our tips on how to make the most of your oven for the best baking results here. We have baked these stars in our household oven. If you want to use steam during baking, also check these same tips.We introduce steam during the first 5 minutes of baking for this recipe, then turn it off.

Place the tray in the oven and bake the stars for around 15 minutes, depending on the working of your oven. Keep an eye on them. If you like the color and do not want them to turn any darker, you can temper your oven to 165 ºC / 330 ºF for the remainder of the baking time. We temper our oven after about 10 minutes.
When ready, turn off the oven, take out the tray and transfer the baking paper with the stars to a wire rack. Leave to cool. Dust with optional powdered sugar and serve. Absolutely best eaten while fresh. They also keep well in your freezer for up to one month, but make sure to freeze them while still fresh. If you warm them again in the oven, they do get a slight crispiness on the outside, not unpleasant, but different.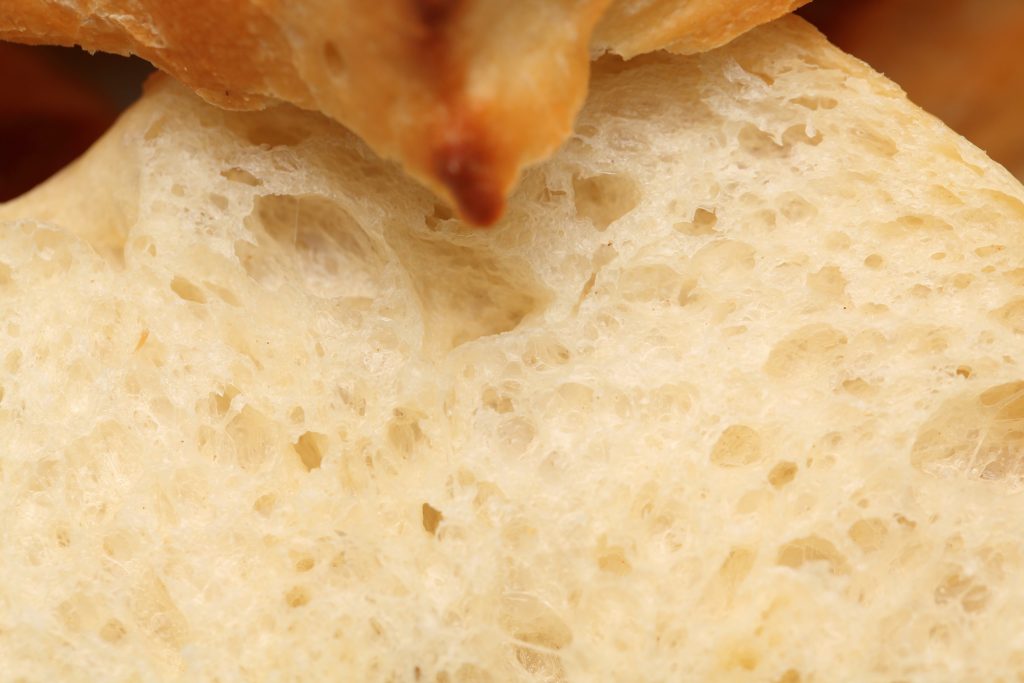 Look at the wonderful texture of the dough