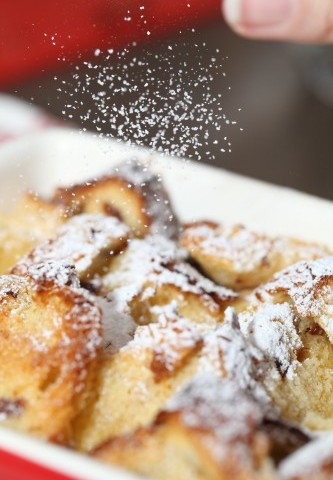 Bread & butter pudding: bonissimo bestemming voor Panettone!
Click here for English version
Panettone is typisch Italiaans, bread and butter pudding is favoriet bij de Engelsen. Als ze samenkomen heb je een hartverwarmend nagerecht. Denk custard-achtige onderkant met knapperig bovenop met smaken van vanille en citrusfruit. De poedersuiker zorgt voor een winters accent, passend bij het seizoen.
Misschien heb je een panettone (overigens de Italiaanse tegenhanger van ons kerstbrood) gekregen in je kerstpakket of als geschenk. Deze voorverpakte broodbommen kunnen wel eens wat droog zijn. Misschien ben je wel zo'n brood-enthousiast als ik en heb je zelf panettone gebakken. In beide geval is dit recept dan perfect als romige bestemming voor de restjes. Natuurlijk kun je ook brioche gebruiken, al zou ik daar nog wat sinaasappelrasp en rozijnen aan toevoegen. Of een paar eetlepels marmalade!
Ingrediënten voor de Panettone Pudding
voor 4 personen
250 gram panettone in sneetjes
50 g boter
2 eieren
170 ml room
200 ml melk
1 tl vanille-extract
45 g suiker
snufje zout
poedersuiker voor het bestuiven
Zo maak je de Panettone Pudding
Verwarm de oven voor op 170°C. Vet een ovenschaal van 15 bij 20 cm in met wat boter. Als je voor kerst een grote schaal voor de hele familie wilt maken verdubbel je het recept en neem je een schaal van 20 x 30 cm. Je verdeelt de panettone in 5 a 6 sneetjes en je laat de korstjes gewoon eraan zitten. Boter de plakjes licht met de rest van de boter. Snijd de plakjes doormidden en leg ze in de schotel met de beboterde kant naar boven.
Klop in een grote kom de eieren met de room, melk, vanille-extract, suiker en snufje zout en giet gelijkmatig over de panettone.
Zet de schaal in een braadslee en giet er zeer heet (net van de kook af) water omheen tot een diepte van ongeveer 2.5cm. Bak gedurende ongeveer 40 minuten totdat de pudding gaar en goudbruin is. De binnenkant moet gelig en custard-/pudding-achtig zijn en de top mooi bruin. Bestrooi ze poedersuiker en serveer eventueel met wat room zoals de Engelsen doen. Ik vind dat deze pudding dat echt niet meer nodig heeft. Maar misschien, omdat het kerst is…
Vindt een Engelstalige versie van dit recept op onze Weekendbakery Website
De originele Italiaanse panetonne vormen vind je in onze Weekend Bakery webshop.