Marmalade Bread & Butter Pudding: Bonissimo with Panettone and Délicieuse with Brioche!
Klik hier voor de Nederlandse versie
Adding dollops of home made marmalade to this comforting pudding has made it even more interesting and satisfying to eat.
It has its warmth and solace, its custardy and crusty bits, it's familiar vanilla, and now it also has a hint of bittersweet citrus in every bite. We love it with (left over) panettone or brioche. So if you were tricked into believing that spring had arrived, only to find out winter has come back to bite you, make this pudding! Smiles all around…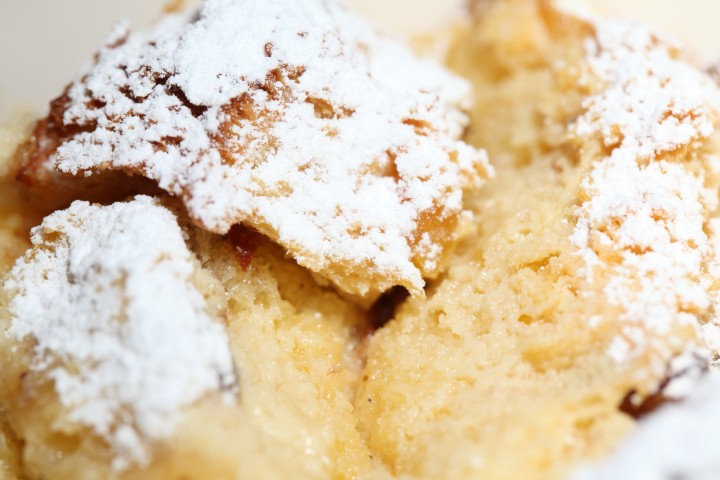 Ingredients
serves 4
250 g brioche or panettone in slices
50 g butter
2 eggs
170 ml cream
200 ml milk
1 tsp vanilla extract
50 g sugar
pinch of salt
10 tsps Seville orange marmalade
50 g raisins soaked in liqueur (optional with brioche)
Orange zest (optional with brioche)
icing sugar to serve
Making the Bread & Butter Pudding
Preheat the oven to 170ºC / 340ºF and grease a 850ml / 1½ pint shallow baking dish with some of the butter. Cut the bread into thick slices, leaving the crusts on. Butter the slices with the rest of the butter. Cut the slices in half and arrange them in the dish, buttered side up.
In a bowl, whisk together the eggs, cream, milk, vanilla extract and sugar and pour evenly over the bread. If you are using brioche you can add some optional ingredients at this stage, like the liqueur soaked raisins and some extra orange zest. I use marasquin liqueur made by Van Wees from Amsterdam in my panettone bread, so it's also nice to soak your raisins in this, or you could use almond liqueur for example. Now add the teaspoon dollops of marmalade to the pudding.
Now the next bit is important if you want your pudding to have the right texture. Put the dish in a roasting tin and pour hot water around it to a depth of about 2.5cm / 1 inch. Bake for 40 minutes until the pudding is just set – it should be yellow inside and nicely browned on top. Dust with icing sugar and serve while still warm.
But also very tasty the next day, completely cooled, if there's anything left that is…
You can find our own 'easy with great result' brioche recipe here and a brioche no knead version here.