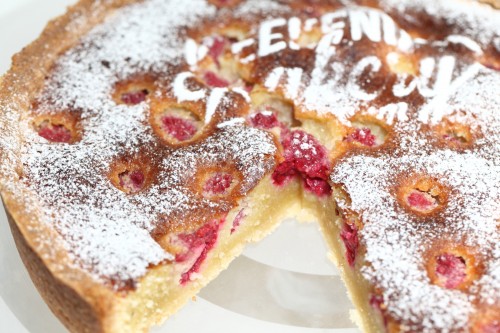 Er wordt gezegd dat de naam Frangipane afkomstig is van een Italiaanse markies uit de 16e eeuw genaamd Muzio Frangipani. Of dit waar is weet ik niet maar…ik weet wel hoe je het maakt. Je kunt de frangipane gebruiken als taartvulling of als bedekking over een laag vruchten, daar kun je zelf creatief in zijn. Ik noem het de Italiaanse versie van onze amandelspijs.
Ingrediënten. voor de Frangipane
125 g roomboter
125 g fijne suiker
3 verse, liefst biologische eieren
zest van 1 citroen, sinaasappel of mandarijn
125 g amandelmeel
Zo maak je frangipane
Smelt de roomboter langzaam op laag vuur en laat het een beetje afkoelen. Klop de suiker met de drie eieren en de geraspte schil van citroen, sinaasappel of mandarijn flink schuimig en voeg terwijl je blijft kloppen de gesmolten boter toe. Schep daarna het amandelmeel door het mengsel en schenk het uit over een taartbodem of doe er iets anders leuks mee. In de oven bij een temperatuur van ongeveer 180-200 C voor 30-45 minuten, afhankelijk van je recept. Mooi goudbruin en bros en een beetje 'bubbelig', zo is het goed.
Tip: in plaats van amandelmeel te kopen (meestal alleen verkrijgbaar bij natuurwinkel of groothandel) kun je ook zelf witte amandelen malen in een oude koffiemolen of keukenmachine. Maal de amandelen samen met de suiker, zodat deze de oliën uit de amandelen kan opnemen.