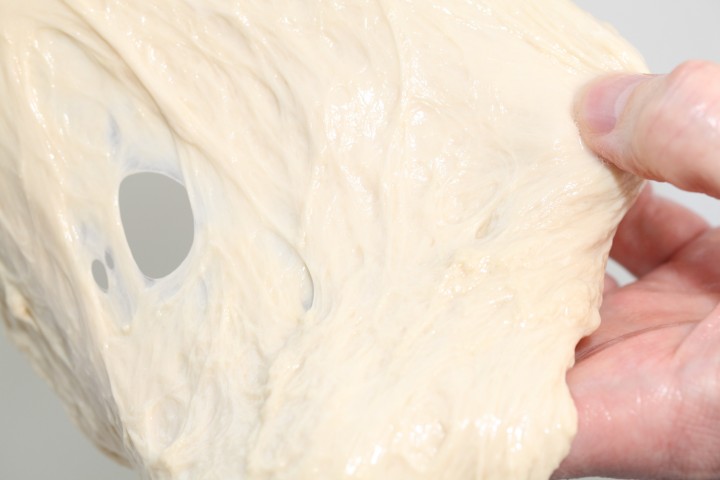 Gluten-free or not, it is always beneficial to bake your own!
What the heck are gluten?
Gluten have been getting a lot of bad press. But what are gluten? Starting with the flour: Flour is milled grains. For example, wholewheat flour consist of the whole wheat grain milled into a fine flour. Everything from the grain is incorporated in the flour, the bran, the germ with lots of minerals and enzymes, the endosperm consisting of starch and of course the gluten. The amount of gluten depend on the type of grain. Some contain almost none, and some types contain a lot of gluten. The grain we use most often in our food are wheat, rye, barley, oats, spelt and kamut. Gluten are a mixture of proteins with viscose-elastic properties, a bit like chewing gum.
Gluten are the main structure builders in your bread, they hold the air and give your bread a chewy and elastic texture. When you knead your flour and water into a dough, the wet gluten interlink with each other and form a web. The longer you knead the more links are being formed and the tighter your dough will get. These links are also formed automatically when wet dough is left alone for a while (the autolyse process) and during bulk fermentation. This is why your dough also gets stronger during these steps. The carbon dioxide gas produced by yeast is trapped within this web of gluten, a bit like air inside balloons. This is what makes your dough rise. Next to kneading and time, gluten are also developed and influenced by the amount of water, water quality, temperature and the addition of other ingredients (salt, milk, milk) and chemicals / additives (enzymes, conditioners) in a recipe.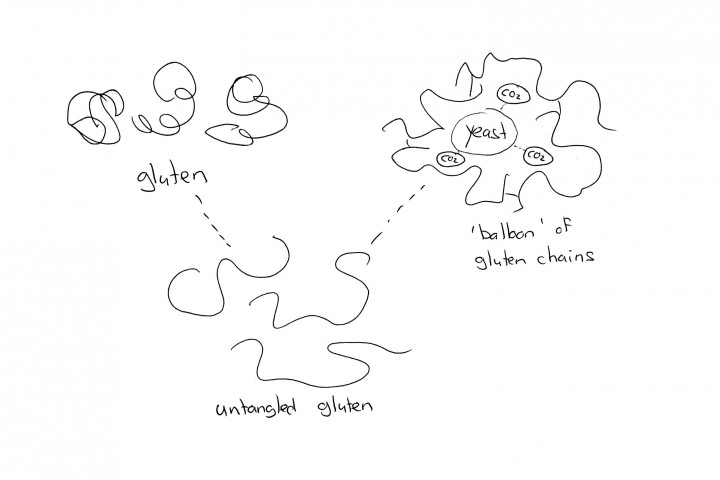 Quality and quantity of gluten
Just like different quality balloons, some flours produce very tight balloons which are hard to inflate, and some flours produce very slack balloons, which are easy to inflate but can also easily break. The most important proteins within the gluten are gliadin and glutenin, the balance between these proteins defines the baking properties of the flour. Which means dough can be elastic and very springy, but dough can also be very extensible, depending on the type / brand / kind of flour. The glutenin contributes to the strength and elasticity of your dough and the gliadin contributes to the extensibility. For most bakes you want lots of extensibility (stretching without breaking) and not so much elasticity. When you make pizza for example, you want to have an extensible but not very elastic dough. This way it is easy to roll out and it does not spring back. When you are making fluffy light diner rolls, it is good to have strong 'balloons' which can trap a lot of carbon dioxide. For this you need a flour with lots of gluten, a bread flour high in protein.
Show me the gluten!
To get an idea of what gluten 'look and feel' like, we did a little experiment by washing out the flour from a ball of dough. It is very easy to do.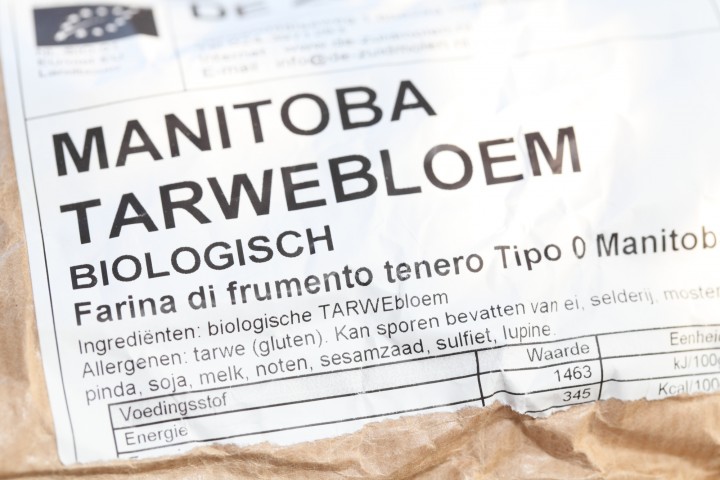 Make a dough containing only water and bread flour, so no yeast or salt. We used a Manitoba bread flour with a 14% protein content for our experiment. Knead the dough for 5 minutes into a tight ball, cover and store for 60 minutes. During this time the gluten will develop a tight web of links inside the dough.
Fill a bowl with cold water and 'knead' your ball of dough while keeping the dough under water. This way you wash out all the starch from the flour. The water will turn milky white after a while. Refresh the water and continue kneading the ball of dough until the water does not turn white anymore. Slowly but surely your ball will get smaller and you will end up with a ball of pure grayish-beige gluten which feels squeaky like chewing gum. Let this ball relax for an hour inside a bowl of fresh clear water. After this hour your gluten chains have relaxed and you can now stretch these gluten beyond believe. Just try it yourself!
Ingredients for the gluten experiment
400 g bread flour (we used 14% Manitoba bread flour)
250 g water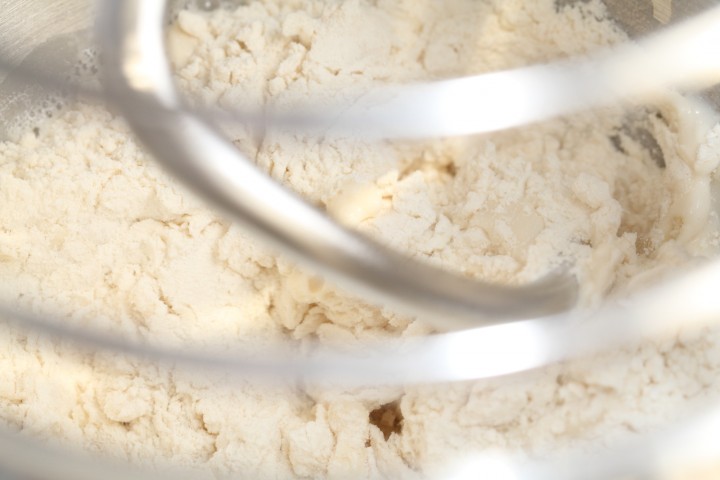 So, the more gluten the better?
You would be tempted to think that when it comes to bread baking, the more gluten the better. But this is too simple a statement. You will not be surprised that there is of course an optimum amount, depending on the recipe you are making. When bread dough contains too much gluten it loses its extensibility and springs back too much, making it difficult to work with and resulting in a bread that is tough and has lower volume and a compact crumb. Lack of gluten, especially with breads that are free form baked without support of a bread tin, can result in collapse of the dough.
With our own bread baking, we have experienced that not enough gluten results in collapse of free standing loafs and too much gluten results in a compact crumb without the so desired large holes. The protein content of the flour we use when making rustic bread, giving us the best result, lies between 12 and 13%.
Starch & Fermentation
Without getting too technical, the next part is a (over-) simplification of the processes happening when making your own bread. The bulk of the flour consists of starch which are carbohydrates in glucose form, bonded together into long chains. When making bread, during bulk fermentation, these long chains are cut into smaller pieces. The yeast, enzymes and the bacteria from sourdough do most of this work. It takes a couple of hours for this to happen. So bread which has been made in a hurry, like most factory and supermarket bread, still contains a lot of the original long glucose chains, the raw flour, and less of the smaller chains. These long chains are harder to digest and this makes most factory bread harder on your internal system. The long bulk fermentations, the use of poolish / preferments, smaller quantities of yeast etc, all help you to make bread that is easier to digest and more complex in taste. The yeast, enzymes and bacteria are doing the hard work for you, transforming complex carbohydrates into easy to digest (for example) maltose pieces. The factories are compensating this valuable time with lots of additives, extra added enzymes, intensive kneading, aroma's etc. All this to make up for and hide the fact that the bread is made too quick. Sadly these shortcuts and unwanted ingredients give bread a bad reputation because they can lead to all kinds of health problems.
Gluten vs health
Except of course for people with Coeliac disease, an autoimmune disorder affecting primarily the small intestine, and people with obvious gluten intolerance, if you have never been tested but think you might have a problem with digesting gluten, why not try to bake your own 'slow' bread without additives and enzymes and see how your body reacts. Because if you buy bread from a supermarket or a baker that uses additives and bread enhancers there is a chance your internal system is protesting against raw flour and other things you do not need or want in your bread and will never add when baking your own!
When it has to be Gluten-free
We are absolutely no experts on gluten-free baking, except for the odd pancake. We know it can be a challenge to produce a good gluten-free loaf of bread and you always need a mix of gluten-free flours to get a satisfying result. There's lots of websites and blogs to be found full of gluten-free information and recipes. Below is a list of the most popular gluten-free flours for bread baking. So, if you want to see the difference between the bread with gluten you normally bake and a gluten-free version, try and make a loaf with flour from the list below.
List of gluten-free flours for bread baking
Amaranth flour – Made from the South American amaranth plant – High in protein, calcium and iron
Buckwheat flour – Made from the seeds of the buckwheat plant – Source of B vitamins and lysine
Chestnut flour – Milled from dried, roasted sweet chestnuts – Source of vitamins B and C and fibre
Chickpea flour – Milled from chickpeas – Also called garbanzo, besan, ceci – Source of protein, iron, folate
Cornflour – Corn meal (maize meal / polenta) is made from whole maize seed – Good source of vitamin A, protein and fibre
Lupin flour – Made from the seeds of the sweet lupin – Source of omega 3 and 6, protein, fibre, antioxidants
Millet flour – Millet flour can be made from a number of highly variable small-seeded grasses – While glutenfree, people intolerant to gluten can still react!
Potato flour – Potato flour is made from dried and ground potato – Source of vitamine C, B6 and copper
Quinoa flour – Made from the sseds of the quinoa, member of the spinach family – Source of protein, calcium, iron, vitamines B and E
Rice flour – Made from the seeds of 'oryza sativa', can be white or brown – Brown variety source of vitamine B and several minerals
Soy flour – Made by grinding soy beans -High in protein and fat, also contains folate, biotin and copper
Tapioca flour – Made from the cassava plant roots. Useful because of thickening and binding properties. Not much nutritional value.
Flours that have different properties, protein levels, gluten properties and taste profiles than wheat but are not gluten free are rye, spelt, barley, oats, kamut, einkorn and emmer. Adding these to your recipes can make the baking more of a challenge but can also lead to interesting new tastes and textures.