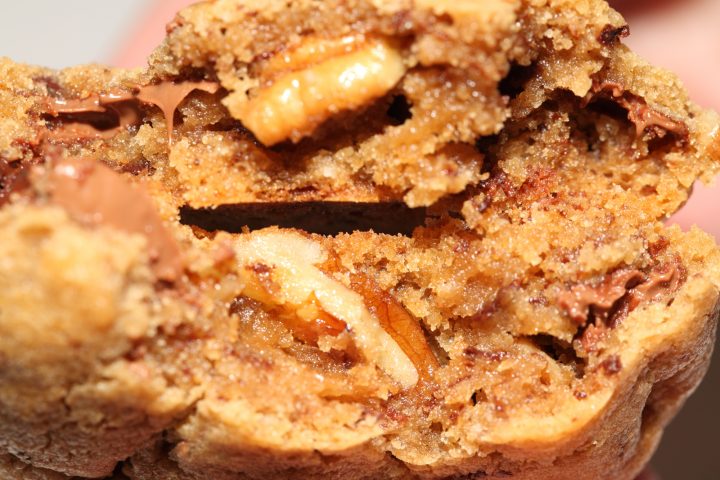 This cookie is what has been missing from our baking collection…
Klik hier voor de Nederlandse versie
Years ago in England, we tasted the perfect chocolate chip cookie. We have tried many recipes and have eaten a lot of delicious cookies, but it never completely resembled that celestial one from our memory. Recently we have tried it again and we believe we succeeded in our experiment.
What's the difference with other cookies?
The average cookie you buy in the shops is fully baked until it is completely dry and crisp. The same applies to the chocolate chip cookies in the supermarket. This is of course done for the shelf life. In the Netherlands we are used to the fact that every cookie is and should be this way. But in countries like the US you will more often find cookies that can be described as 'moist' and 'chewy'. These other textures make a cookie more interesting and above all tasty. As home bakers we are lucky we can make this type of cookie ourselves without worrying about long shelf life. Just bake, eat fresh and store what's left in your freezer.
This recipe provides a cookie with crispy edges and a soft center, a sticky texture that you can deliciously chew. In order to get this texture you do need to follow the instructions and ratio of ingredients. The fridge and oven times also determine the final result. Yes, there's a lot of sugar compared to the flour, that's right, but just look at this cookie like a pastry or slice of cake. The method may be a little different than you are used to, but it's certainly not difficult!
Happy baking!
---
Ingredients for the perfect Choc Chip Cookies
makes 10 cookies
110 g butter room temperature
50 g soft light brown sugar (muscovado)
50 g soft dark brown sugar (muscovado)
90 g granulated sugar
2.5 g salt
2.5 g Baking soda
50 g egg (1 small egg)
1 tsp vanilla extract
200 g Pastry flour
40 g milk chocolate chopped
40 g dark chocolate chopped
35 g chopped pecan nuts (optional)
The use of the different types of sugar gives your cookie a delicious taste with tones of coffee and caramel. You can experiment with this yourself by changing the ratio.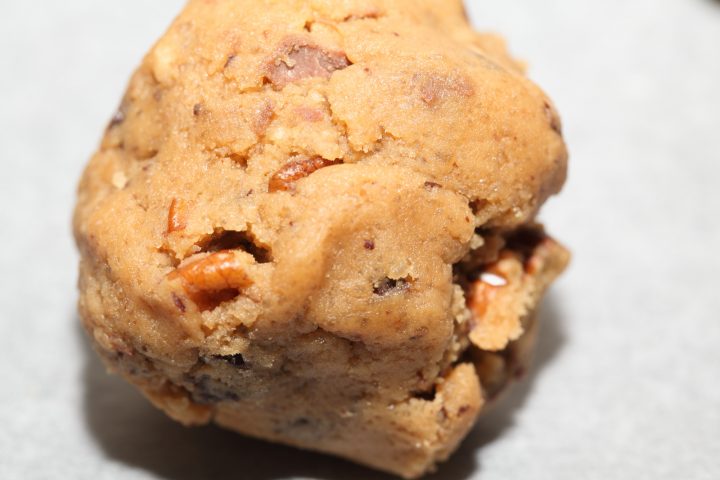 The method
Combine the butter with all the sugar (light, dark and granulated), salt and baking soda into a bowl. Mix the ingredients until light and airy. We prefer using a hand mixer and beat for 2 minutes on medium speed. You can also use a standing mixer but will need to scrape the bowl a few times.
In a cup, beat the egg with the vanilla extract until combined. Add this mixture little by little to the butter-sugar mixture while mixing on medium speed. When all the egg is added, beat the mixture for another minute at high speed.
Now add the flour, chocolate pieces and chopped pecans. Bring the mixture together to form a dough with a spatula or dough whisk and finish to form a smooth dough with your hands.
Preheat the oven to 175 ºC / 345 ºF conventional setting.
Divide your cookie dough into 10 equal parts (around 65g). Use a scale to ensure the biscuits are cooked evenly during baking. Shape into 10 balls and place them in the refrigerator to cool for 15 minutes. This is important for the structure of the cookies. The cold will aid to delay the spreading in the oven. The cookies hold a certain height which will give room to that nice structure we were talking about in the introduction of this recipe.
Place the 10 balls on a baking sheet covered with baking paper. Leave enough space so the cookies can spread without touching each other.
Bake the cookies in the preheated oven for 15-17 minutes. Each oven is different, so you may need to experiment with temperatures and time for the perfect result.
Cool on a rack for at least 10 minutes before sinking your teeth into a cookie! If and when you have some cookies left, you can store them in your freezer.
If you want to play with the cookie structure, you can carefully flatten the cookies right after they come out of the oven (for example with the back of a jam jar). Doing this will make the cookies a bit more compact,chewy and moist inside. We prefer the cookie without this extra flattening. Experiment with both and see what makes you happy!