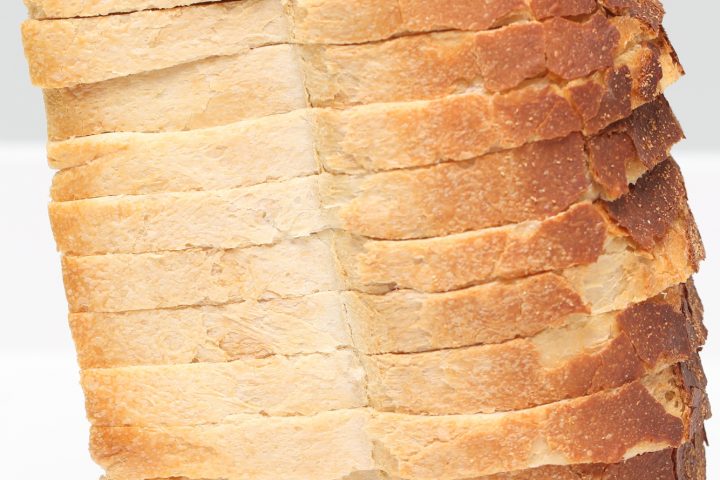 Super taste and texture without added sugar or butter!
Klik hier voor de Nederlandse versie
A simple method with great result for this one day sandwich loaf. All you need is good quality ingredients. We love to cut our own sandwiches a bit thicker as you can see. Gives you something to really bite into. Follow the directions carefully and choose the right ingredients and you end up with a loaf that is full of flavor and has the right bouncy texture, producing very spreadable slices with a thin crunchy crust. You can hear it 'sing' when it comes out of the oven!
---
Ingredients for the sandwich loaf dough
makes 1 loaf
250
g
bread (wheat) flour
250
g
Manitoba flour*
300
g
water
7.5
g
(sea) salt
8
g
instant yeast
30
g
olive oil
0.3
g
ground vitamine C*
Bread baking tools: Standing mixer (or knead by hand), scraper, spatula, bowl, digital thermometer, bread tin of approximately 24 x 10,5 x 8,5 cm / 9.4 x 4.1 x 3.3 inch.
Carefully weigh all ingredients for best result!
Manitoba* is a Canadian high protein content wheat flour, so very high in gluten. If it is not available you can also use other high protein flour (around 14% is great). Otherwise you can also use only bread flour. Because you want to get a good rise out of this bread and make it nice and airy, a high protein flour gives the dough the strength to do so.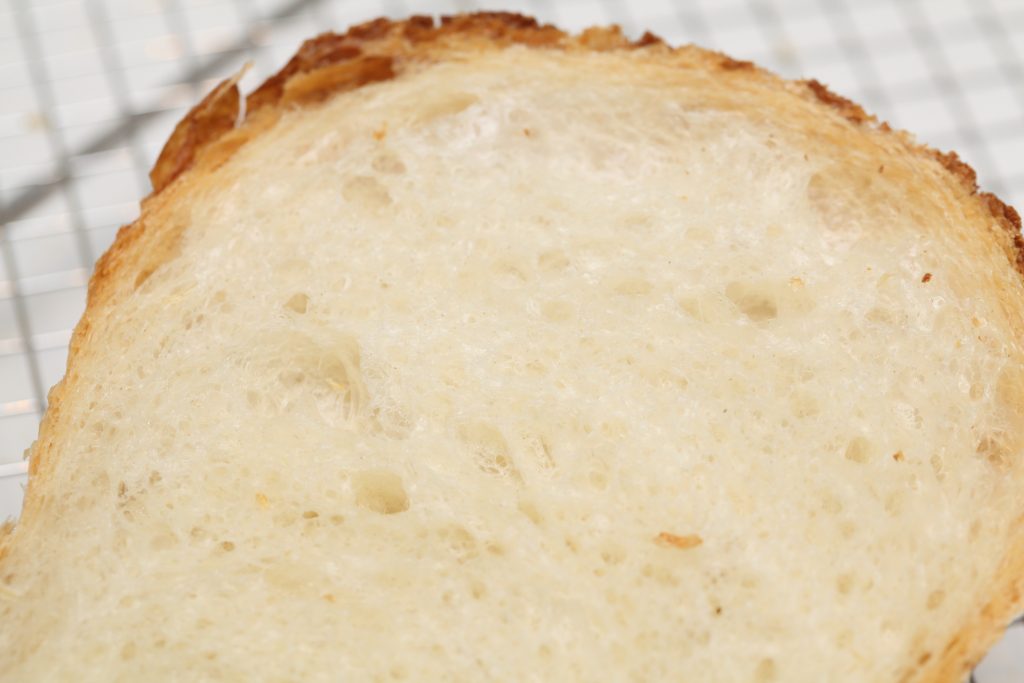 Vitamin C in bread baking*
Next to being a well know food supplement, vitamin C, also known as 'ascorbic acid' can also used in baking as a bread enhancer. So, What does it do?
Due to the properties of vitamin C, it can be used as a dough (gluten) strengthener during fermentation, helping to improve the structure of the dough.
Some flour types are sold with added vitamin C. The regular wheat and bread flour we use does not contain any vitamin C. So adding a tiny pinch to your dough can help improve your baking result. Professional bakers can buy 'commercial grade' ascorbic acid, but home bakers can also use crushed vitamin C tablets (it's effectively the same stuff). The recommended amount is 0.07%. So this means that for this recipe, with 500 g of flour, you can use a third of a 1000mg vitamin C tablet and you will be very close to the required amount of 0.3 g. Grind the 1/3 piece of tablet to a fine powder and add it to the flour.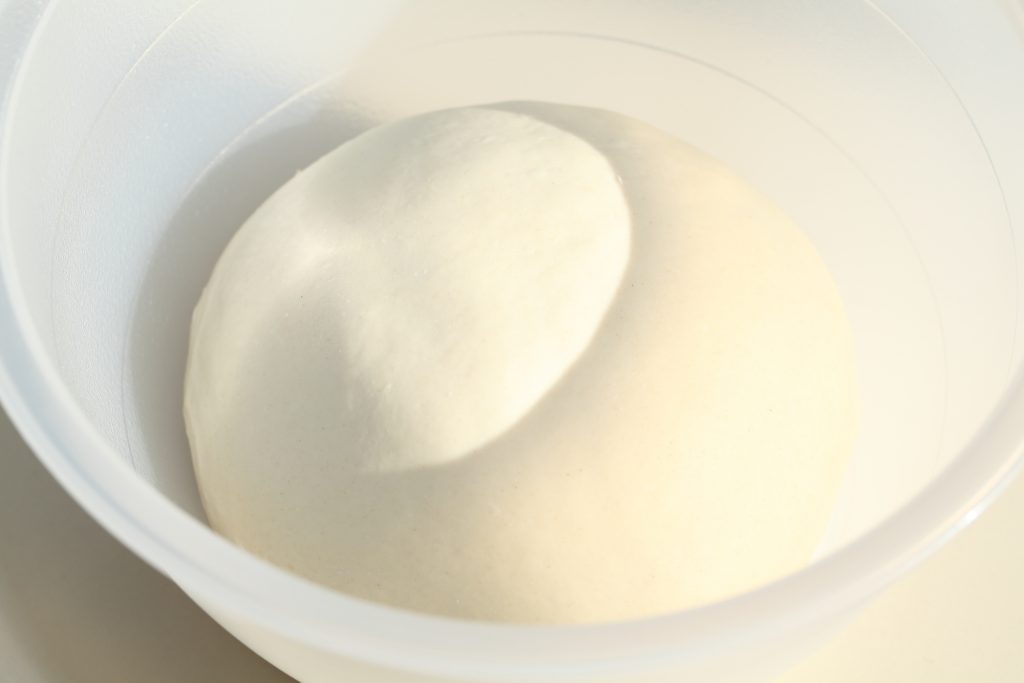 Making the sandwich loaf dough
In the bowl of your standing mixer, combine the two types of flour with the salt, the vitamin C and then add the instant yeast and olive oil. Now add most of the water (slightly warm around 30ºC), but hold back around 40 grams. Start mixing at low speed and when the dough comes together, slowly add the rest of the water. This way the flour at the bottom will be picked up and your bowl will be nice and clean. Knead for 8 minutes in total, 6 minutes on low speed and 2 minutes on medium speed. If you knead by hand it takes about 15 to 20 minutes, depending on your technique. Aim for a dough that sticks slightly at the bottom of your bowl, but not to the sides. It should be silky and smooth, where you can stretch the dough almost to a window pane stage before it tears a bit. Cover and leave to
rest for 30 minutes
.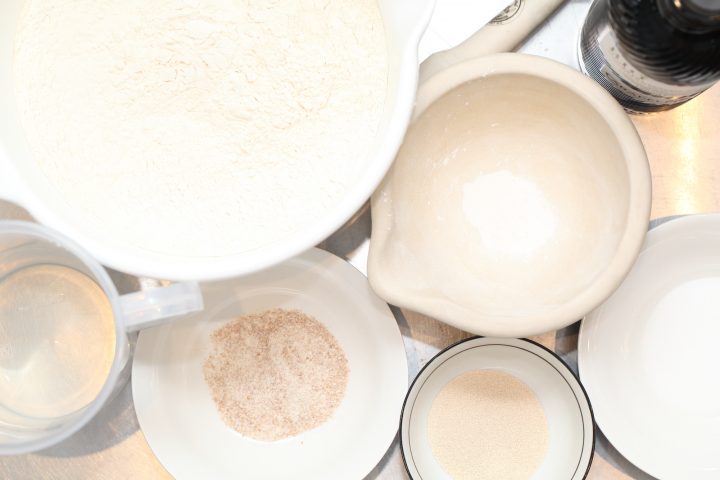 Now turn out the dough onto your work surface and give it a stretch and fold. Do one full letter fold set (one set = right over left, left over right, bottom over top, top over bottom). If you are not familiar with it, check out how this technique works in this video first.
Stretching and folding helps you get a feel for the dough and together with some rest it is great for its development. If your dough is still very cooperative, give it a few more stretches until it truly starts to resist. After the stretching and folding shape the dough into a ball, cover and leave to rest for another 30 minutes.
Preheat your oven to 220ºC / 430ºF at the final stages of the proofing. At what point depends on how long it takes for your oven to heat up. Make sure it is well heated and stable before you put in the loaf. You can check out our tips on how to make the most of your oven for the best baking results here.
Shaping the sandwich loaf
This shaping technique is simple to master and your loaf will fit perfect into your loaf pan. Just take a look at the pictures and follow the steps.
If necessary or preferred you can use a rolling pin, but if your dough cooperates enough, you can gently shape by hand.
Turn the dough out onto your work surface. Flatten the dough with your hands and gently press it into a rectangle.
Lift the dough with both hands and gently elongate it to about twice the width of your bread tin.
Bring the right side of the dough in to just over the middle. Then bring the left side in, also to just over the middle.
Make sure the dough slap is not wider than the width of your bread tin, because it has to fit in.
You can now gently elongate the dough from top to bottom by pressing it (with hands or a rolling pin).
Then roll up the dough, starting at the top, bringing it in while pressing it with your fingers.
Carefully close the seem of the dough with the heel of your hand (or by pinching with your fingers) and place the dough in the greased tin, seam side down.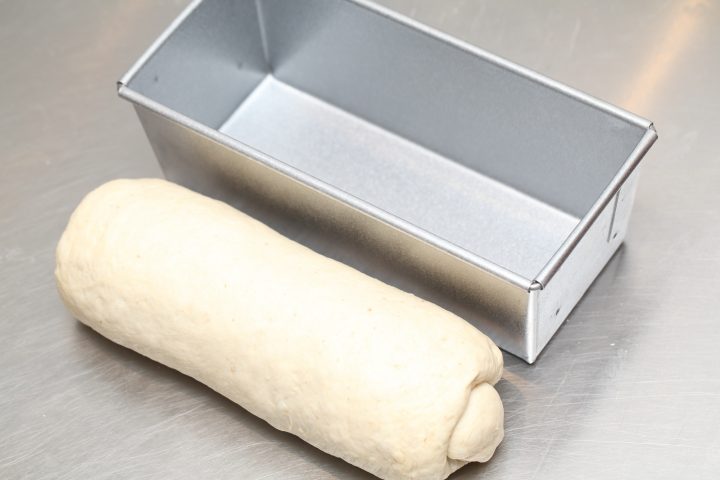 Cover with well floured or greased clingfilm and leave to proof. Depending on your dough temperature and room temperature the final proof should take about 1.5 to 2 hours. Just be patient and check regularly. When you think the dough has risen enough, use your finger to carefully make a small dent in the loaf. If the dent remains, the loaf is ready to bake, if the indentation disappears, the dough needs more time. Give it another 15 minutes, then check again.
Baking the sandwich loaf
Place the sandwich loaf in the to 220ºC / 430ºF preheated oven and bake for approximately 40 minutes. Check regularly to see how fast the loaf is browning. If you think the loaf crust has the desired color, you can temper your oven to 180ºC / 355ºF. After 20 minutes you can also take your loaf out of the tin and bake it without tin for the remainder of the time (it will already be firm enough). This will promote some more coloration on the bottom sides. Leave to cool on a wire rack.
To get a nice crust, color and shine, try to create some steam in your oven by putting a small metal baking tray on your oven floor when you preheat the oven. Pour in half a cup of hot water immediately after putting the bread in the oven. If you are going to create steam with a baking tray, you maybe also want to turn your oven temperature a bit higher, because you are going to lose some heat in the process.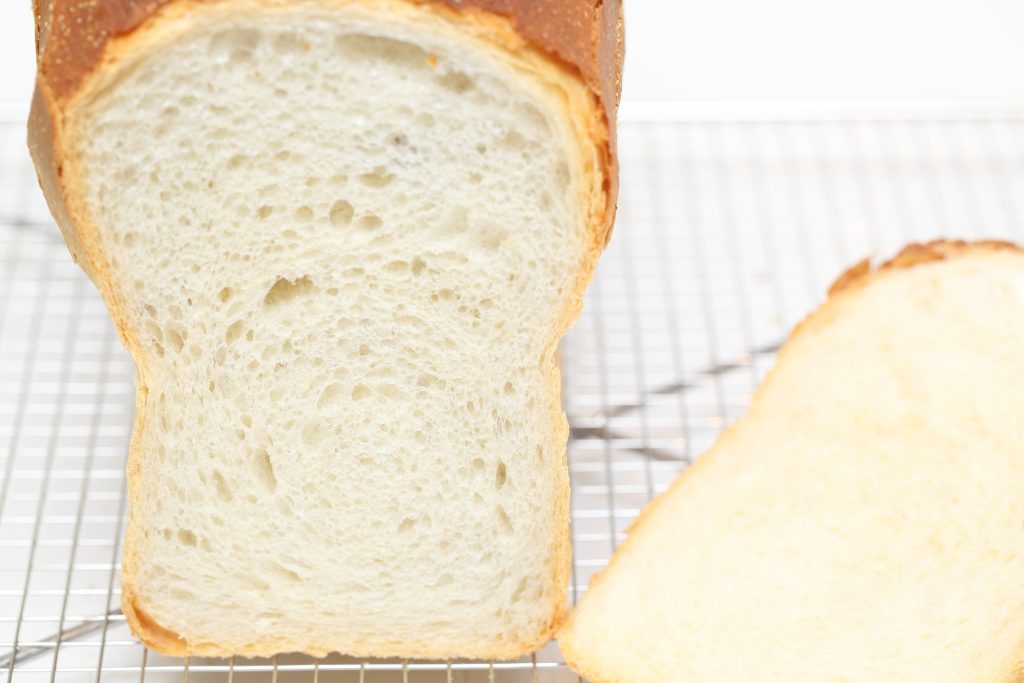 Best eaten while fresh of course. You can brush the top of the loaf with water after baking, to give the crust extra gloss. You can also store the (sliced) loaf in the freezer and give the slices a quick pick me up in a toaster or defrost at room temperature or use the microwave (best very short at high wattage).
Sandwich loaf time table
This table gives you an indication of the total duration for this recipe.
00:00 Knead ingredients 8 minutes total
+30 minutes rest
00:37 – Stretch & fold
+30 minutes rest
01:07 – Shape the dough and place in tin (3 minutes)
+120 minutes final proof
03:10 – into the oven
Baking time 40 minutes
03:50 – take out and leave to cool