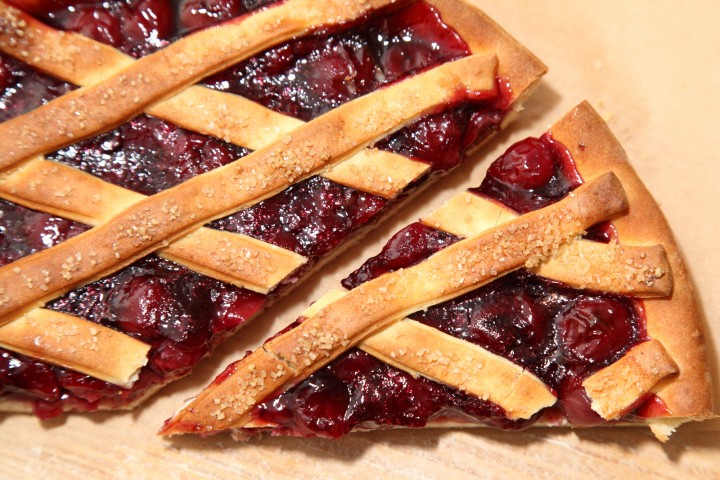 Our new addiction: baking 'limburgse vlaai'
Klik hier voor de Nederlandse versie
Recently we have taking on the project of baking something we Dutch call 'Limburgse vlaai' (pie or flan from the province of Limburg in the south of Holland). It is very popular all over the country and there are even stores that sell nothing but 'vlaai'.
The best known and loved versions are apple crumble, apricot, creamy rice and (of course) cherry or as we call it 'kersenvlaai'.
One of the best things about this pie for a bread baker is the dough, because it is really only an enriched bread dough. So it looks and feels familiar. And for most people it is hard to get their hands on fresh vlaai. So baking your own vlaai is the logical thing to do.
We set ourselves the task of baking great tasting vlaai. And we do have to say taste-wise this pie is already close to perfect. The lattice work can do with some improvement but in the meantime we are eating delicious pie. Or bread and jam as Ed likes to call it. That maybe also explains sharing a pie between two people that was intended for 10!
Happy Pie Baking!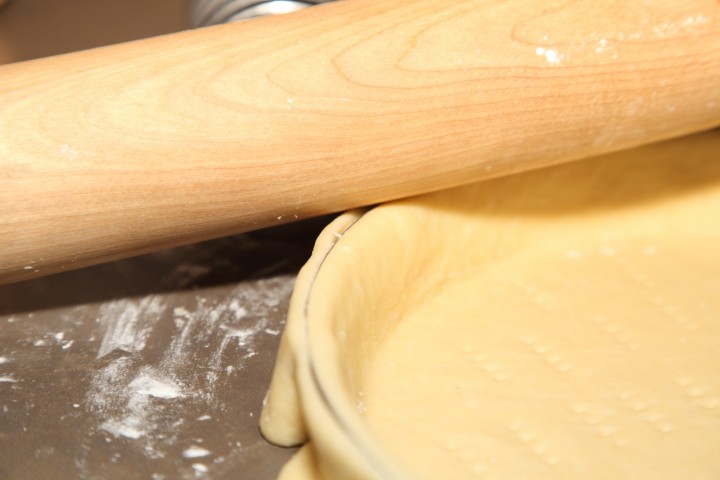 Ingredients for the Dough
serves 8-10
300 g flour (we use French type 55, you can use all purpose or plain flour)
18 g fresh yeast / 6 g instant yeast
120 g lukewarm milk
20 g sugar
3 g salt
30 g butter, softened
1 egg
coarse sugar for sprinkling pie lattice
Ingredients for the Pie Filling
700 g jar of stoned dark sweet cherries in light syrup (20% sugar, 350 g cherries, 350 g juice)
70 g sugar
15 g clear thickening agent like tapioca starch (in Holland called taartina) or potato starch
1 teaspoon vanilla extract
2 teaspoons fresh lemon juice (optional)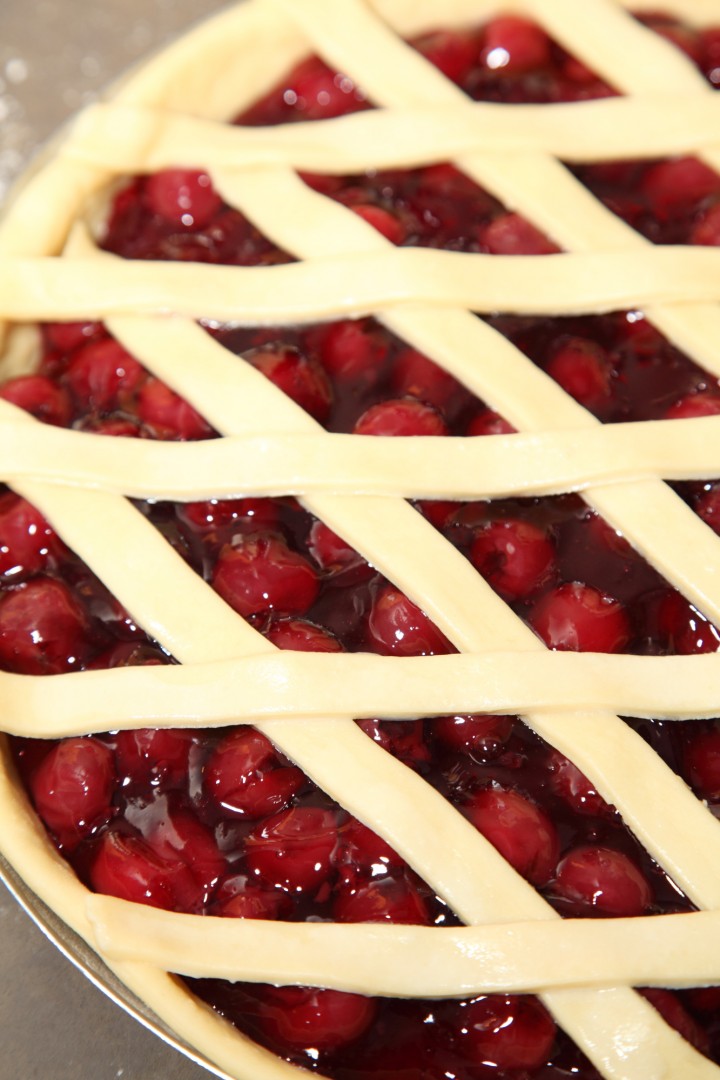 Making the Cherry Pie Filling
First prepare the cherry filling. Combine the thickening agent with the sugar. This way you will not get any lumps when you add it to the cherries and liquid.
Put the content of the cherry jar in a saucepan and add the vanilla and lemon juice. Now add the thickening agent / sugar mixture. Give the mixture a good stir so all the sugar and thickening agent dissolves. The cherry mixture will turn cloudy at this point.
Slowly bring to a boil while stirring and watch as the liquid becomes clear. When you reach this boiling stage, gently boil it for 1 minute further. You need to get the right consistency. We would describe it as viscous or maybe something similar to the mucus of an angry dragon. When warm it is like thin jam, when it cools it becomes thicker. Leave to cool while you prepare the pie dough.
If you want to make absolutely sure there are no stones left in the cherries you can roughly chop them first.
Making the Cherry Pie Dough
For the dough you first dissolve the yeast in the lukewarm milk. If you use instant yeast you can add that directly to the flour.
Add the salt and sugar to the flour and combine. Now add the milk and egg and bring it together. When it starts forming a ball you can add the soft butter.
Knead for 5 minutes with a standing mixer or for 8 to 10 by hand. Put the dough in a greased bowl, cover and let it rest for 1 hour in a warm place (24ºC / 75ºF to 27ºC / 80ºF would be ideal).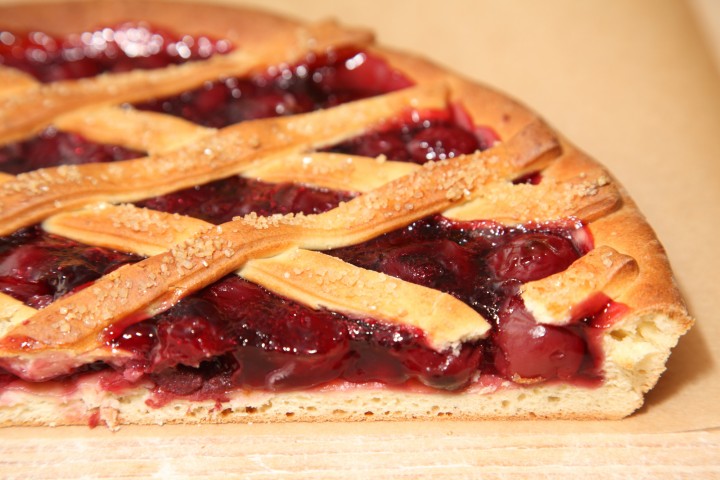 Assembling and Baking
Preheat your oven at 220ºC / 430ºF conventional setting.
Prepare a 28 x 3 cm / 11 x 1.2 inch vlaai mold or similar tart pan by greasing it with butter or spraying it with some oil. Take the dough out of the bowl and roll it into a nice circle, about 3 mm / 0.12 inch thick. Leave the excess dough hanging over the edges, but make sure the dough inside the mold is neatly fitted. Puncture the dough with a dough docker or fork. Cover and let the dough relax for 10 minutes.
Now with a rolling pin, trim off the edges / excess dough by carefully pressing it along the rim of the mold. Add the cherry pie filling and distribute evenly. Make a lattice with the leftover dough and cover the pie. Sprinkle the lattice with some course sugar.
Bake in the preheated oven for 22 to 25 minutes. If the browning goes too quickly you can temper the oven a bit after about 15 minutes of baking time. Leave to cool in the mold for 30 minutes and then carefully lift it out with the help of a palette knife or pie lifter for example. Now leave to cool completely on a cooling rack. Also very good with a dollop of whipped cream!