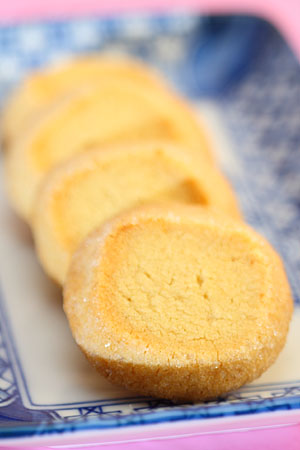 The word 'mop' refers to the shape of the cookie. In the 17th century it mend 'baked stone'. But these cookies taste way better!
Are you serious? You'd rather watch reality TV shows than bake your own cookies? Now what is wrong with you? Watching reality TV will make you fat, lazy and depressed! Baking cookies will make you radiantly happy and svelte and loved by your friends! So, what are you waiting for? No, it doesn't matter that it's 10 o'clock in the evening. Fresh cookies smell wonderful at night. Believe me, you'll sleep better after this. Start baking Goudse Moppen!
Ingredients for the original Goudse Moppen
makes approximately 30 cookies
200 g dairy butter
125 g soft white sugar (basterdsuiker)
1 egg yolk
zest of half an unwaxed lemon
2 g salt
250 g pastry flour /French type 45
sugar for rolling the dough
This is how you make the Goudse Moppen
Make the dough by creaming the butter and soft white sugar with a wooden spoon or spatula. Then stir in the egg yolk and lemon zest. Add the flour with the salt and combine until you have a cookie dough consistency (do not overwork the dough). Leave to rest in the fridge for an hour. Preheat your oven to 175ºC / 345ºF. Roll the dough into a sausage shape on a sugar coated worktop (divide in two if that's easier) until it's about 3,5 cm /1.5 inch ø. Cut the dough into slices about 1,5 cm/ half an inch thick. Bake them golden brown on a baking sheet in approx. 15 minutes and leave to cool on a wired rack.
As with all cookies, best eaten the same day or the next. So share generously with friends and colleagues, allowing you to bake even more and stay away from depressing fake reality. Drop that remote….I mean it!
NB: Goudse Moppen are traditional, sugar coated cookies from the city of Gouda in the province of Zuid-Holland, also famous for its cheese (kaas). When in Holland, go to a cheese shop and buy a piece of fresh cheese and take a bite! This is, next to our liquorice (drop), the thing we miss the most when abroad.