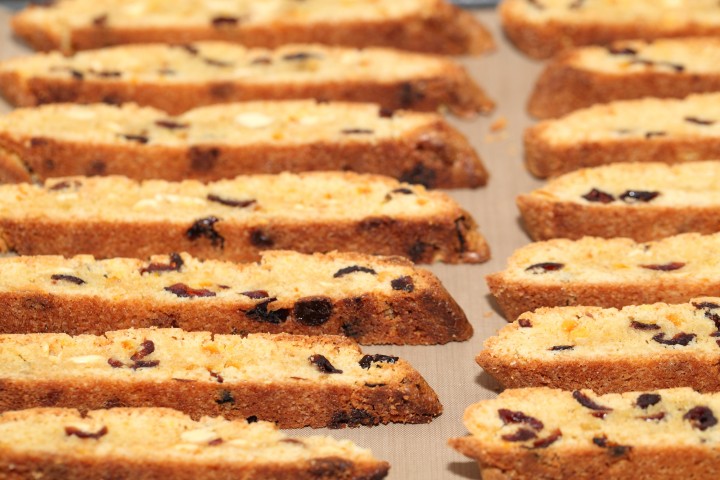 Looking for a heavenly bouquet of orange and vanilla to fill the Christmas house? Bake these biscotti!
You have to make the song your own, they tell contestants on talent shows like X-Factor. What goes for a song, also goes for a recipe. Either you make up your own, or you make it your own. These days it's not easy to invent a recipe. There are thousands of biscotti recipes to be found, in all shapes and tastes, with all kinds of ingredients and baking methods.
So you find a basic recipe, test it in your oven, under your conditions with your specific types of ingredients and then make a version you like the most. Some biscotti recipes have lemon or orange zest in them. A wonderful flavor of course. I had been playing about with my home made candied orange peel recently. Cover them in chocolate, add them to cakes and muffins, use them as decoration. So why not shred them and add them to my biscotti recipe?
I am quite in love with the result. Candied orange peel seems even more orangy than orange zest and the shredding takes care of an even distribution in the dough. The perfume is heavenly!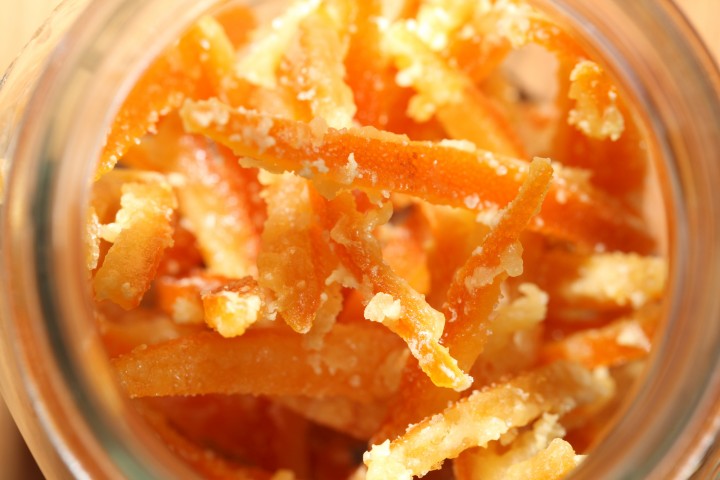 Ingredients for the Biscotti
200 g flour
165 g sugar
70 g soft butter
7 g baking powder
pinch of salt
1 egg and 1 egg yolk
1/2 tsp vanilla extract
candied orange peel, about 10 strips, finely chopped or shredded (see recipe here)
75 g dried cranberries
75 g white chocolate chips
Making the Biscotti
Preheat your oven to 170ºC / 340ºF
Whisk together flour, baking powder and salt in a medium mixing bowl and set aside. In the bowl of an electric mixer fitted with the paddle attachment or using a hand mixer, beat together sugar, soft butter, egg and egg yolk and vanilla extract on medium-high speed until well combined. Reduce mixer speed to low and add dry ingredients. Mix until just incorporated and then stir in white chocolate chips, dried cranberries and shredded orange peel with a spatula.
Shape the dough into a 30 cm x 7.5 cm / 12″ x 3″ rectangle on the baking sheet prepared with parchment paper. Bake until golden brown, about 30 minutes, depending on your oven. Remove from oven (leave oven on – you will need to bake the biscotti again) and let the baked dough slap cool for 30 minutes.
Carefully transfer the rectangle to a work surface and remove the parchment paper from the baking sheet. Using a serrated knife, carefully cut into 1.2 cm / half-inch slices on the diagonal. Place slices on the baking sheet (like you see in the picture). Return to the oven and bake for another 8-10 minutes, turn and bake again for 8 minutes. Transfer to a wire rack to cool completely. Store in an airtight container. Biscotti keep for about one week and can be stored really well in a freezer for up to two months.