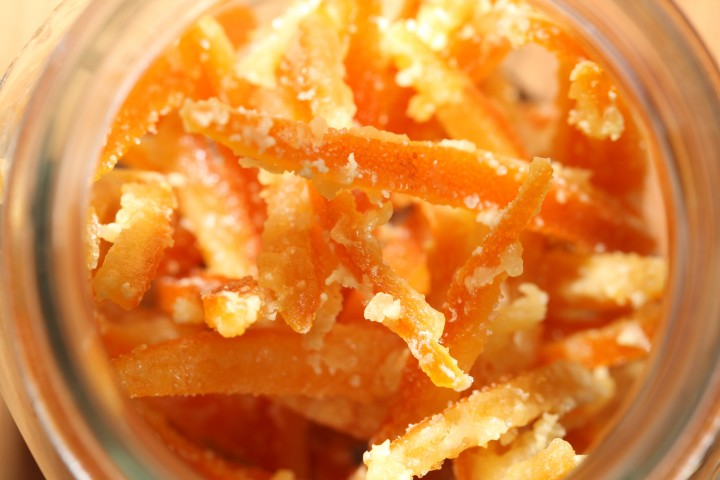 Waste not want not! A little candied orange peel goes a long way…
This candied orange peel is wonderful in our Merry Christmas Muffins recipe. But also great in other cakes and cookies, festive breads and stollen. Blitz them up and use instead of zest in your biscotti, for an even more intense orange flavor. Or dip them in dark chocolate, use them to decorate or just eat them as is. So do not throw away your peel and start making this simple recipe!
This is how you make the candied orange peel
Peel two big organic unwaxed oranges and remove all the white membrane from the peel. We normally half the oranges for a refreshing OJ, cut them in quarters and strip off the white membrane. Now cut the peel into small strips.

Put the peel strips in a heavy based saucepan and cover with cold water. Bring to the boil and leave to simmer for 10 minutes. Drain the hot water and cover the peel with fresh cold water, bring to the boil again and simmer for 10 minutes. Repeat this process one more time (so a total of three times).
Now add 75 ml of water and 125 grams of sugar to the peel. Bring to the boil slowly until all the sugar is dissolved. Leave to simmer gently and stir occasionally until all the liquid is absorbed. Transfer the peel strips onto greaseproof paper to dry completely and cover them with another layer of greaseproof paper for protection. You can also sprinkle the peel with (vanilla) sugar, but I find this is not necessary when using the peel in muffins and cakes. When dry place them in an airtight container and store in the fridge.