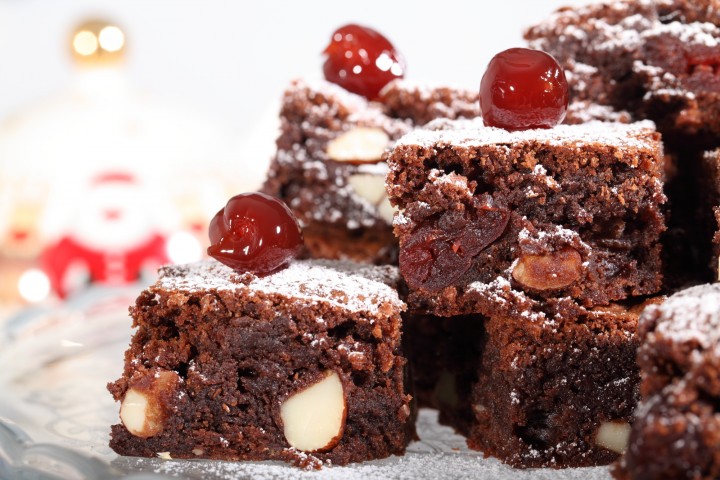 Gooey, deep dark chocolaty, sticky cherry, chrunchy almondy oh goodness me Christmas Brownies!
Dutch version coming soon…
After I made the drunken cherries I just had to combine them with chocolate. And since you can never go wrong with brownies, a recipe combining them with the cherries and lightly toasted almonds was quickly dreamed up.
I hope you like the combination of the different tastes and textures just as much as I do. The cherries, juicy from the liqueur and the almonds with a nice bite are comfy and cozy in their moist dark chocolate coat. I always use a very good quality chocolate and also add extra cocoa powder for a super rich chocolate taste. You will find the chocolate after taste pleasantly lingering for quite a long time…
So put on some festive holiday tunes and start baking!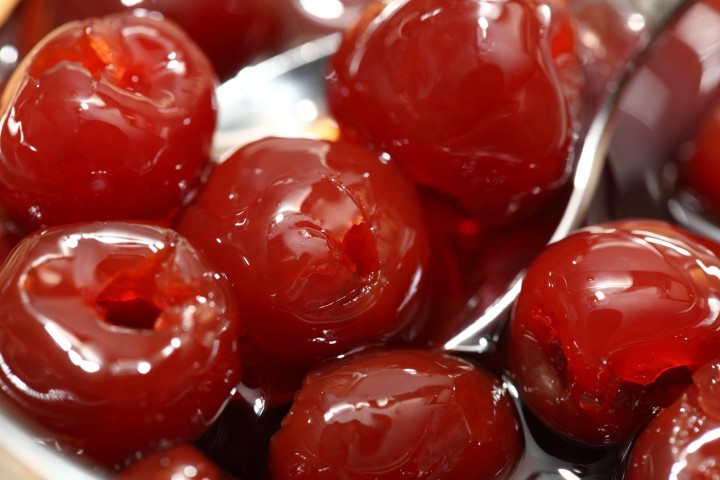 Before you start baking
There are a few festive fun preparations to get out of the way before we start baking. The first thing you want to do (want, not have to!) is the drowning of the cherries in almond liqueur. It is best to do this a couple of days in advance so the liqueur can really fuse with the cherries.
If you can wait for 3 to 4 days, they will be perfect! And yes, of course you can also use them in other recipes like stollen and cakes, but you also have to try one straight from the jar. I promise you will be smiling!
Another thing you have to do in advance is lightly toast the almonds. You can toast them in a pan or toast them for 10 minutes in a preheated oven at 175ºC / 350ºF. Leave to cool before using them in the recipe.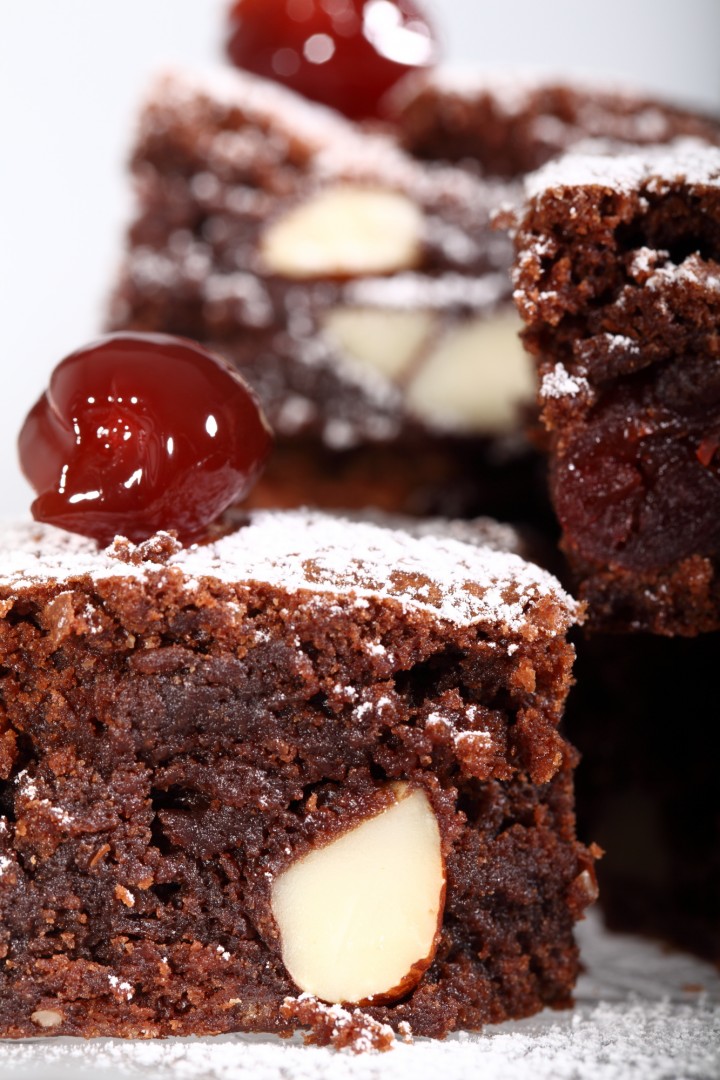 Ingredients for the brownies
makes 16
100 g best dark chocolate (+/- 70% cocoa solids) in pieces
145 g butter in cubes
210 g sugar
2 organic eggs
115 g plain flour (all purpose)
1 tbsp cocoa powder (Dutch processed)
good pinch of salt
50 g lightly toasted almonds, roughly chopped
50 g drunken cherries (dried cherries in almond liqueur)
Icing sugar for dusting
Drunken cherries for decorating (optional)
Making the brownies
For this recipe you need a 20 cm x 20 cm / 8 inches x 8 inches square baking tin lined with parchment paper. Crinkling the parchment paper into a ball and then unfolding it makes it easier to fit the paper into the tin. Start by weighing the ingredient. Melt the chocolate pieces and cubes of butter in a bowl over a pan of just simmering water (au bain Marie).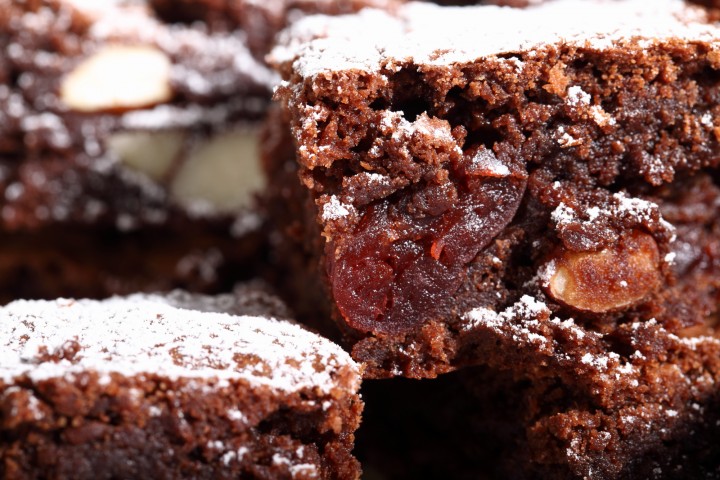 Preheat your oven to 180ºC/355ºF.
With an electric mixer (I use a hand mixer for this) whisk the eggs and sugar for 1 minute at medium speed until light and foamy. Now, mixer at low speed, gradually add the slightly cooled chocolate/butter mixture, until everything is combined. Stop mixing and use a sieve to add the flour, cocoa powder and salt to the chocolate mixture. Cover the top of the chocolate mixture evenly with the flour and very gently combine the two with a spatula. Fold, making a figure eight movement 4 or 5 times. At this stage, when it's half combined I add the chopped almonds and the cherries, so they are evenly distributed through the mixture, another 4 or 5 turns and the job should be done.
Time for the oven! Pour the mixture into the prepared baking tin, use a spatula to clean out your bowl. Make sure the mixture is evenly distributed, ease it into the corners with your spatula. Put the tin in the middle of the oven and bake for 30 minutes. Check if the top has a shiny, papery crust and a pale brown color. Check if the middle part is also set by lightly pressing the top with your fingertips. Give it a few more minutes in the oven if it's not set in the middle and check again. You want it just set and still nice and moist. Try not to overcook the brownies, just set is soooo much nicer. Take the tin out of the oven and leave the brownies in the tin to cool completely. Cut into squares, dust with icing sugar and decorate with some drunken cherries.
Merry Christmas!
PS: I also made a version of this recipes with the cherries, toasted pistachios and little chunks of white chocolate. Likewise very well received…