The most indulgent bun we have ever made. Our favorite!
This recipe is a variation on the cinnamon bun recipe. It is hard to choose which one we prefer. The combination of good quality cherries and real almond flavor in the pastry cream is heavenly. These buns make us smile as soon as we bite into them!
For the dough we use French type 45 flour which works really well if you like your buns to be light and fluffy. We love to use fresh yeast for these buns, the smell of the proofing dough is a treat in itself.
As a final touch we add a vanilla sugar glaze on top for an extra hint of sweetness. We apply a very thin, almost translucent layer. It also gives the buns some extra texture to bite into before you reach the softness and creaminess of the bun.
---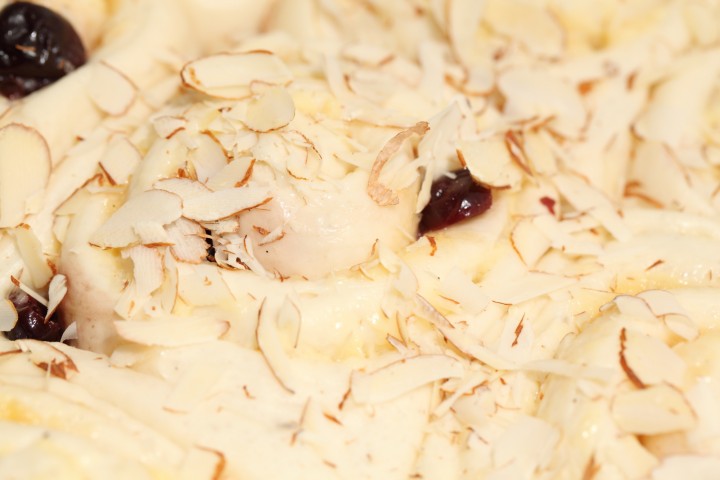 Ingredients for the buns
900 g flour (we use French type 45 for this)
16 g salt
12 g instant yeast or 36 g fresh yeast
300 g milk at room temperature
230 g water
50 g butter softened
50 g sugar
400 g pastry cream, flavored with 1 tsp almond extract (see recipe here)
150 g dried cherries
25 g slivered almonds
100 g icing sugar, water plus 1/2 tsp vanilla extract for the glaze
What to make in advance
You can prepare the pastry cream in advance so it will be ready the next morning. You can find our favorite recipe for pastry cream here. We added 1 tsp of our real almond extract to the cream and left out the vanilla.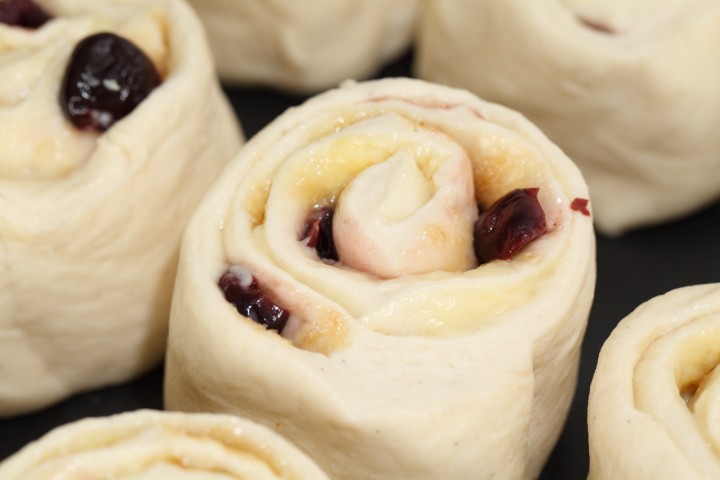 Making the dough
In the bowl of a standing mixer combine flour, salt, yeast, water, milk (if you use fresh yeast first dissolve it in some of the water, instant yeast can be added straight to the flour), butter, and sugar and knead for 7 minutes. Kneading by hand will take about 15 minutes, depending on your technique. The dough should be silky and bouncy. Leave to rest for 1 hour at room temperature.
Making the buns
With a pastry roller roll out the dough to a rectangle of about 60 x 50 cm / 23 x 20 inches. Take the prepared almond pastry cream from the fridge and give it a good beating with a whisk to loosen it and spread an even layer onto the dough rectangle. Sprinkle the cherries on top. Roll up the dough (the long, 60 cm side facing you and then roll away from you) and cut it into 4 cm / 1.6 inch size rolls (15 in total) and place them, cut side up, in a nonstick or greased baking pan (the one we use in the picture is 30 x 40 cm / 11.8 x 15.7 inches). Leave to proof for 60 to 75 minutes.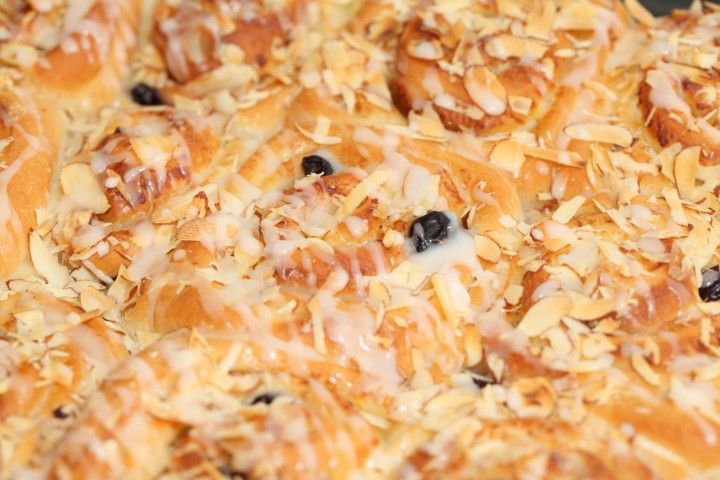 Baking the buns
Preheat your oven at 200 ºC / 392 ºF or around 190 ºC/ 375 ºF convection oven. We find the convection setting works best for us with this recipe.
Sprinkle on the slivered almonds and bake the proofed buns in the oven for 22 to 25 minutes (depending on your oven of course).
Leave to cool slightly. Prepare the glaze by mixing icing sugar, vanilla and water to form a smooth paste and brush on top of the buns. You can add lemon juice or other flavors to the glaze if you want to.
The 'day in advance' dough way
Optionally you can prepare the dough the evening before baking day, however for this you need to add 2 g instant or 6 g fresh yeast to the dough instead of the full amount. Leave the dough after kneading to develop for 10 to 12 hours at cool room temperature. You can roll out the dough the next morning and continue from there.