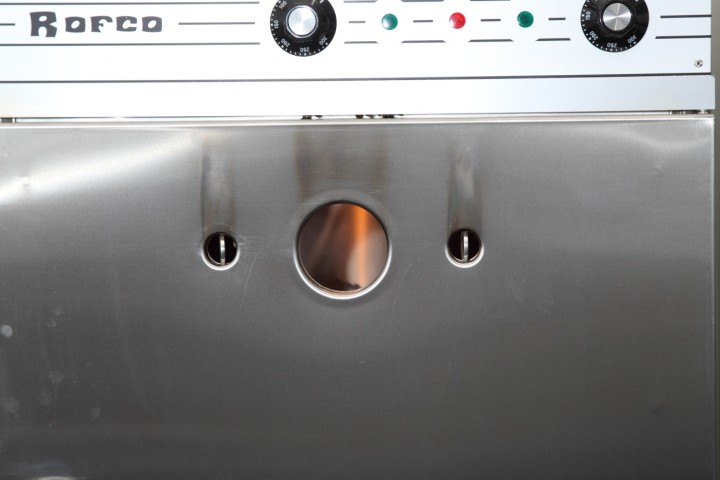 Another tip: Using the top of your oven to help with the proofing of your dough, when it gets colder…
There are probably a thousand oven types and models, all built and behaving differently. You should always use the temperatures and times mentioned in our, and all other, recipes as indications. You have to adjust them to the workings of your own oven to get the best baking result.
Your oven can make or break your carefully prepared loaves so it is wise to know the sometimes quirky traits of your oven. These tips on temperature, thermostats, steam and stones might be helpful. If you do not own a professional bread baking oven but you want a baking result that comes close to one, using your domestic oven, here's what to look out for:
Get to know your oven. How accurate does it indicate the temperature? First of all it is wise to find out what the real temperature of your oven is compared to the temperature indicated on the settings. You can do this by using a 'true temp' oven thermometer (they will cost about 5 euro or dollar)
If your heating system is too close to your bread (in other words if your oven is quite small) the top could burn. You have to adjust your temperature, or make sure that you turn your oven temp down after about 10 minutes so the spirals stop heating. The closer the top of your oven is to your bread the more heat will get transferred fast which means quicker browning and potential burning!
Introduce steam in your oven to allow the dough to expand at the beginning of the baking process. The moisture keeps the outside moist and gelatinous. So while the inside of your bread wants to expand under the heat, it is not kept back by a dried out outer shell. This is known as oven spring.
Release the steam at a later stage of the baking process to allow the crust to form (retaining moisture would mean the crust stays soft).
Not using steam would mean the surface of the loaf will dry out in minutes, oven spring, usually occurring 5 minutes within the baking process will not really get a chance this way.
you have to make sure your bread is in the oven together with the steam and close the oven door very quickly to make sure the steam stays in. One regular used method is to have a tray in the oven, put bread in the oven, poor the hot water on the tray and quickly close the door so the steam is trapped.
You can also try putting (sauna) stones in the tray in your oven on which to poor the water. The hot stones will create a lot of steam. Another option is to spray the oven walls with water but you have to make absolutely sure your oven is not damaged by doing this (electronics, oven window, ceramic walls can all damage from water or sudden temperature shock! The simpler your oven is built, the less stuff can get damaged).
To create maximum steam you can put a metal tray on your oven floor and fill it with some 'sauna' type stones (hot stones that do not shatter easily) or you could use heavy links from a (motor)bike chain, while the oven preheats. Put the bread in the oven and carefully poor 100 ml of water in the tray and quickly close the oven door. First, make sure your oven can stand this type of use! (Try at own risk, we are not responsible for your oven being damaged or breaking down)
Putting a large amount of cold dough in an oven will cause the temperature in a normal household oven to drop quite a bit. You can use a chamotte or pizza stone in your oven to create more thermal mass
You can simulate the workings of a stone oven by starting your baking on a high temperature (250) and lower your oven temperature 10 minutes later to stop the browning, but still continuing the baking of the bread. The higher starting temperature will give you a better oven spring.
You can use your oven as a proofing cabinet by preheating it for a minute to 25 ºC / 77 ºF to 30 ºC / 85 ºF and then turning it off when you put the dough in to proof (temperature depending on your recipe and intentions). We do this with our small stone oven. It retains the temperature for a long time because of the stones and isolation and we proof our croissants this way for example.
If you are not satisfied with the baking results from your oven, try creating an 'oven in an oven' by using a cast iron pan (Dutch oven!) or a cloche, if your oven can accommodate this. The lid of the pan or cloche traps moisture rising from the dough and creates the steam that produces a crusty loaf with creamy crumb. Make sure you preheat the oven and pan together.
Have any good oven tips to add? We would be very pleased if you'd share them with us!
Also check out our tips and tricks for Rofco oven and stone oven users.