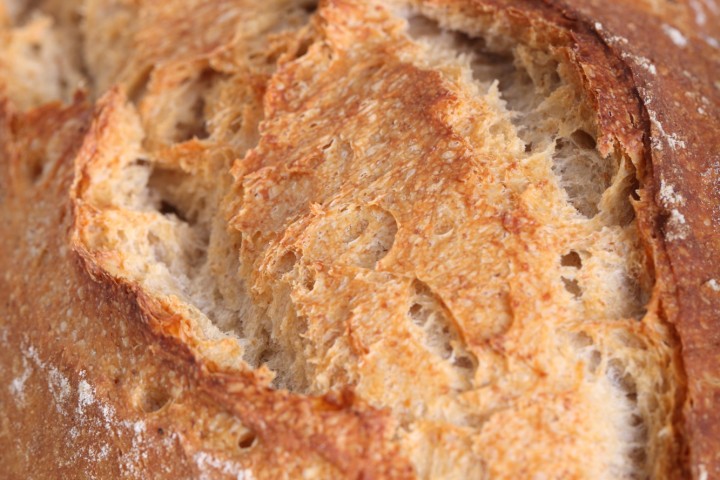 I love the size and shape of this 'little whistle' loaf
'Fluitje' is a Dutch word meaning little whistle. My dad is to blame for us calling this loaf a fluitje. So it is really a tribute to him and his tendency to 'brand' a concoctions that is new or different to him with a name of his own invention. But he isn't the only one. Our pain rustique is also referred to as 'Marieke bread' by several people, it's just easier for them I guess, although it's not very fair to Ed who is usually doing most of the pain rustique making and baking.
This recipe is based on our recipe for pain rustique but there are a lot of differences. First of all this bread is made with spelt instead of rye to give it a slightly different flavor. Not immensely exciting of course, you can also use spelt in our pain rustique recipe. For us the excitement can be found in trying to perfect the shaping and scoring and the fact that we 'redesigned' the recipe so you'll end up with two perfect little loaves of about 500 grams each. They will fit in almost any little household oven. Keep one for yourself and make somebody happy by giving one away.
In our Rofco oven we usually bake 9 'fluitjes' at a time, three per stone. Like the baguettes they are proofed in a linen couche or proofing cloth. The scoring is also very similar to scoring a baguette s make sure you imagine a vertical line on the loaf and slash the dough at an ever so slight angle to the line. See our bread scoring with confidence tips for more info.
Happy Baking!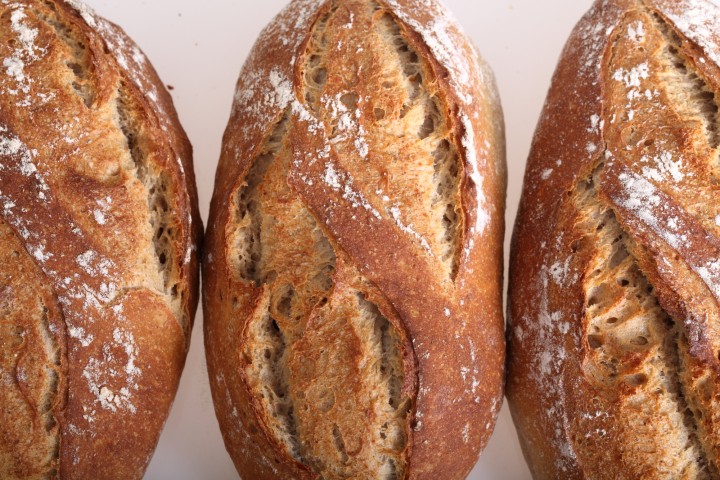 This recipe uses a hybrid method, meaning it uses both sourdough culture and a little bit of yeast to get to a very tasty and pleasing end result just a little bit faster than you would if you were making a loaf using just your sourdough culture.
For this recipe we are going to make a starter named a poolish. A poolish is a type of wet sponge usually made with an equal weight of water and flour and an extremely small amount of yeast and NO salt. Making a poolish helps bring more taste and strength to your bread while using less yeast.
Note: We use European flour which absorbs a few % less water than American type flour. People using this type of flour should add 3-8 ml water to the final dough.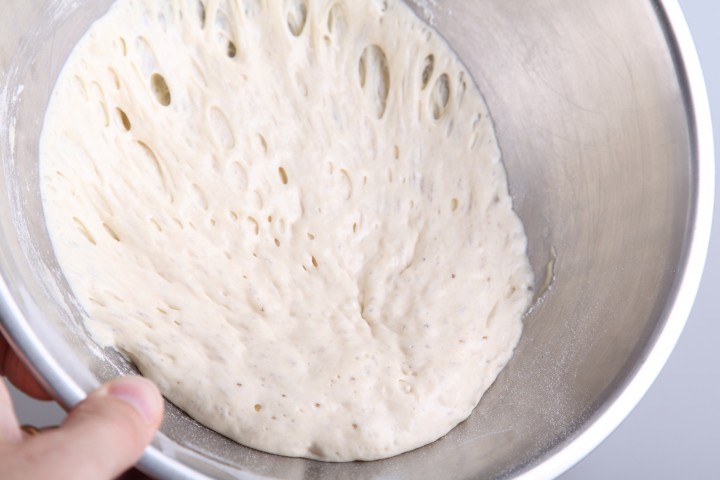 Making the Poolish
In a bowl stir together 240 grams of bread flour, 60 grams of whole spelt flour with 300 grams of water at room temperature with 15 grams of sourdough culture. Mix it well until you have a homogeneous slurry that looks like very thick batter. Cover the bowl with clingfilm and let the prefermenting begin. After 12 hours at room temperature it is ready for use. So if you want to begin your bread making in the morning, you make your poolish at about 9 in the evening.
Our sourdough starter is not very sour by nature, it gives a very mellow sour note to the bread and we like it that way. We have found that the sourness depends on the ripeness of the poolish. This means that using an under-ripe poolish gives you the flavor advantages but not the added sourness. We tend to use the poolish before they peak out and collapse. When this points is reached all depends on ambient temperature and sourdough culture activity. An over-ripe poolish has a weaker gluten structure which will result in a weaker dough and less oven spring.
We use a sourdough culture which is made with 100% whole grain rye flour. A sourdough culture based on rye flour is easier to maintain, it does not go into a slurry when you forget about it, it is easier to stir because it has almost no gluten and it smells very very nice, a bit like fruit. It is also very forgiving in the amount you feed it. Normally we only feed it once a week, after the weekend baking, we just give it a few table spoons of water and rye flour, stir and ready!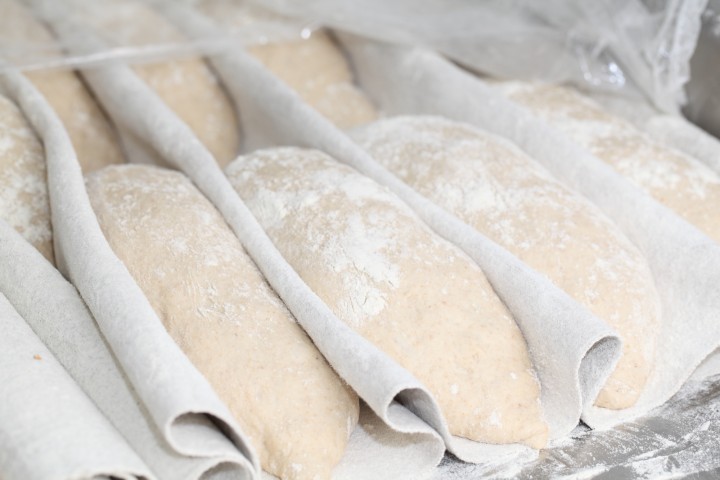 Ingredients for the Poolish
240
g
wheat (bread) flour
60
g
whole spelt flour
300
g
water (room temperature)
15
g
sourdough culture
Ingredients for the Pain Fluitjes
makes 2 'fluitjes' of slightly over 500 g each
the poolish from step 1
300
g
wheat (bread) flour
80
g
water
11
g
(sea) salt
3
g
instant yeast
Making the Fluitjes
Preheat your oven to 235 ºC / 455 ºF (at what stage you preheat your oven depends on how long it takes for your oven to heat through, some take 30 minutes, some, like ours, with stone floors take a lot longer, up to two hours. The preparation time from this point until the bread actually goes into the oven is a little under 2.5 hours).
Ideally the temperature of your dough after kneading should be around 24-25 ºC / 75ºF. You should adjust the temperature of the water you add to reach this temperature of the total dough. For us this means in summer adding cold water to this recipe and in winter (when our little bakery can get much colder then the rest of our house) adding water up to 50ºC /122 F. You can measure the temperature of water and dough with a food thermometer. These measurements are important because they correspond with the proving times in the recipe.
Put the poolish starter and flour (no salt and yeast yet!) in the mixing bowl of your standing mixer and add 2/3 of the water. Now start mixing and gradually add the rest of the water and let the dough come together. Knead for only 1 minute until you have a shaggy mass. Leave it in your mixing bowl, cover and leave for 30 minutes. This process is called 'autolyse'.
After the autolyse phase you add the yeast and the salt and knead the mass for another 5 minutes (we use a spiral mixer for this job) and watch it turn into something a little bit more bread doughy. Cover and leave to rest for 40 minutes.
Take the dough out of the bowl and onto a floured work surface and do one stretch and fold (a full letter fold, left over right, right over left, bottom over top, top over bottom; see our bread movies to observe this technique if you are not familiar with it). Transfer to the bowl, cover and again leave to rest for 25 minutes.
Repeat the stretch and fold (full letter fold) part, one more time (so 2 times in total), and again leave to rest for 25 minutes.
Now it's time to shape. Shaping is a tricky subject. It's something for which everybody develops his or her own technique over time. We try to shape these smaller loaves into slightly stretched out short batards and let them proof in a linen couche or proofing cloth. You can make a batard or loaf shape or a boule (ball), whichever you prefer. If necessary you can learn more on shaping from a good bread book, like the ones by Hamelman or Reinhart. Also check out the shaping video (nr. 4, the batard shaping bit begins around 6:28 min.) on the King Arthur four website.
Cover the loaves, as they lay in the couche we cover them with floured cling film, and leave to proof for 30 minutes. When you think they have risen enough, use your finger to carefully make a very small dent in the dough. If the dent remains, the bread is ready to bake, if the indentation disappears, the dough needs a little bit more time.
Now your loaf is ready for the oven. Slash the top of the fluitjes with a lame or bread scoring knife, like you would a baguette, but only two slashes per loaf. To get a nice crust, try to create some steam in your oven by putting a small metal baking tray on your oven floor when you preheat the oven and pouring in half a cup of hot water immediately after putting the bread in the oven. Release some steam by setting your oven door ajar (perhaps with the help of a wooden spoon or oven mitt) 5 minutes before the bread is ready. If you are going to create steam with a baking tray, you maybe also want to turn your oven temperature a bit higher, because you are going to lose some heat in the process.
Check out our oven tips to make optimum use of your oven while baking bread.
After 35 minutes of baking your loaves should be ready. Transfer onto a rack and leave to cool. This loaf also keeps very well in the freezer. But please make sure to eat at least some of it while fresh!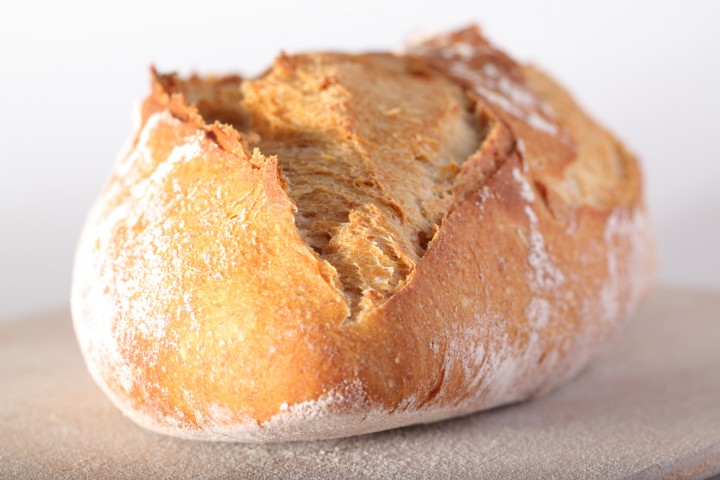 Time Table
day 1 21.00 h Make starter let ferment for 12 hours at room temperature
day 2 09.00 h Make final dough
09:00 h – Add flour and water to starter, mix for 1 minute
30 minutes autolyse
09:30 h – Add salt and yeast
Knead for 5 minutes
Rest for 40 minutes
10:15 h – First stretch and fold
Rest for 25 minutes
10:40 h – Second stretch and fold
Rest for 25 minutes
11:05 h – Shape
11:10 h Final proofing 30 minutes
11:40 h – Bake for 35 minutes at 235ºC / 455ºF
12:15 h – Your fluitjes are ready!