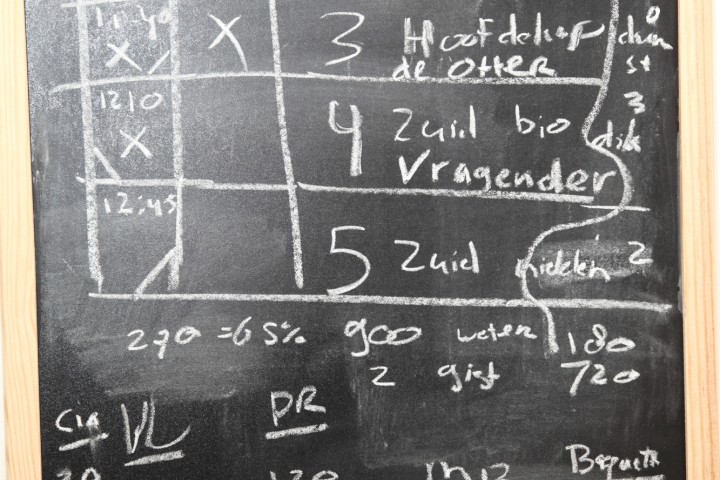 What a difference a mill makes…
After our first flour experiment, comparing our favorite stone ground organic wheat flour with one of the cheapest supermarket flours, we were eager to do some more testing. This time we wanted to focus on comparing flour from different windmills and very likely wheat from different farmers. Would using the same type of flour from different mills and sticking to exactly the same recipe, result in loaves basically looking and tasting the same? Or would there be difference enough to establish at least a preference for one or the other?
We devoted a whole day (and some pre-baking day preparations of course) to this testing. A baking friend of ours was kind enough to assist during baking day.
The main challenge after this test was describing how the breads differed in taste. O boy it is hard to name the different nuances in bread smell and taste. It is much easier with wine and coffee where you can get all lyrical hinting at the subtle notes of sun soaked apricots and the intense bittersweet aroma of chocolate or your grandfathers leather chair. But what is the vocabulary for describing different tastes in bread?
First, on to the windmills, the flour and the baking…
---
THE WINDMILLS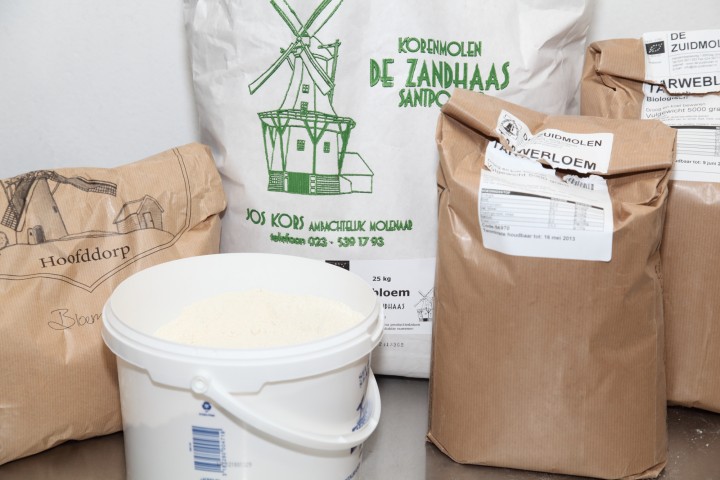 Version 1. Molen De Zandhaas – Santpoort
Version 2. Molen Nooit Gedagt – Woudrichem
Version 3. Molen De Windotter – IJsselstein
Version 4. Molen De Vier Winden – Vragender
Version 5. Molen De Zuidmolen – Groesbeek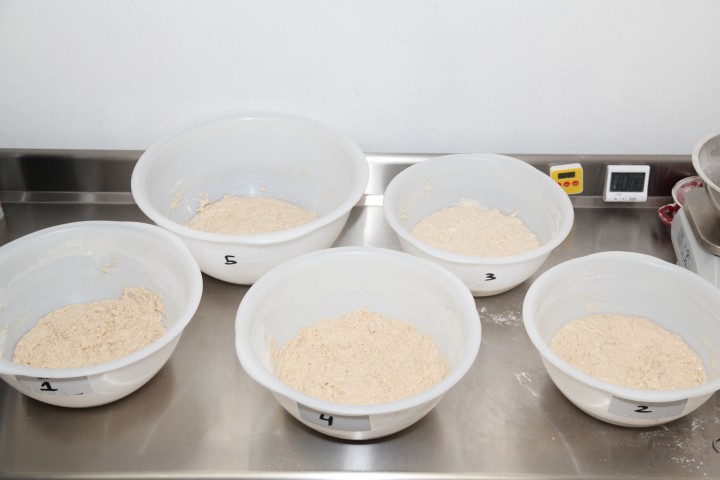 The flour we bought at each mill was the one sold as regular wheat or bread flour (tarwebloem in Dutch). Versions 1,2 and 4 are organic flours, versions 3 and 5 are not.
NB: Some mills do all their own milling, others outsource part of the milling to other mills. For your information: The flour milled by De Windotter was bought at windmill De Eersteling in Hoofddorp. The organic flour milled by De Vier Winden was bought from De Zuidmolen in Groesbeek.
For this experiment we used a yeast version of our staple pain rustique recipe, like we did for flour experiment 1. So we dropped the sourdough in the preferment and used yeast instead of making a hybrid bread like we usually do with the pain rustique. We use a small amount of whole wheat (around 10%) in the poolish of the pain rustique recipe, so in all five doughs we used the same organic whole wheat bought at De Zandhaas.
---
PREPARING THE POOLISH
Poolish made with the five different wheat flours. From left to right Flours 1 to 5.
Right away you could see the difference in color between the five batches of poolish, ranging from very white to a medium grey. There was also a difference in water absorption, one poolish was much thicker than the other, while using the same amount of water. Ranging from thin to thick: De Otter, Nooit Gedagt, De Zuidmolen, De Vier Winden, De Zandhaas.
---
BAKING DAY
We used a hydration of 65% for the final dough so we knew for sure each loaf would be manageable and not too wet during the stretch and fold and shaping stages.
The baking results. Again from left to right versions 1 to 5.
A look at the different crumb structures and colors. Again in the same order from left to right versions 1 to 5.
The second row of pics shows a close up of the different crumbs.
---
OBSERVATIONS
With all our observations we take bread made from 'Molen De Zandhaas' as our reference. All other factors, sweetness, appearance, complexity etc. are relative to the breads made with this flour. The flour of De Zandhaas is the one we use for almost all our bread baking and therefor know best.
Molen De Zandhaas – Reddish medium thick crust, deep engaging smell, complex, flavorful taste with a sweet undertone and open irregular crumb structure. All four test breads had a nice oven spring and 'ear'.
Molen Nooit Gedagt – Somehow the crumb structure was a little bit denser than expected, however the bread had a very deep taste with a subtle sweet tone. Two of the four breads showed no 'ears'. The color of the crumb had a more pronounced gray hue than that of the Zandhaas, (this is probably a bit difficult to see on the photos).
Molen De Windotter – The first thing you will notice is the white color of the crumb which was already visible in the color of the poolish. The bread has a fluffy and light crumb with a thin lighter colored crust. The bread had less taste and less noticeable smell although you could not call the taste 'bland'. All four test breads had a nice oven spring and 'ear'.
Molen De Vier Winden – These breads looked very much like the breads made with the Zandhaas flour. They were more or less equal in crust color, crumb structure and smell. However this bread had a small difference in taste (different but also very palatable), which is hard to describe again.
Molen De Zuidmolen – Nice open crumb structure, a pleasant less complex smell, good taste however, not overly deep, more subtle. Less notable oven spring, only one of the four breads developed an 'ear'.
---
CONCLUSIONS

It was a little bit of a surprise to us that these five breads, made by the same people with the same recipe and only different flour would all end up as different as they did. Especially the different taste profiles. Every wheat, probably due to conditions, climate, variety, has its own characteristics that are still coming through in the baked bread (after careful handling by the miller we have to add, not after it has been roller milled and bleached et cetera in a factory and all the memory of what used to be a plant has been beaten out of it).
The most important thing we want to say after this mill flour experiment is that we do not want to talk about it in terms of winners and losers. All the mill flours used yielded good quality and tasty breads. There were differences, as you can also judge for yourself from the pictures, but which flour you would choose, for the most part, probably comes down to personal preference. In contrast to the results of our cheap supermarket against organic mill flour experiment, which to us clearly showed the huge difference a good quality flour can make, both in appearance and (especially) taste.
So in short, here's our advice: Support your local mill and go get yourself a bag of good quality bread flour, it is worth it!