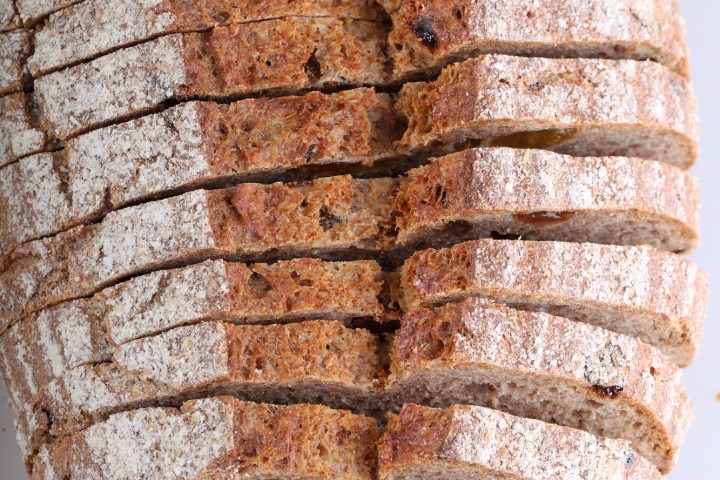 Klik hier voor Nederlandse versie
And they said it wasn't possible to stuff 70% rye in one bread and get a good loaf…
This bread has such great taste and such a nice bite plus, combined with the scattered sweetness of the big raisins, every bite is a delight.
I strongly recommend that every home baker fan of the rye taste makes this bread. It is one of my top 3 favorite breads. Shaping it feels a bit like working with clay, as you can see in the pictures. It is on the other side of the spectrum compared with making 80% hydration baguettes for instance.
For the starter in this recipe I also use a sourdough culture which is made with 100% whole grain rye flour. A sourdough culture based on rye flour is easier to maintain, it does not transform into a slurry when you forget about it, it is easier to stir because it has almost no gluten and it smells very very nice, a bit like fruit. I maintain the starter as an 'almost' stiff starter. This way it stirs easy but does not add as much water to the dough as a poolish starter. It is also very forgiving in the amount you feed it. As I am a bit lazy in feeding, normally I only feed it once a week, after my weekend baking. I just give it a few table spoons of water and rye flour, stir, and ready!
This recipe consists of 3 stages spread over 2 days, one evening for the initial starter and the next day for the second stage starter and the making of the bread.
Note: For this recipe we use whole grain rye flour. You can also use medium or fine rye flour or a combination of different rye flours. Just be sure to adjust the amount of water you add to the recipe. Using finer flour means adding less water, because it absorbs less moisture (indication: somewhere between 3 to 5% less water).
Ingredients for the First Stage
15 g rye flour sourdough culture
35 g water
45 g whole rye flour
Ingredients for the Second Stage
the starter from stage 1
110 g water (warm)
110 g whole rye flour
Ingredients for the Third Stage
the starter from stage 2
190 g water
155 g whole rye flour
135 g wheat / bread flour
7,5 g salt
1,4 g instant yeast
110 g raisins of choice (soaked and drained)
Making the Loaf
Stage 1 – Start on day one with the making of the initial starter. Yes, this is a small amount to make a first stage starter, but the amounts are correct for one loaf. Just double or triple the ingredients if you want to or can make more breads in one go. Put the rye sourdough culture* and water in a bowl and stir so the culture dissolves a bit, add the rye flour and bring it all together, forming a sticky and rather stiff dough ball. Leave this to rest at room temperature for at least 15 hours to up to 24 hours at most. I usually make it at 17.00 hours on day one and go on with the next stage the following morning at 09.00 hours.
*You can also use a whole wheat culture if you do not have a rye culture ready (yet) but I would suggest you make one, they are my favorite sourdough cultures both to use and maintain.
Stage 2 – First soak your raisins in hot water for about 30 minutes, rinse in a colander, let them drain and cover until needed (stage 3).
The water you are going to add at this stage has to be warm enough to get your dough to a temperature of about 29ºC / 84ºF. This temperature and the wetter dough promotes the production of lactic acid which will be reflected in a mild sourness in the final bread. Now take the starter from day one, add the warm water and loosen it a bit, then add the rye flour and mix until you have a dough. This dough is a bit wetter than the dough from stage one. Leave to rest for 3 hours at room temperature.
Preheat your oven at 225ºC / 435ºF. Make sure it is well heated when you put in the loaf.
Stage 3 – Making the final dough and baking the bread. Take the dough from stage 2 and, in your mixing bowl, add the other ingredients, except the raisins, to form the final dough. Mix for 7 minutes. The dough will still be very stiff and sticky at this stage. This can be rather heavy duty work for your mixer, so keep a close eye on it, so it will not overheat. Add the raisins after the mixing by pinching them through the dough by hand. If you have a spiral mixer, it can do the work for you. Leave the dough, covered, to rest for 20 minutes at room temperature.
You can also leave out the little bit of instant yeast we add at stage three, but you have to allow for a longer final proofing time, probably 2 to 3 times longer.
Shape the dough (it's a bit like working with clay I guess) into the desired shape. I always make this bread a batard/oval shape, because that way I get nice same size slices when I cut it. Proof the loaf for 60 minutes in a proving basket.
Now your loaf is ready for the oven. Please be careful in handling the proofed loaf. This type of bread has almost no oven spring, so it is important to keep as much air in the bread as possible. Slash/score the top of the loaf with a lame or bread scoring knife.
Bake for 45 minutes and leave to cool completely on a wire rack. Before you cut this bread it needs to rest at least 6 hours so the crumb can set and loose its initial stickiness. If you are keeping it overnight you can put the loaf in a paper bag (after it has completely cooled). This rye bread keeps wonderfully well in the freezer. I always cut it in thin slices before I freeze it. A minute in the microwave and your lovely slice of rye bread is ready to eat.
70% Rye Bread Time Table
day 1 Make the stage 1 starter and let ferment for 15 (minimal) up to 24 hours (maximum)
day 2 Mix the starter from day 1 with water+ flour from stage 2 and leave to rest for 3 hours
Mix starter from day 2 + rest of ingredients, except the raisins, for 7 minutes
Pinch or mix in the raisins
Rest for 20 minutes
Shape
Proof for 60 minutes
Bake in oven at 225ºC / 435ºF for 45 minutes