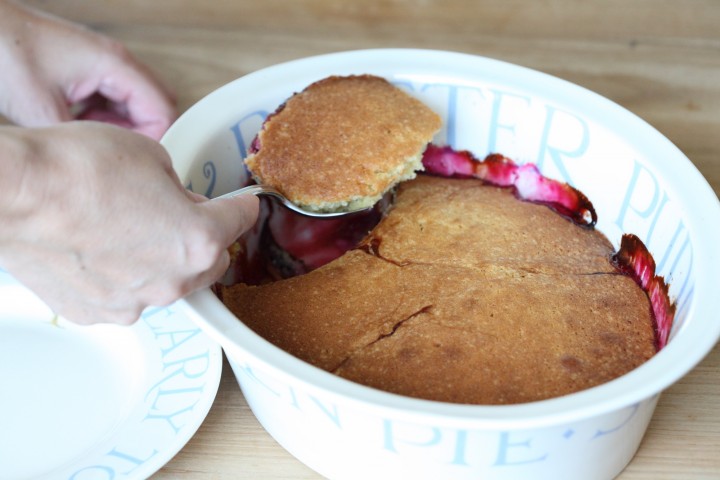 Returning a neighbor's gift of fruit in the shape of a delicious plum cake…
I don't know exactly how to call this concoction. Americans would maybe call it a cobbler, English people a pudding, others a cake. Well, you can see what it looks like in the pictures and decide for yourself what name most fits your cultural background. Most important thing: it's easy and it's delicious. Especially when eaten warm from the oven.
Same story with the zwetschgen. That's a German name by the way. French people call it quetchen and the Dutch kwetsen. It's a plum variety oval in shape, with dark purple skin and yellow flesh. It's a little tart when you eat it fresh, that's why it's perfect for cakes and jams. If you can't get zwetschgen, try to find a plum variety that is not too sweet.
So the gift of 'a few' kilo of zwetschgen (very ripe ones) that my neighbor brought from Poland ( I understand they are called śliwka there) was soon transformed into cake and jam.
Ingredients for the Zwetschgen Cobbler
serves 6
15 zwetschgen or other type of plum
5 tsps cane sugar
seeds of 1 vanilla pod
5 tbsps water
1/2 tsp ground cinnamon
125 g self raising flour, sifted
125 g butter
125 g caster sugar
butter to coat the dish or bowl
2 large eggs
2-3 tbsp milk
Making the Cobbler
Preheat your oven to 180ºC / 355ºF. Cut the zwetschgen in half and remove the stones. Put them in a saucepan with the water, cane sugar, vanilla, and cinnamon and stew them for 5 to 10 minutes until just soft. You can see the color changing from purple and yellow to a beautiful deep red and orange. Place the fruit in a buttered, ovenproof dish, making sure the bottom can be covered with the fruit.
Now make the batter to go on top. Beat the butter and sugar until light and fluffy. Add the eggs one at a time and mix well. Add 1/3 of the sifted flour and a tablespoon of the milk and fold it in carefully with a spatula, repeat until everything is combined.
Put dollops of the batter in the dish on top of the fruit. Do not worry if the batter doesn't cover all the fruit, it will do so in the oven. Bake in the preheated oven for 35 to 40 minutes or until golden brown (you can test if a needle or skewer comes out clean). Serve warm from the oven. Invite your neighbors…
Note: I love the cake as is, with the simple batter without added extra's in it like lemon or vanilla, because this way the taste of the plums takes center stage and the buttery soft texture of the cake forms the perfect support. But I know the plums also do well with some almond extract in the batter.