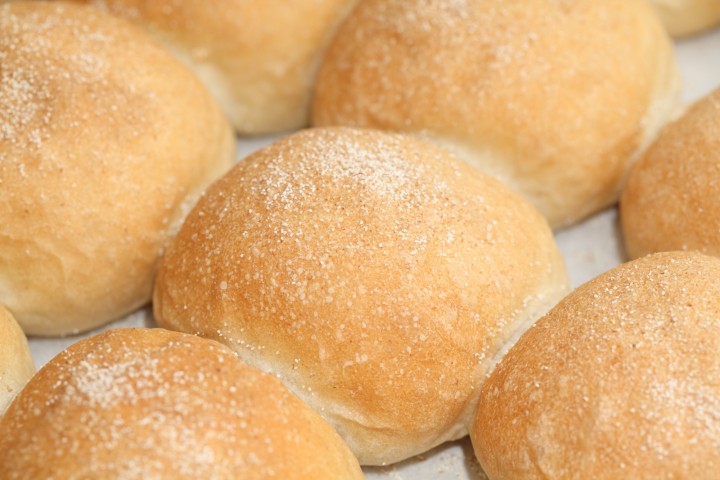 Buns with poolish: use less yeast, get more flavor and good texture
For this recipe we are going to make a starter named a Poolish. A Poolish is a type of wet sponge usually made with an equal weight of water and flour and an extremely small amount of yeast and NO salt. Making a Poolish helps bring more taste and strength to your bread while using less yeast. For this bun recipe we make a Poolish of 100 grams of bread flour and 100 grams of water with 1 gram of dry yeast. We do this 4-6 hours before we start making the actual dough.
Making the Poolish
In a bowl stir together 100 grams bread flour with 100 grams water at room temperature and 1 gram instant yeast. Mix it well until you have a homogeneous slurry that looks like very thick batter. Cover the bowl and let the prefermenting begin. After 4-6 hours it is ready for use.
Ingredients for White Buns
makes 12 buns
The prepared Poolish (see explanation above)
400 g fine bread flour / all purpose flour/ French Type 55 / Manitoba
24 g fresh yeast / 8 g instant yeast
10 g honey
8 g salt (I would use 7 which works for me but 8 is more standard)
200 g / ml water
20 g fresh butter
Making the White Buns
In a mixing bowl scoop the Poolish, then add the flour, salt, yeast and honey and 150 ml of the water. Gradually add the rest of the water while mixing and when the dough comes together and starts forming a ball, add the butter. If you use a KitchenAid type mixer, knead for about 8 to 10 minutes, longer by hand, so you get good gluten development. Make sure the dough is not too sticky or too dry. Aim for a bit tacky, which means that when you poke the dough with your dry finger it should stick for a second but then peel of as you remove your finger. So if you need a bit more water to achieve this, just add a few ml more. Leave to rest for 15 minutes.
Now divide the dough into 12 equal pieces of about 75 grams and preshape into balls. Again leave to rest for 10 minutes. Press the balls with your hand until slightly flat and round them again into smooth balls. You can lightly dust your work surface with flour but do not use too much or it will be very hard to shape them (it has to be a bit sticky).
Place the buns on a baking tray lined with a baking sheet or baking paper.
During the final proof, preheat your oven to 230º C /454º F conventional setting or 200º C /390º F convection. At what stage you preheat your oven depends on how long it takes for your oven to heat through, some take 30 minutes, some, like ours, with stone floors take a lot longer, up to two hours.
Now the rolls are ready for their final proofing. Loosely cover them with floured clingfilm until proofed to perfection. Depending on your room temperature this should take about 1.5 to 2 hours. Just be patient and check regularly. When you think it has risen enough, use your finger to make a small dent in the dough. If the dent remains, the bread is ready to bake, if the indentation disappears, the dough needs more time. When ready place the buns in the oven and bake for about 20 minutes, depending on your oven. They should have a nice light brown shine. Leave to cool on a wire rack.