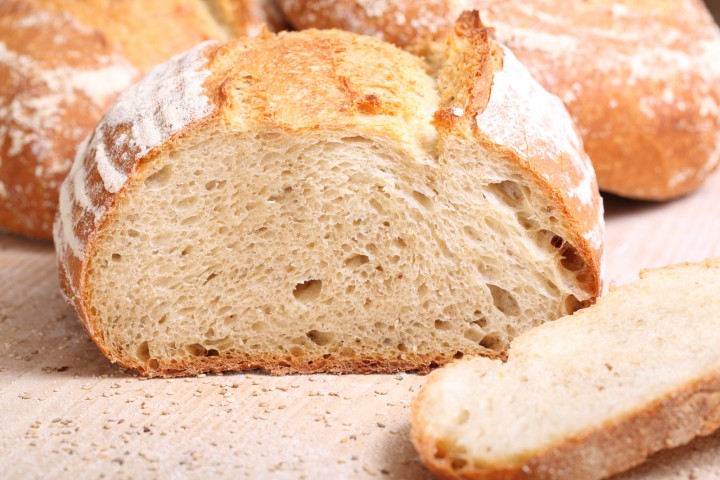 Semolina is derived from the Italian word semola, meaning 'bran'
A fairly simple process for this yeast based loaf made with semolina to give it some extra gluten oomph. Yet, with the added toasted sesame seeds, it yields a more interesting loaf and with the tighter crumb it is great for sandwiches too. It can also be an excellent recipe for the more novice bread baker to get familiar with slightly wetter dough.
In our flour experiment we already showed what the addition of semolina can do for your baking result (also depending on what quality and protein content of the bread flour you use in combination with it of course). Semolina flour is made from hard (durum) wheat and contains lots of protein and is therefor considered a strong flour. It can help the bread get better oven spring and in general gives a different taste profile. So, it's a great way to 'upgrade' your bread.
We especially find the combination with choco hazelnut spread irresistible. We add a relative small amount of seeds to this recipe for a mild nutty taste, but feel free to make up your own mind about the amount. Hope you enjoy the baking and eating too!
Before you start, you might also want to consult our tips for scoring bread with confidence and handling wet dough. You can check out the stretching and folding technique used for this dough in our baguette making video.
Note: The tiny amount of yeast in the preferment of 0.25 g is not that easy to weigh, so you can also take 1/4 of a teaspoon.
Ingredients for the Preferment
65
g
wheat (bread) flour
85
g
water (room temperature)
0.25
g
instant yeast
Ingredients for the Final Dough
makes 1 loaf
the preferment from step 1
215
g
wheat (bread) flour
170
g
semolina
240
g
water
6.5
g
(sea) salt
2
g
instant yeast
10
g
toasted sesame seeds
Day 1 – Making the preferment
For this recipe we are going to make a starter or preferment. The preferment for this recipe is made with more water than flour (so very wet) and a small amount of instant yeast and NO salt. Making a preferment helps bring more taste and strength to your bread. This preferment is easy to stir with a dough whisk. It is made 12 hours in advance so if you want to make your bread at 9 o'clock in the morning you have to make the preferment at 9 in the evening before.
In a bowl stir together the flour and water at room temperature with the small amount of yeast. Mix it well until you have a homogeneous slurry of very wet dough, almost like a batter. Cover the bowl and let the pre-fermenting begin. After 12 hours at room temperature it is ready for use. It should look airy and have a nice smell.
Day 2 – Making the Loaf
Preheat your oven to 235 ºC / 455 ºF (at what stage you preheat your oven depends on how long it takes for your oven to get up to the right temperature, some take 30 minutes, some, like ours, with stone floors take a lot longer, up to two hours.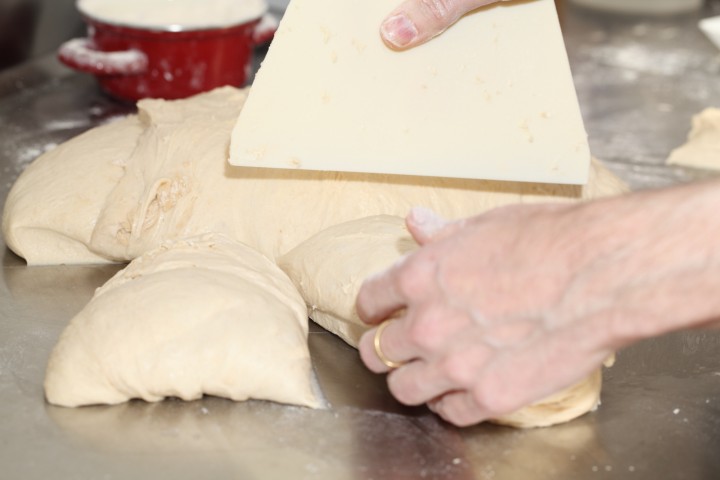 Put the preferment, flour, sesame seeds, salt and yeast in your mixing bowl and add 3/4 of the water. Now start mixing and gradually add the rest of the water and let the dough come together. Knead for 4 minutes with a standing mixer or about double that if you are kneading by hand. You are aiming for moderate gluten development at this stage. Transfer the dough to a greased bowl, cover and leave to rest for 60 minutes.
Take the dough out of the bowl and onto a floured work surface and do two stretch and folds (so two full letter folds, left over right, right over left, bottom over top, top over bottom one after the other) Watch our bread movies to observe this technique if you are not familiar with it. Transfer the dough to the bowl, cover and again leave to rest for 60 minutes.
Now it's time to shape. It's something for which everybody develops his or her own favorite technique over time. You can make a batard or loaf shape or a boule (ball). For inspiration or instruction you can consult a good bread book or watch the videos on our website.
Shaping a boule, sliding the ball over your work surface toward you, guided by your pinkies (last pic)
Transfer the shaped dough in a proofing basket / banneton or bread pan, cover and leave to proof for 90 minutes. When you think it has risen enough, use your finger to carefully make a very small dent in the dough. If the dent remains, the bread is ready to bake, if the indentation disappears, the dough needs a little bit more time (10 to 15 minutes).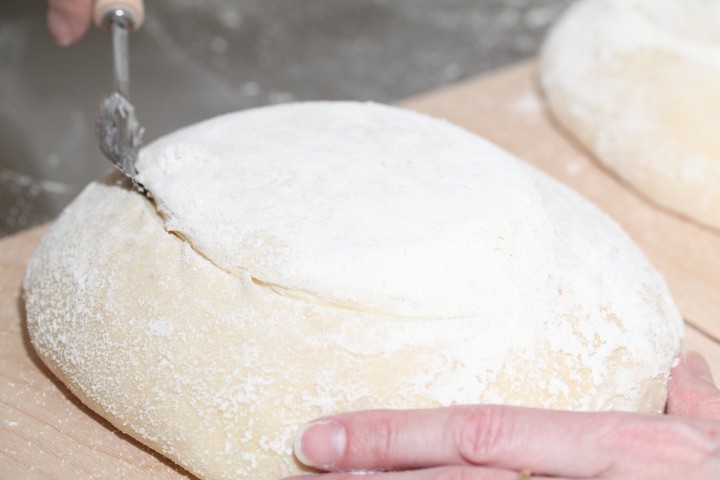 Now your loaf is ready for the oven. Slash the top of the loaf with a
lame or bread scoring knife
. To get a nice crust, try to create some steam in your oven by putting a small metal baking tray on your oven floor when you preheat the oven and pouring in half a cup of hot water immediately after putting the bread in the oven. Release some steam by setting your oven door ajar (perhaps with the help of a wooden spoon or oven mitt) 5 minutes before the bread is ready. If you are going to create steam with a baking tray, you maybe also want to turn your oven temperature a bit higher, because you are going to lose some heat in the process.
After 45 minutes of baking your loaf is ready. Transfer onto a rack and leave to cool. This loaf also keeps very well in the freezer. We usually keep all our bread we don't eat the same day in our freezer and quickly thaw it in the microwave or put it in a toaster, directly from the freezer.
Happy Baking!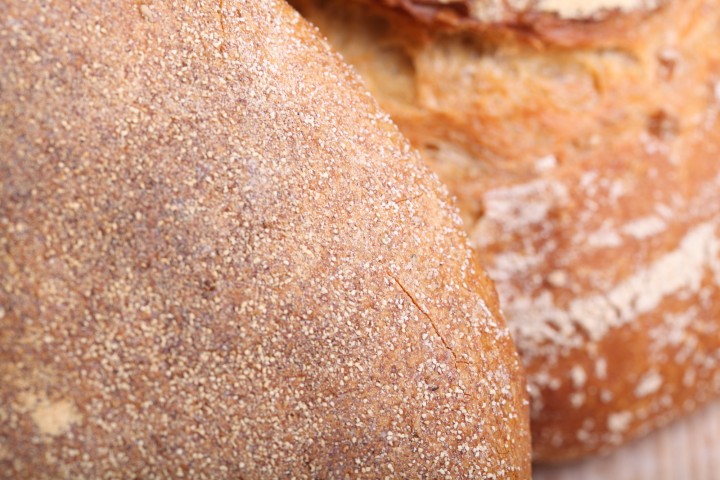 Semolina & Sesame Loaf Time Table
Day 1
Make 'preferment'
Day 2
00:00 – Mix ingredients and knead for 4 minutes
60 minutes rest
01:04 – 2 stretch and folds (2 minutes)
60 minutes rest
02:06 – (divide +) shape (4 minutes)
90 minutes proof
03:40 – into the oven
45 minutes baking time
04:25 – take out and leave to cool