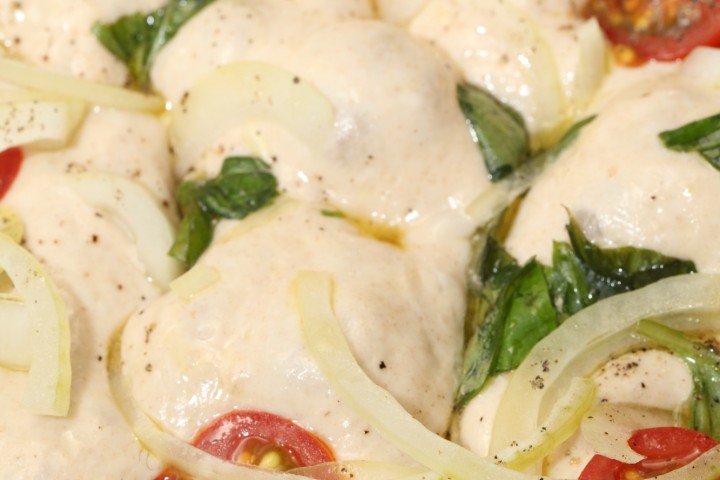 This gloopy dough will delight and surprise you and just wait till you taste it…
Imagine making a dough that looks like pancake batter, but acts like silky bread dough. Imagine a bread moist and tender and velvety in your mouth. We think making our focaccia with this ciabatta dough was one of the better baking ideas we had over the last few months. Let us know what you think!
The recipe for the ciabatta dough is inspired by Jason Molina's Quick Coccodrillo Ciabatta Bread as found on The Fresh Loaf website.
These are our adaptations compared to the original dough recipe:
We adapted the recipe to include a 12 hour poolish, for even more taste!
We tuned the hydration level down to 85%, this allows you to skip using the peddle attachment of your mixer needed in Jason's recipe and go straight for the dough hook.
Why? Less water gives quicker dough development, plus it is easier to handle when spreading in a baking pan, it behaves more like a dough and has more of a bread structure.
We use KitchenAid speed 6, Jason says to 'beat the living hell out of it' but speed 6 works great for this adapted version of the dough and your mixer will live longer too! If you own a Bear Teddy, you can use speed 3 on this machine.
By the way, it is not such a novel idea to make a focaccia with ciabatta dough. Focaccia typically contains flour, water, yeast, salt, and oil. Ciabatta is made with a similar dough but without oil, often as wet as focaccia or with even wetter doughs.
Making the poolish
Ingredients for the Poolish
250 g strong bread flour
250 g water
0,1 g instant yeast (see pictures)
This preferment is called a poolish and has equal parts of water and flour. In a bowl stir together 250 grams bread flour with 250 grams cold water and 0,1 gram instant dry yeast. We use a precision scale to measure the 0.1 gram but to give you a good indication of how tiny this amount is we made some pictures (see gallery above). Mix it until you have a consistency that looks like a very thick batter. Cover the bowl and leave for 12 hours at room temperature. So if you want to begin your bread making in the morning, you can make your poolish the evening before.
Making the ciabatta dough
This dough should pass the windowpane test with flying colors!
Ingredients for the ciabatta dough
Poolish (500 g)
280 g strong bread flour
200 water
8 g salt
7 g instant yeast
You can also use your trusty hand mixer with dough hooks attached to make this dough, so for those of you who do not own a KitchenAid you can still go ahead and make this beautiful dough. Thanks to Claartje for the tip!
Attach the dough hook to your KitchenAid type mixer and combine the ingredients until you have a shaggy mass (30 seconds to 1 minute). Let it rest for 10 minutes.
Now comes the fun part. Start mixing at speed 6 (for a Bear Teddy mixer we advice speed 3). First your dough will look like pancake batter with some gluten but after about 3 to 5 minutes of kneading (so way shorter than the original recipe's 10 to 30 minutes) the complete dough ball should stick to the dough hook and be separated from the sides, hardly touching the bowl anymore, even separating from the bottom from time to time.
When this happens you can make a wonderful 'windowpane' with your dough, as demonstrated in the picture.
Place the dough in a bowl sprayed with oil, cover and let it rest for 90 minutes in a warm place, provided the temperature of your dough is around 24ºC / 75ºF. During this period this dough really increases in size, more so than with your regular bread dough. After this period it should look very wobbly with lots of air, but it should not collapse of course.

Preheat your oven at 230ºC / 445ºF. Prepare your baking tray (about 30 x 40 cm / 12 x 16 inches) by lining it with a baking sheet or baking parchment and lightly spray or coat it with some oil. Spread out the gloopy dough on the baking tray (wetting or oiling your fingers will help) making sure to evenly distribute it into the corners.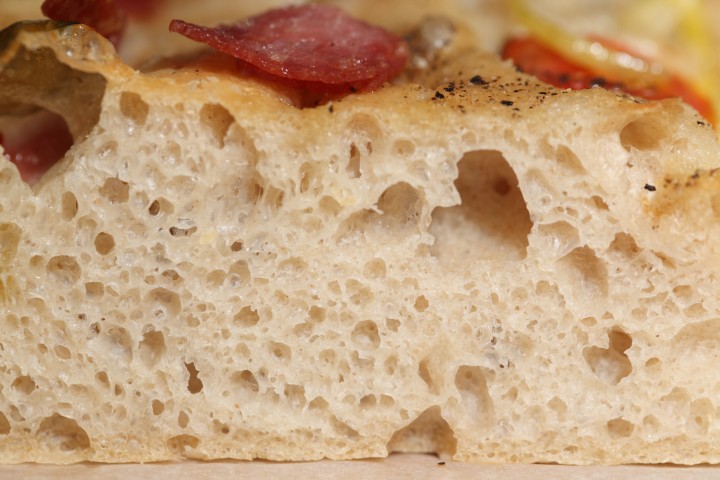 Dress the dough with the following ingredients (or ingredients of choice):
Ingredients for the topping
24 ripe mini tomatoes, halved
1 large thinly sliced white onion
about 3 tbsps olive oil
a handful of fresh basil leafs
sea salt flakes and black pepper to taste
You can shred the basil leafs and mix them in with the oil before rubbing it on the surface of the dough.
With your fingertips, make indentations all over the surface, making sure the lovely oil also drips into the dents.
Let it proof for another 30 minutes.
Note: We like to add ingredients like the tomatoes before the final proofing, so they become 'encapsulated' during the proofing and stay nice and juice during baking too.
Bake in the preheated oven for 20 minutes, until golden brown.
Brush with some more olive oil if you feel like it. Leave to cool ever so slightly then take your pizza cutter and attack!