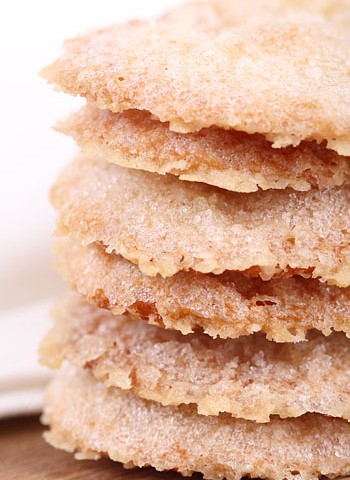 I love a delicious cookie with a good story attached to it…
'Arnhemse Meisjes' (Girls from the city of Arnhem) are my absolute favorite traditional Dutch cookies (or biscuits if you will) in the world. They are flaky, caramel crispy light with a sweet crunch.. These cookies look like they are made from some kind of puff pastry but that's not the case. Some people make them with ready made puff pastry, but believe me, that is short cut you do not want to take!
For the absolute original 'Arnhemse Meisjes' you need to make this bread-like dough with a drop of lemon juice. It's fun to make these cookies. Especially the rolling the dough through the sugar part. This is also the way my grandfather, who was a baker, used to make them. The original recipe comes from a bakery named Van Zalinghe by a master baker called Hagdorn around 1829.
The recipe was a big secret for a long time, until a certain writer came along by the name of Dahl. This is also his absolute favorite cookie by the way. Roald Dahl had the power to persuade the baker to give up his recipe. He 'shamelessly' published it in his cookbook. After that, everybody copied it, so I won't feel too bad when I tell you how it goes:
Ingredients for the Arnhemse Meisjes
makes about 20-24 cookies
190 g pastry flour
pinch of salt
100 ml fresh milk
5 g fresh yeast (or about 1.6 grams / 1/2 teaspoon instant yeast)
4 drops fresh lemon juice
105 g unsalted butter at room temperature in cubes
Coarse type of sugar for the coating of the cookies
Making the Arnhemse Meisjes
Day 1: make the dough by sifting the flour and salt. Stir the yeast with the milk until dissolved. Mix this with the flour and lemon juice. With a mixer, beat in the butter cubes, bit by bit, in stages. Press the dough into a flat disc in a plastic bag (yes it's a bit sticky, that's how it's supposed to be) and leave it in the fridge overnight.
Day 2: Take the dough from the fridge and shape it into a sausage. Cut the roll into pieces and shape into little balls, the size of a walnut. Put in the fridge to firm up again. Preheat the oven at 165ºC / 330ºF (conventional oven). Coat the balls in sugar. Sprinkle sugar over your work surface. With a rolling pin roll out the balls in the sugar into an oval shape of about 15 cm/ 6 inches long. Place them on a buttered tray or baking paper. You may sprinkle them with some more sugar if necessary. Bake for 25 minutes until golden brown. Leave to cool on a wired rack. Enjoy!