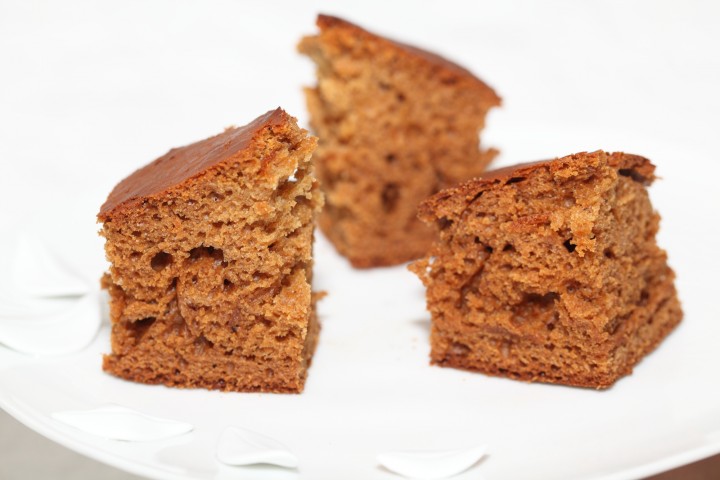 Not just for breakfast but also very nice as a 4 o'clock pick me up!
Klik hier voor de Nederlandse versie van dit recept
Dutch people are all very familiar with something called 'ontbijtkoek' (breakfast cake) which is a spiced cake containing rye and honey. It is usually eaten with a thick layer of butter.
The original recipe involves making a cooked preferment with some of the old cake in it (a bit of a chicken and egg situation if you have never made it before).
This recipe is very easy to make and after serving it to many people I can tell you that a lot of them thought they were having 'ontbijtkoek' only smoother and less sticky.
Do take note of the suggestion of wrapping the gingerbread in foil or baking paper, and placing it in an airtight container 30 minutes after baking . This way the bread stays moist and fragrant longer.
Since December last year I have made this recipe many times and tried out many different versions. The version you will find in the recipe is the one that will appeal to anybody who is a fan of speculaas (speculoos), gingerbread and pumpkin spiced sweet baking. These spices are all part of the same family. Although they come in different compositions and some ingredients are left out or put in, they are all part of similar festive baking rituals and traditions.
I have also made this cake with rye flour only and I do like the result. Just be aware that the structure will be a little more compact. No rye at hand? Making the cake with all purpose /plain / wheat flour only will also give a very tasty result.
Enjoy!
Before you start
It is, I find, the most rewarding to make your own spice mix for this recipe. You can find some suggestions for speculaas spice mixes in our recipe for speculaas. Please make sure your spices are fresh. I use an old coffee grinder to grind the spices to a powdery consistency. You can also use the old pestle and mortar of course, like I did before I found my grinder.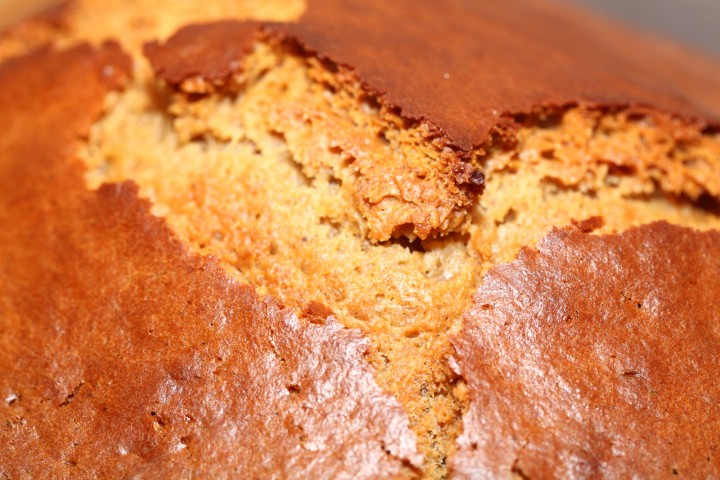 Ingredients Speculaas Gingerbread
Makes 1
125 g fine rye flour
125 g all purpose flour / plain flour
1 tsp / 5 g baking soda
pinch of salt
65 g melted butter
110 g honey
110 g sugar
2 tsps / 4 g speculaas spices or gingerbread /pumpkin spices
1 egg
200 g buttermilk
Making the Speculaas Gingerbread
Preheat your oven to 190° C / 375° F for a conventional oven.
Prepare a 20×20 cm / 8×8 inches baking tin by spraying it with oil or rubbing it with butter or line it with baking paper. In a bowl, combine the sugar, honey, speculaas spices and melted butter and give it a quick whisk. Beat in the egg. Combine the flour with the baking soda and a pinch of salt. Now sift in the flour in about three stages and alternate with the buttermilk. Whisk until you have a smooth batter.
Pour the batter into the tin and make sure it is evenly distributed. Bake at 190° C / 375° F for 25 minutes, then turn down your oven thermostat to 175° C / 350° and bake for another 10 minutes.
Take the gingerbread out of the oven and let it cool in the tin for about 30 minutes. After that you can take it out and wrap it in foil or wrap it in baking paper and store it in an airtight container. This way it stays nice and moist. But please also taste some straight away of course!