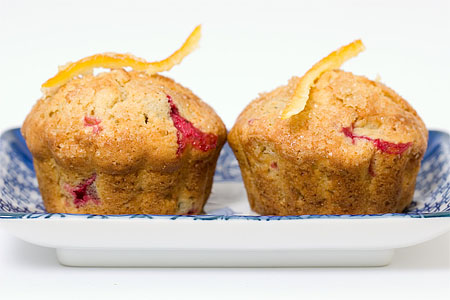 Imagine serving this as breakfast in bed on Christmas morning with a glass of fresh orange and cranberry juice!
I think these festive muffins are great to bake for a Christmas morning breakfast or brunch. I especially love the moistness and the surprise, because every bite gives you a different combination of tastes and textures.
I dreamed up these muffins because I wanted to use my home made candied orange peel and sweet marzipan. Together with the red cranberries and not forgetting the hint of cinnamon, the house is smelling like Christmas before the family can make their wishes!
Make this recipe with fresh cranberries. They will 'explode' into the muffins and give of that extra Christmas red. 'Tis the season to use them!
Ingredients for Merry Christmas Muffins
100 g just melted butter
275 ml yogurt or buttermilk (=285 g)
200 g sugar
300 g self raising flour
2 large organic eggs, beaten
100 g fresh cranberries
100 g good marzipan in little pieces (see recipe)
little pieces of candied orange peel (see recipe)
pinch of salt
1/2 tsp cinnamon
tsp vanilla extract
some raw cane sugar to sprinkle on top
This is how you make the muffins
Preheat the oven at 180ºC / 355ºF. Grease a muffin tray, or use a silicon mold. Mix the wet ingredients in a bowl. Sift flour, salt and cinnamon in a separate bowl. Mix wet and dry ingredients until just combined. carefully fold the cranberries, orange peel and marzipan pieces trough the mixture. Fill the molds and sprinkle some raw cane sugar on top of each muffin. Bake in the preheated oven for 20-25 minutes until golden brown. Serve warm! If they do get cold you can also dust them with icing sugar.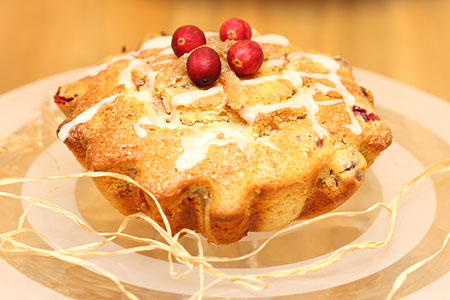 Or make one bigger cake and give away as a lovely Christmas present
Note: The muffins in the picture are quite big. You can always share one, because with the Christmas bread and other cheer you spread on the table, it can get a bit much. With Christmas I just love the abundance of food. But you can always make mini versions of these muffins and hungry people can have two!
Have you seen our recipe for Cinnamon Sugar Crusted Christmas Scones?