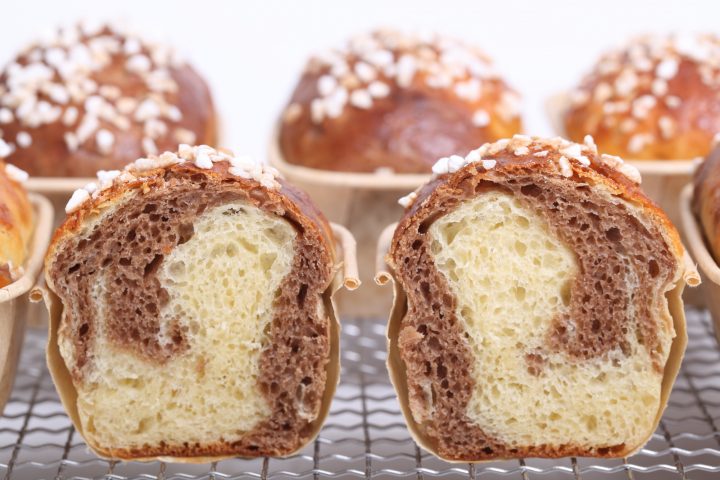 We use the no knead method for this dough, so no mixer needed!
This recipe is a fun variation on our no knead brioche, making 6 individual baskets that look very dainty. For this recipe we used organic raw cacao, which gives halve of the dough a light brown color. You can also choose to use Dutch processed cocoa powder, which will give a more intense brown color. Of course you can vary as much as you want, adding pieces of chocolate, orange zest, nuts and spices, but always be aware some ingredients can change the structure of the dough.
Hope you like this version as much as the original recipe and do not forget to look at the no knead brioche video to get a feel for the general method.
Enjoy!
---
Ingredients for the Mini Brioches
makes 6 Brioche mini loaves
250
g
French Type 55 flour / all purpose flour / plain flour
100
g
fresh dairy butter, melted
70
g
water at room temperature
110
g
organic eggs (1 medium egg is about 55g)
50
g
runny honey / 2.5 tablespoons (flower /acacia)
5.5
g
(sea) salt
3
g
instant yeast
8
g
raw cacao or cocoa powder (slightly over 1 tbsp)
Plus one additional egg for brushing the tops and pearl sugar to sprinkle on top.
We use six individual
mini loaf molds made from biodegradable cellulose
measuring 8 x 4 x 4 cm / 3.1 x 1.6 x 1.6 inches. But of course you can use any mold close to this size. These paper molds do not need any grease, but make sure to grease yours if needed!
DAY 1
Making the brioche dough
In a bowl, combine eggs, honey, water, salt and melted butter and whisk, somewhat vigorously, for about 30 seconds. We do this with a Danish dough whisk. Add the instant yeast to the flour and sift it into the mixture. Again, with enthusiasm, whisk for 30 seconds until your dough looks smooth and homogeneous. Now divide this mixture in halve, putting one halve in a second bowl. Add the cacao powder and whisk it in until you have a homogeneous brown mixture. Cover both bowls and let the dough rest for one hour at room temperature to kick start the proofing process.
Take both doughs out of the bowl and onto a floured work surface and do one or two stretch and folds (full fold ones, left over right, right over left, bottom over top, top over bottom; see our bread movies to observe this technique if you are not familiar with it). If your dough is very 'elastic' and cooperative, do a few, if it starts to resist you can just stop. Please note that the dough is very sticky (and is supposed to be) so resist the urge to add a lot of flour, but instead take a dough scraper to help you or leave the dough in the bowls and do the stretch and folds by pulling up the dough from the sides and folding it to the middle.
Return the dough to the bowls, cover and take it to the fridge where it will stay for 24 hours. I have made several versions using both dough that had rested 24 hours and dough that was allowed to rest for 48 hours and I can say the results are both fine, not that big of a difference. So you can be a flexible when it comes to the amount of time in the fridge.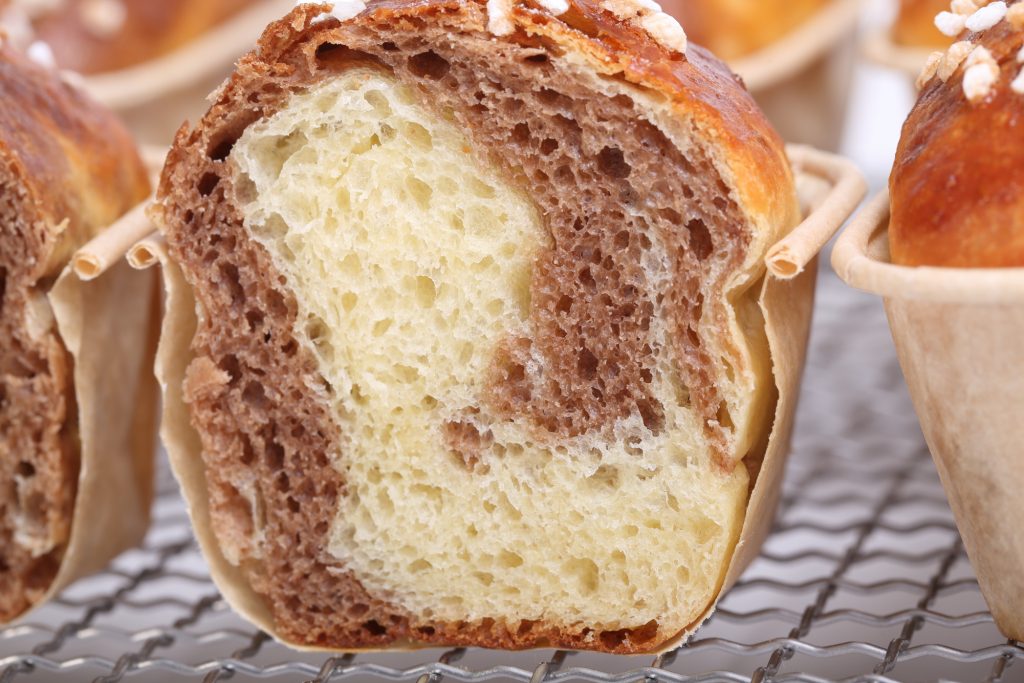 DAY 2
Shaping the brioches
Take the two bowls with the dough out of the fridge. Take both pieces of dough. Flatten each piece with both hands, then put the cacao version on top of the plain one. Now roll this up and give it a quick few kneads, so the two colors are very roughly combined. Divide the dough into 6 equal pieces and shape them into balls (shaping quickly while the dough is still very cold from the fridge goes best). Then elongate the balls by rolling over them with your hand, making an oval shape for your molds. Place them in your molds. The molds should be well buttered if you use metal ones, if you use bakeable paper molds like we do, you do not need to grease them.
Brush the brioches with some beaten egg (with a splash of water added to make it easier to brush on) right after shaping. Give it a thin layer and later repeat with another thin layer just before baking, same as with making our croissants recipe.
Cover and leave to proof for 2 to 3 hours, depending on the temperature of the dough and of the room. It is important to take the time needed, to proof the dough to perfection. You can also use your oven as a proofing cabinet to create a stable and warm environment for your brioches. In this case, it would be ideal to create an environment with a stable temperature of around 25 to 26ºC / 80ºF. You can check out our tips on dough temperature to help you improve your baking results.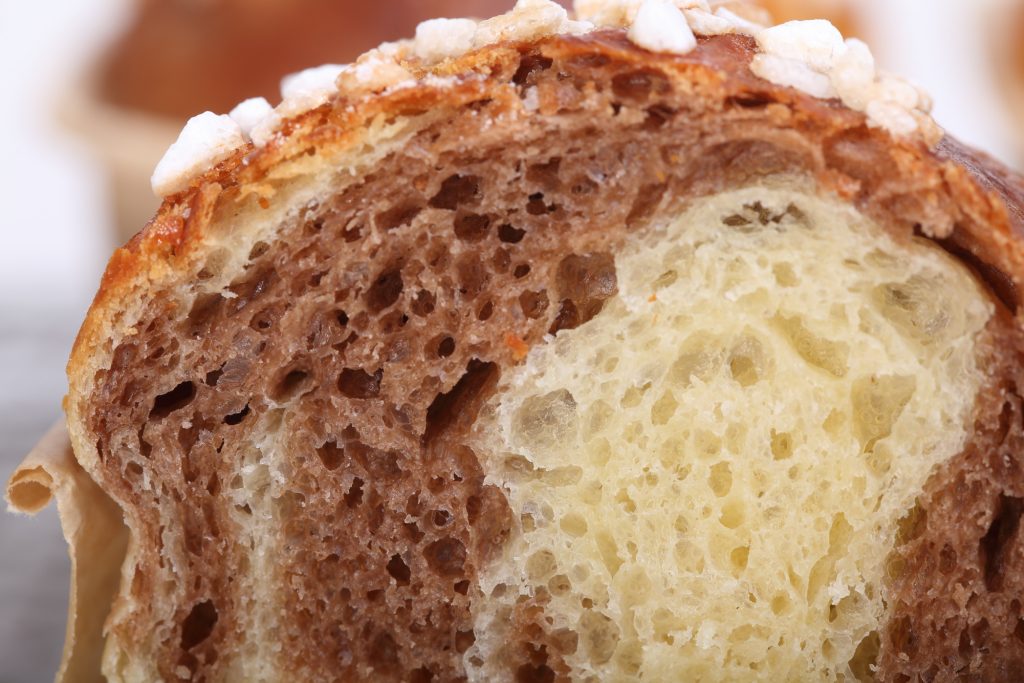 Baking the brioches
Preheat your oven at 190ºC / 375ºF.
Brush the brioche with a second coat of egg wash, sprinkle the pearl sugar on top and put them in the oven on the bottom or middle tier.
Bake at 190ºC / 375ºF for about 8 minutes, then turn down the thermostat to 160ºC / 320ºF and bake for another 6 minutes, so 14 minutes in total.
Take them out of the oven and leave to cool before slicing it. You could slice it while warm, but the crumb needs to set a little bit and slicing it too soon could press it together and make it sort of sticky. If you cannot wait please slice with a very sharp knife that easily cuts the slices without having to put too much pressure on it.
The brioche keeps very well for a few days (in container or bag) and even after that it can be given some oomph by toasting it lightly or heating it quickly in the microwave. You can also reheat them in your oven, preheated at 170ºC / 340ºF until the outside is crisp, 5 to 7 minutes should do the trick.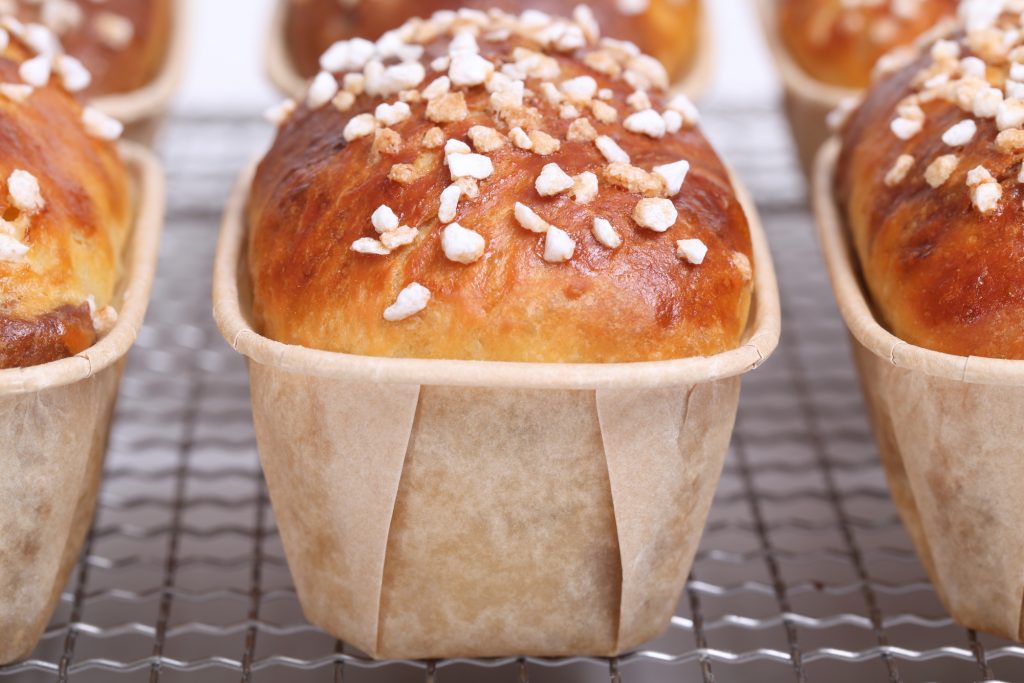 Chocolate brioches
If you want to try an all chocolate version of this recipe, add 2 tablespoons of cocoa powder to the dough plus chopped dark chocolate (50 to 70 grams is a good amount we think). Adding orange zest to this chocolate version also makes a great flavour combination. Other combinations that work well are coffee, mint and spices like cardamom, cinnamon, clove and ginger. All versions are absolutely delicious with some (homemade) hazelnut spread.
We always love to read about your experience with our recipes, your own versions for our inspiration and your overall enthusiasm for baking in the comment section below!