The toasting of the walnuts, really brings out the flavor!
What's so special about this loaf? It's hard to explain without tasting it. The smell, the texture, the nice bite, the taste of that little bit of whole wheat but not too much. We put it in front of our family at the Christmas table and it was gone before you could say merry. So, a loaf for special occasions definitely, but I'll let you decide. This recipe can just as easily be doubled, provided your oven is big enough. The measurements of this recipe are quite exact. It's important you stick to them as well as possible to get that perfect loaf.
Before you start
This loaf is made with a stiff sourdough starter dough. You make the starter the evening before you make the loaf provided you want to bake it the next morning (it takes 12 hours to ferment). Make the starter by dissolving 18 grams of your active sourdough culture in 53 grams of water and add 90 grams of white bread flour. Stir until it comes together and finish by kneading the dough by hand until you have a ball. Put the dough ball in a bowl and cover with clingfilm and let it ferment for 12 hours at room temperature. The next day before you start with the bread you first have to toast the walnuts on a baking sheet in the oven for 12-15 minutes at 180 ºC / 355 ºF. Leave to cool.
Ingredients for the Loaf
makes 1 loaf
Sourdough starter – 12 hours (90 g white bread flour, 53 g water, 18 g sourdough culture)
248 g bread flour
112 g wholewheat flour
30 g dried figs, chopped in little pieces
30 g prunes, chopped in little pieces
60 g toasted walnuts, chopped
22 g soft butter
244 g water
8 g salt
2.4 g instant yeast
Making the Loaf
Preheat your oven to 235 ºC / 455 ºF (at what stage you preheat your oven depends on how long it takes your oven to heat through, some take 30 minutes, some with stone floors take a lot longer, up to two hours. The preparation time from this point until the bread actually goes into the oven is about 2.5 hours).
Put the sourdough starter, flour, salt and yeast in your mixing bowl and add 2/3 of the water. Now start mixing and gradually add the rest of the water and let the dough come together (see if you need all of the water or even a bit more, depending on the flour you use). As soon as the dough starts forming a ball add the butter. Mix for 3 minutes and feel if the dough has the right consistency, the dough should be a little sticky (a little bit more sticky than a post-it note) but it should be able to hold its form; not too wet or too dry. Add more water if needed, but do it one teaspoon at a time. Knead for another minute.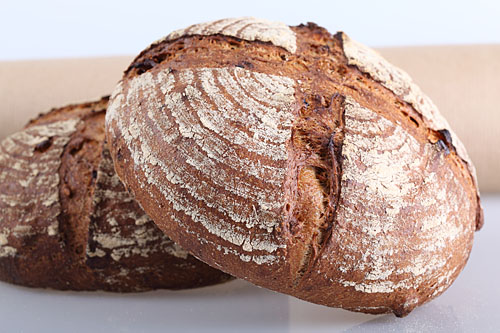 Now add the nuts and dried fruits and knead them through the dough until evenly distributed. This is an easy job for a spiral mixer. If you do not have one, maybe the only way to get the job done is by hand. I know my KitchenAid is not too brilliant at it. Transfer the dough in a bowl dusted with oil, cover with clingfilm and leave to rest for 45 minutes.
Take the dough out of the bowl and onto a floured work surface and do one stretch and fold (see our bread movie to observe this technique if you are not familiar with it). Transfer to the bowl, cover and again leave to rest for 45 minutes.
Now it's time to shape. Shaping is something for which everybody develops his or her own technique over time. You can make a batard or loaf shape or a boule (ball). If necessary you can learn more on shaping from a good bread book, like the ones by Hamelman or Reinhart. Transfer the shaped dough in a proofing basket or baking pan, cover and leave to proof for 60 minutes. When you think it has risen enough, use your finger to carefully make a very small dent in the dough. If the dent remains, the bread is ready to bake, if the indentation disappears, the dough needs a little bit more time.
Now your loaf is ready for the oven. Slash the top of the loaf with a lame or bread scoring knife. To get a nice crust, try to create some steam in your oven by putting a small metal baking tray on your oven floor when you preheat the oven and pouring a half cup of hot water immediately after putting the bread in the oven. Release some steam by setting your oven door ajar (perhaps with the help of with a wooden spoon) 5 minutes before the bread is ready. If you are going to create steam with a baking tray, you maybe also want to turn your oven temperature a bit higher, because you are going to lose some heat in the process.
After 45 minutes of baking your loaf should be ready. Transfer onto a rack and leave to cool. This loaf also keeps well in the freezer.