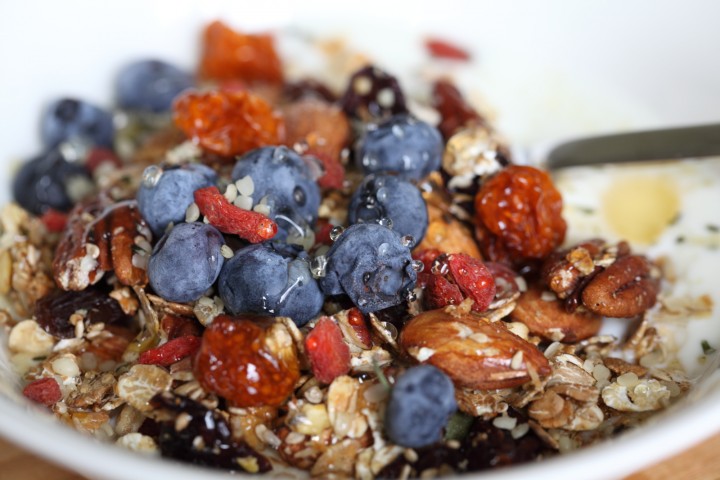 Measuring, stirring, toasting, eating: Nothing but healthy goodness in a bowl!
Dutch version coming soon…
Normally I am all about scales and weighing ingredients, but this recipe works very well with cups and spoons. You can see why of course, it doesn't have to be measured exactly and there is much room for creativity. This wholesome recipe is my adaptation of a recipe that was handed to me after a visit to a welcoming guest house on Vancouver Island, many years ago. I have made it ever since, for myself and others. I would describe it as toasted muesli but other people would call it granola because it also has some added sweetness. But this sweetness comes in the shape of maple syrup and I know it has the same calorie content as sugar, but it also has some nutritional value (zinc a.o.) and it's taste is unique. So maybe you could call it a healthy kind of granola or a sweetened muesli or cruesli or granuesli… In other words: Call it what you like, just try it, it's seriously good!
I eat this hodgepodge almost every morning with yogurt and honey and vary much with the ingredients you see listed below. You could say I thrive on it! I sometimes like to add buckwheat seeds (very crunchy), spelt flakes or spelt bran, walnuts instead of pecans, pistachios, dried figs and I also started adding hemp seeds, a very good source of protein with a nice nutty flavor. The base, oat flakes, gives you lots of energy to kick start the morning and the nuts are food for the brain. After you have made this, there is no going back to any store bought product. I have tried a lot of these and nothing comes close to the freshness, texture and taste of this home made mixture.
With the amounts in this recipe you can feed the whole family for weeks, or so I think, so it's an option to make half the recipe and see what you think of it first. It's better anyway to make smaller batches more often. It will stay fresh in an airtight container for about two weeks.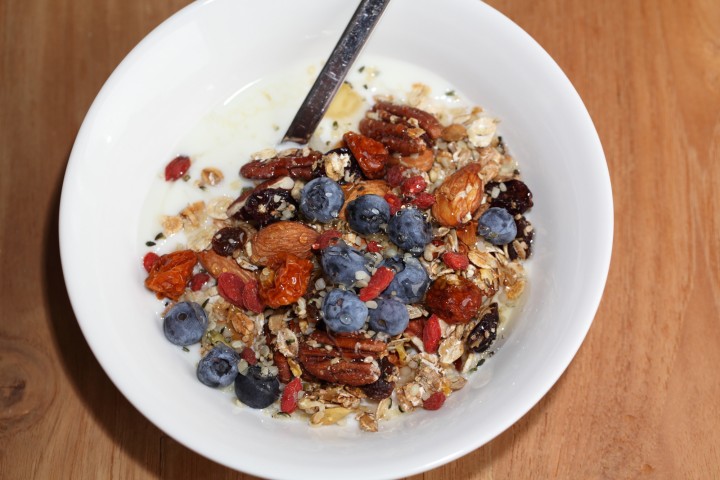 Just add extra blueberries, inca berries, goji berries, hemp or chia seeds to make it a super food toasted muesli fest!
Recipe for Maple Toasted Muesli p>
p>
5 cups oat flakes p>
1 cup shredded coconut p>
1 cup wheat germ p>
1/2 cup bran p>
1/2 cup (chopped) almonds p>
1 cup coarsely chopped pecans or walnuts p>
1/2 cup sunflower and pumpkin seeds p>
5 tbsp sesame seeds p>
3 tsp grated orange peel (optional) p>
1 tsp vanilla extract (optional) p>
1/2 tsp salt p>
6 tsp vegetable oil (optional, can also try less or without) p>
1/ 2cup maple syrup p>
after Muesli has cooled add:
1 cup raisins (sultanas and blue jumbo) p>
1 cup dried cranberries p>
1 cup chopped dried apricots, cherries or other dried fruit p>
Making the Maple Toasted Muesli
Place all the dry ingredients in a bowl and stir. Combine the oil, maple syrup, salt, orange zest and vanilla (It's also very good without vanilla and orange, see what you like best) and stir so everything is combined. Spread the muesli on a baking sheet lined with parchment paper. Toast at 140ºC / 285ºF for 30 to 40 minutes. Stir every 10 minutes, making sure everything is evenly toasted. Leave to cool completely in a bowl then add the dried fruit and store in an airtight container.
NB: A lot of the ingredients for this recipe are used in one of my favorite recipes for Muesli Buns. Check it out here!