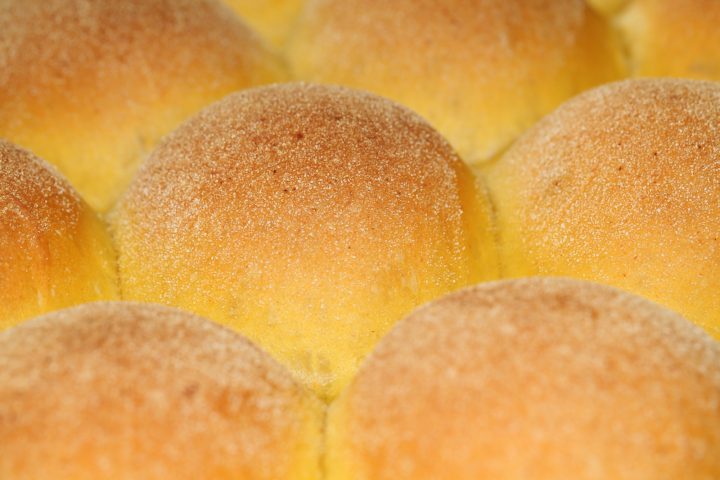 'Tis the season to use pumpkin! It really does something wonderful to the texture of the buns
After recent successful pizza baking with new pizza flour we thought lets see what the results will be if we use this same flour for some bun baking. So we also used the Caputo blue pizza flour for this recipe, but of course you can use any good quality (bread) flour that you like, as long as the protein content is 12% or more.
This recipe offers yet another method for you to try and hopefully like. The bulk dough is made one day in advance in the evening. The buns are shaped and proofed the next morning. Note that they do need quite some time for the final proofing, so take the morning to proof to perfection and they will be ready for lunch. The small amount of yeast used in the dough allows for a slow development of the bulk dough during the night in the fridge. But this process, with the smaller amount of yeast, the added vitamin C and slightly longer final proofing, gives the buns its lovely extra fluffy texture.
Enjoy!
---
Ingredients for the fluffy pumpkin buns
makes 10 buns
500
g
bread (wheat) flour*
135
g
water
8
g
(sea) salt
2
g
instant yeast
200
g
pumpkin puree
20
g
olive oil
20
g
honey
0.5
g
ground vitamine C**
*We use wheat flour with around 12% protein for this recipe. We had very good results using the Italian Caputo blue flour for these buns, that we also use for our pizza dough.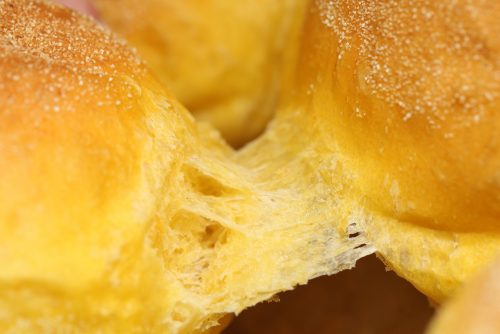 Vitamin C in bread baking**
Next to being a well known food supplement, vitamin C, also known as 'ascorbic acid' can also used in baking as a bread enhancer. So, what does it do?
Due to the properties of vitamin C, it can be used as a dough (gluten) strengthener during fermentation, helping to improve the structure of the dough.
We use half of a 1000mg tablet for this recipe, ground to a fine powder.
Making the pumpkin puree
Cut the pumpkin in halve and scrape out all the seeds with the help of a spoon. Depending on the size of the pumpkin one halve of the pumpkin will be enough. Cut the pumpkin in strips and then in little pieces. Cook the pieces of the orange pumpkin with the skin still on, in a bit of water (one centimeter of water is enough) with just a hint of salt (no salt is fine too), like you would potatoes. We cook them until soft (about 15 minutes), drain them, leave them in the pan without the lid to cool and blend them into a smooth puree with our stick blender. If you do not have the time and are able to use tinned pumpkin puree, you can use that too of course. In Holland they do not sell canned pumpkin puree (yet), but you can never go wrong with fresh of course.
Adding the pumpkin puree to the recipe also adds the small challenge of how much extra water to add to get the right dough consistency. The pumpkin puree contains water of its own and you need to take this into account. The amount of water given in this recipe is a good starting point. We suggest to add some of it and see how the dough comes together, then add more if needed. You may need a few runs to get it right.
The amount you need for this recipe is 200 grams. So you will be left with some puree which can easily be used in another bake or dish of course.
Day 1: Making the dough
In the bowl of your standing mixer, combine the flour with the salt, then add the instant yeast, the powdered vitamin C, the measured amount of pumpkin puree, honey and olive oil. Now add most of the water, but hold back around 30 grams. Start mixing at low speed and when the dough comes together, slowly add the rest of the water (or as much as needed, this is your chance to play with the right amount). This way the flour at the bottom will be picked up and your bowl will be nice and clean.
Knead for 8 minutes
on a low to medium speed. If you knead by hand it takes about 15 to 20 minutes, depending on your technique. Cover and leave to
rest for 20 minutes
.
Now turn out the dough onto your work surface and stretch and fold, doing one full set letter fold (one set = right over left, left over right, bottom over top, top over bottom). If you are not familiar with it, check out how this technique works in this video first.
After the stretching and folding to help develop the dough, shape into a ball, cover and leave to rest for another 20 minutes.
Now do a second full set of stretch and folds to further develop the dough. By now you will have seen a change in the dough to the point where it becomes smooth and silky and shiny. This stretching and folding is great for good dough development. Plus, as a baker, you really get a feel for the dough as it goes through your hands and you can judge if you are satisfied with it or give it a few extra stretches if needed.
Shape your dough into a ball, place it in an airtight container and put it in the fridge till the next day. The indication we can give you for the fridge time is around 12 hours. It can be shorter or longer, just make sure your dough does not over-proof. This also depends on the temperature of your fridge. Our fridge has an average temperature of 5 Celsius, and for us 12 hours fridge time is just about perfect.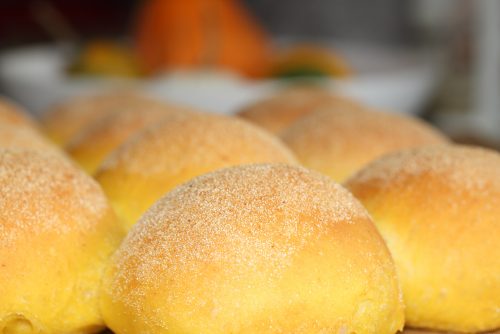 Day 2: Fluffy bun shaping and proofing
Take the dough from the fridge and optionally leave it to warm up a little for 30 to 60 minutes at room temperature.
Now divide the dough into
10 equal pieces
and pre-shape these into balls.
Cover and let the balls
rest for 10 minutes
.
Now slightly flatten the balls and shape them again, neatly, into balls. Make sure to get some tension on the dough as you round them.
Press the tops of the balls into some flour. We use semolina flour for this. It makes them less sticky as you cover them and it gives a very nice taste.
See how the buns start out very small and grow to pretty impressive buns that press up against each other!
Place the balls on a baking tray (see gallery above for spacing), lined with baking paper or a baking mat. Cover them and let them proof for at least 3 hours, possibly 4 if needed. These buns love it when you give them a nice draft free and cozy warm environment to proof. So, for this recipe it works really well to use your oven as a proofing cabinet by preheating it for a minute to 30 to 35 ºC / 85 to 95 ºF and then turning it off when you put the buns in to proof. Take them out when they approach their optimal proofing point and you also reach the point where you need to heat up your oven before baking.
When you think the dough has risen enough, use your finger to carefully make a small dent in the bun. If the dent pops half way back out: proofing is just right, the buns are ready to bake, if the indentation disappears, the dough needs more time. Give it another 15 to 30 minutes, then check again.
Day 2: Fluffy bun baking
Preheat your oven to
210 ºC / 410 ºF
.
If you want to use steam during baking,
read our tips on the subject here.
We introduce steam during the first 5 minutes of baking for this recipe, then turn it off.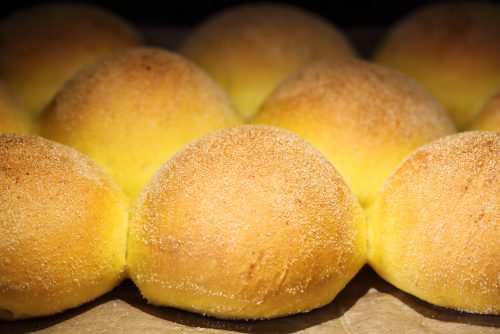 Buns in the oven nearly ready
Place the tray in the oven and bake the buns for around 18 minutes, depending on the working of your oven. Keep an eye on the buns. If you like the color and do not want them to turn any darker, you can temper your oven to 180 ºC / 355 ºF for the remainder of the baking time. We temper our oven after about 12 minutes.
When ready, turn off the oven, take out the tray and transfer the baking paper with the buns to a wire rack. Leave to cool. You can eat them fresh of course, but you can also put them in a bag while still slightly warm. This way they will stay lovely and moist and soft. They also keep well in your freezer for up to one month.