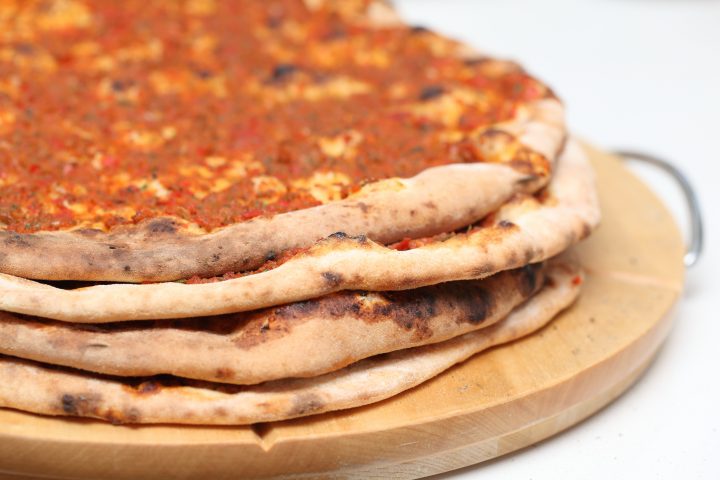 We do not want to call this a Turkish pizza, nor will we speak of pizza as Italian lahmacun…
In these uncertain times, we see many people resort to the comforting and gratifying art of baking. We have always been baking through good and bad times, but never have we felt the significance of it more than in the last weeks.
We are lucky in many ways. Lucky in what we have and where we live here in Holland, lucky to have each other, our family, home and our garden. Like baking, a garden in which to potter around, gives stress relieve, and also a sense you are not that confined and a means to grow food you can use and share.
We have been writing about our pizza adventures for a while now. We have a small outdoor pizza oven that we can use in our garden (it is called a Roccbox) and it makes wonderful pizza, pita and we are still experimenting and adding more things we can make with it.
We have made a bunch of Turkish lahmacun (our version of it anyway) and we now feel our method is worth sharing with you, because it is delicious.
Enjoy your (outdoor) baking!
---
Lahmacun, is pronounced as 'lahma'joun' and comes from the Arabic 'lahma bi'ajeen', which simply means 'dough with meat'. It has a crispy thin bottom and a flavorful very thin spread of minced meat (traditionally lam) with vegetables, herbs and spices. You can also make a vegetable or vegetarian version that we find is just as delicious.
Recipe for the dough
For this recipe we also use our 24 hour pizza dough as a base, but make 6 lahmacun with this amount of dough instead of 4 pizza's and roll and bake it slightly different.
24 hour pizza dough recipe
Ingredients for the Pizza Dough
makes 6 lahmacun
585
g
Italian typo 00 pizza flour
350
g
water
15
g
olive oil (optional)
11
g
sea salt
2.6
g
instant yeast
Pizza dough method
Combine all ingredients in the bowl of your standing mixer and knead for 5 minutes (or knead for 10 minutes by hand).
Take the dough out of the bowl and onto your work surface. Knead by hand for an extra minute to give it a smooth finish.
Shape into a ball, place in an oiled container, cover and leave to rest for 10 minutes.
Now do two full sets of stretch and fold.
Place the dough back in the container and again leave to rest for 10 minutes.
Now do one full set of stretch and fold.
Place the dough back in the container and once again leave to rest for 10 minutes.
Divide the dough into 6 equal parts of around 160 grams and shape into balls.
place them in a container with enough room for each ball to develop and leave to ferment in the fridge* for around 24 hours.
You can take the dough out of the fridge around 1 hour before use. We find it's easier to handle when we do this.
*Our fridge temperature is around 6°C. The amount of yeast and hours in the fridge are based on this. But you do have a bit of leeway with this dough if you need it when planning your lahmacun baking.
If you want a different proofing time and/or temperature and need to calculate the amount of yeast, you can use the table found with our pizza dough recipe.
The lahmacun spread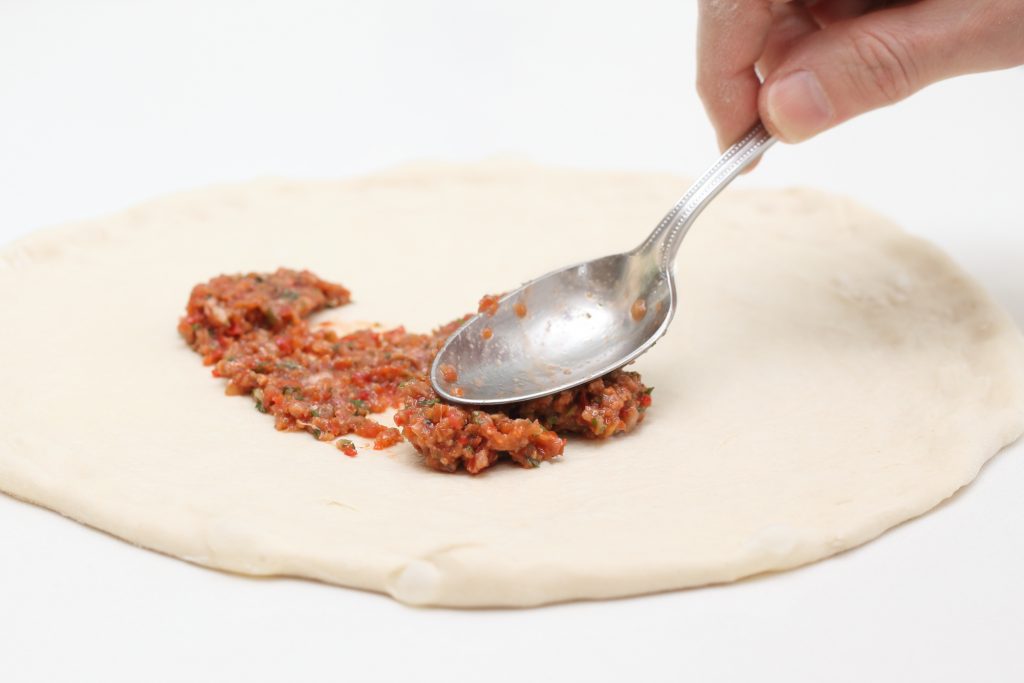 The combination of ingredients and the spices used is what really gives the lahmacun its unique flavor. We love this combination, but feel free to experiment and make it more or less spicy. If you want to make a version without meat you can use more vegetables or use a plant-based mince. Blitz the tomatoes, bell peppers, garlic, parsley and onion in a food processor until fine. Add the tomato paste, olive oil, salt, pepper and spice blend and the minced meat and stir with a big spoon to an even paste like consistency.
Ingredients for the lahmacun spread
enough for 6 lahmacun
120 g minced meat (lam or beef or vegan option*)
150 g ripe tomatoes
140 g red bell peppers
50 g tomato paste
80 g onion
1 garlic clove, peeled
1 handful of parsley
30 g olive oil
salt and pepper to taste (we use slightly over 4 grams of salt or 3/4 tsp)
1 tsp Baharat / middle eastern spice blend*
1 tsp (hot) chili oil (optional)
*You can use spices to make your own baharat blend, using paprika as a base (around 50%) then add a combination of ground coriander seeds, black pepper, cinnamon, cumin, cardamom, nutmeg. You can dry roast the whole spices (not the paprika, nutmeg and cinnamon) in a skillet for a few minutes, then let them cool and grind them with the other spices.
The shaping
The crust is supposed to be thinner than a (Neapolitan) pizza, so you can roll (or shape with your hands), the smaller quantity of dough to about the same size as you would the pizza. You can leave a slightly thicker rim or choose to have no rim. We like it as shown in the pictures, so ours is not super flat or thin and has a slightly thicker edge. The quantity of the spread is also more than enough to spread on the 6 lahmacun. So again, see what amount you like on your bread and you can always use any leftovers in another dish, with rice or couscous for example.
The baking
We bake the lahmacun in our small outdoor pizza oven (Roccbox) slower and at a lower temperature than we would our pizza. If possible we advice you to bake it at 300 to 350ºC / 570-660ºF for about 3 to 3.5 minutes. This way we get the perfect crust with a nice bite and color that we can roll up and eat 'uit het vuistje' (on the go) as we say in Holland.
If you want to bake the lahmacun in a regular household oven, preheat it at the highest possible temperature and use a pizza stone to retain heat. How long it takes also depends on your oven and settings you use.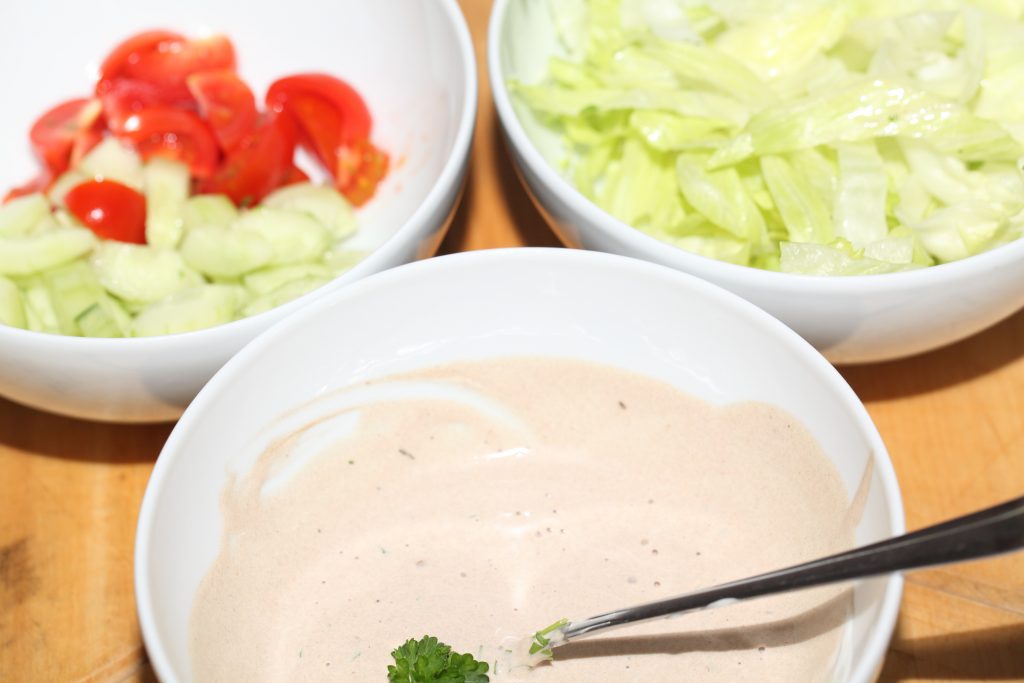 additional toppings after baking
When the lahmacun comes out of the oven, you can add fresh ingredients like lettuce, pieces of cucumber and tomato and garlic sauce or hot sauce. We make a garlic sauce with black garlic paste, mayonnaise and yogurt, which combines really well with the other ingredients. Then we roll up the lahmacun, take it in our hands and take a bite.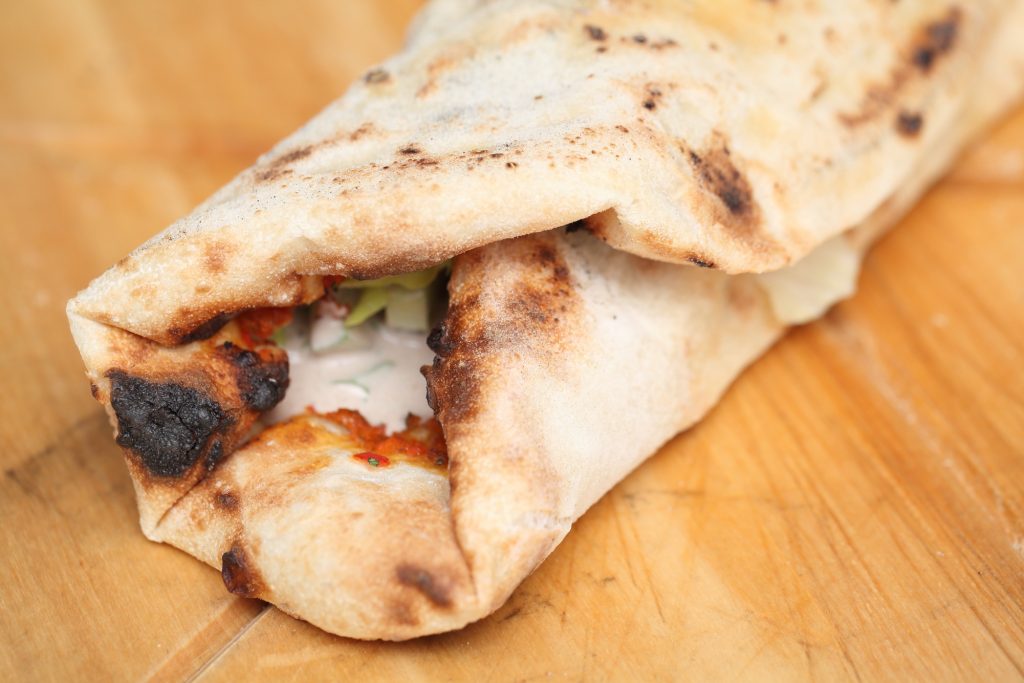 Leftover lahmacun
Could be you have baked more lahmacun than you can eat. We would advice to let it cool, fold it in two and place it in a bag in the freezer. Then, a few days later, you suddenly realize you can have lahmacun for lunch! Leave them to thaw as you heat up your oven to 180ºC / 350ºF and warm them up for around 8 minutes.