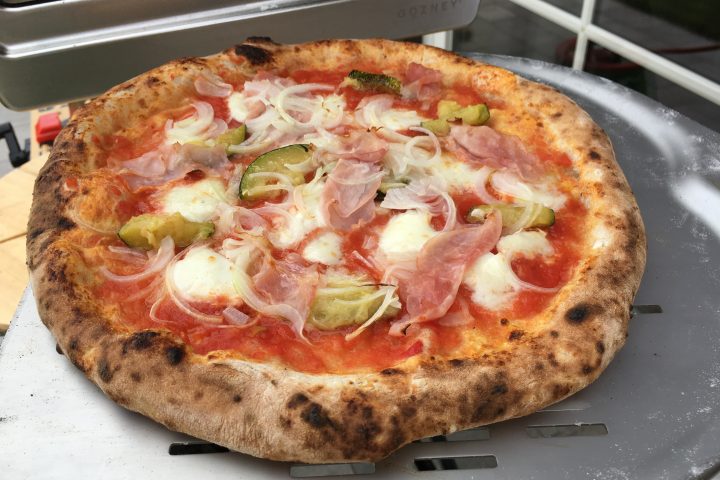 Loving the first results with our new outdoor pizza oven. Trying hard not to eat pizza every day now…
Check out our first few pizza baking video's below!
We always agreed that once we have enough space, we will build a pizza oven in the garden. We realized this would be a big undertaking, involving a lot of work, money and time. So, at some point we also started to look at alternatives. Maybe something smaller, portable or moveable, but at the same time able to produce a great pizza of course.
We found out there are several options when it comes to small outdoor pizza ovens. After some research we recently opted for the Gozney Roccbox*. We liked the design, the material and the choice to use it with gas or wood. The testimonials of other bakers where favorable and the price was alright, and the offering complete, with the (very good quality) peel included.
We have used the Roccbox four times now (only had it delivered just before the weekend) and we are having so much fun with the results and (unexpected) possibilities that we cannot wait for the next pizza baking session. We already baked several 'Neapolitan style' pizza's and some pita bread and have had very promising results from bake one. We also roasted some veggies, which tasted great and could also again be used as pizza toppings.
We are still playing with times and temperatures to see what we like best. So far we baked pizza's for 90 seconds at around 425 C, but also for 2 minutes at around 400 C. We like a bit of charring but not too much, so we will test further till we hit the sweet spot. At the same time we are rethinking and testing our pizza dough. We will elaborate on this topic soon too.
So for now we want to share with you our new outdoor, portable pizza oven and show the first results of our testing with a few short video's.
Enjoy!
Update: We did some more baking and tasty testing and want to fill you in on our progress and experience with a new pizza dough recipe. Check out video's and dough recipe here!
* People who follow us will know that we are not 'sponsored' or 'endorse' by anyone or anything. We bought this Roccbox with our own money, full price. Nor, as you can see, is our website full of ads or generic articles. You will not catch us writing stuff we do not mean or telling you about experiences we did not have ourselves. So you can trust the honest and true accounts of our baking adventures!
Pizza
Pita