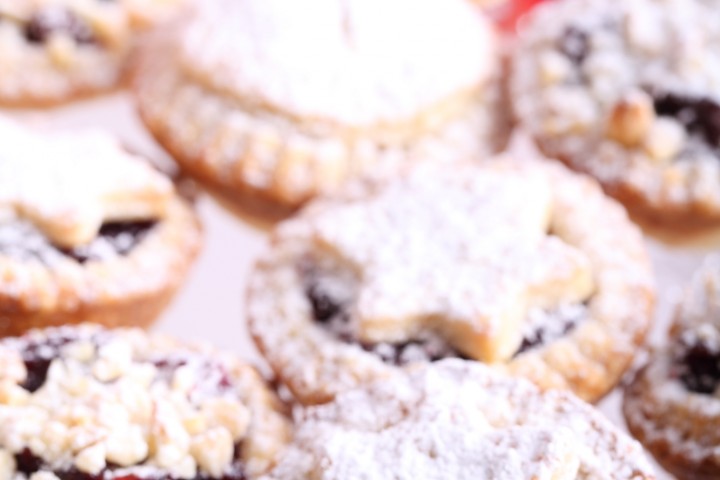 Making mini versions is my way of not 'over stuffing' people at Christmas
Klik hier voor de Nederlandse versie
I adore British cooking programs, especially around Christmas. Nigella, Delia, Rachel, James, Rick, from Hairy Bikers to Fat Ladies and from River Cottage via Simple Suppers to the Great British Bake Off, I like to watch them all. So, plenty of inspiration from our British neighbors, who usually seem to understand how to fabricate an attractive cooking and/or baking show.
Christmas is the time for the classics. The English return to their beloved turkey (or even more traditional goose) with stuffing, Christmas pudding (never made it by the way), gingerbread and the little bites featuring in this recipe. A classic English Christmas can not do without!
Many people buy ready made mince meat to fill their pies. Practical, but not a lot of fun I think. Most store bought stuff looks a little brownish and the cranberries in this homemade stuffing just makes them so much more festive.

The mince pies are now a firm favorite and Christmas baking is not the same without them. People always come back for more with this recipe. Reason enough to keep on baking…
Ingredients for the dough
Makes about 20-24 pies
225 g pastry flour
100 g butter in cubes
25 g sugar
pinch of salt
grated zest and juice of 1 orange (55-65 ml of juice)
Making the Dough
In a large bowl, sift the flour with a pinch of salt. Add the butter cubes. Rub the butter into the flour until you have something that resembles breadcrumbs. Add the sugar and grated zest and blend together. Add the juice and stir with a knife until the dough comes together. Using your hands, quickly knead into a ball. Wrap in clingfilm and press into a flat disc so it will be easier to roll out later. Let the dough rest for at least 30 minutes in the refrigerator.

Ingredients for Cranberry Mince Meat
Enough for 3 to 4 recipes
330 g cranberries
75 g brown sugar
75 ml red port
1 tsp ground cinnamon
1/2 tsp ground ginger
1/2 tsp crushed cloves
120 g raisins p>
the grated zest and juice of an orange
25 g vanilla sugar
25 ml almond liqueur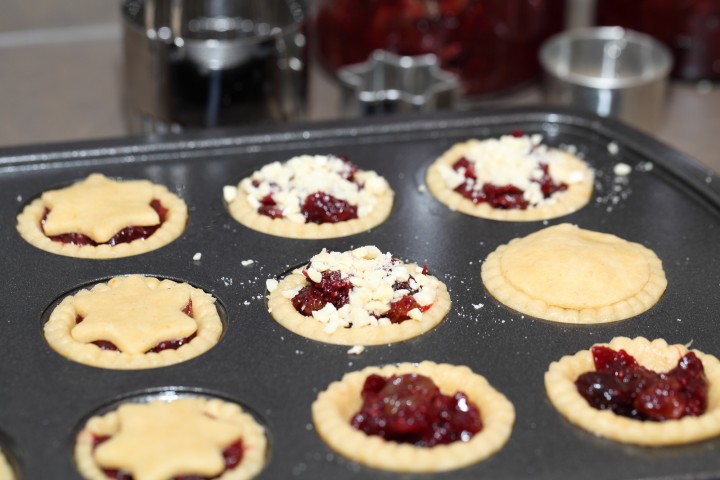 Making the Cranberry Mince Meat
I recommend you make your mince meat one day in advance, or even better, one week. This allows the ingredients to fuse together and it will be all lovely and ready by the time you are going to make the mince pies.
Poor port with brown sugar in a saucepan and warm over low heat until the sugar dissolves. Add the cranberries. Stir and add the spices, along with the zest and juice of an orange and the raisins. Bring to the boil and simmer for about 20 minutes. Remove from the heat, let cool slightly, then add the vanilla sugar and the almond liqueur. Spoon into a sterile jar, let cool and store in the refrigerator.
Making the mince pies
Preheat oven to 210ºC / 410ºF. Get your mini muffin pan, brushed with some melted butter or sprayed with some oil, ready. Roll out the dough to about 2 mm / 0.2 inches thickness and cut out round shapes. Fit each cup of the mini muffin pan with the round shapes and fill with a teaspoon of mince meat per cup. Roll the dough a little thinner to make lids for the top of the pies. You can make tight fitting lids or star shapes. You can also use chopped almonds, walnuts or hazelnuts to sprinkle over the cranberry mixture. Bake in preheated oven for 15 minutes. Let cool in the muffin pan for 5-10 minutes before you remove them and allow to cool further on a rack. Dust with icing sugar before serving.
Merry Christmas!